Local sports — St. Croix
Slevin Looks to Avenge Lopsided Loss in Labor Day Stakes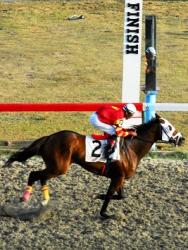 A highly anticipated 11th race, a rematch between Slevin of St. Croix and Bud White of St. Thomas, highlights Sunday's 12-race Labor Day card at Randall "Doc" James racetrack.
In their previous encounter, Bud White shocked local race fans in his V.I. debut by wiring the field in a record-shattering time of 1:41.4 for the 1-1/16 miles race.
A stunned crowed watched Slevin cross the finish line some 3-1/4 lengths behind.
This time around many expect the results to be much different.
Slevin looked as sharp as he has ever looked in his last start, in which he won the featured race earlier this month.
From all reports, Bud white was also very impressive in his last race across the pond, which means that both thoroughbreds should be firing on all cylinders come Sunday.
These two will undoubtedly go off as the favorites, but there are other horses in the field that could pull a shocker.
Gato Paso has been a perfect two for two since arriving from Puerto Rico, winning both of his starts in dominant fashion. He will definitely have a lot to say in the outcome of Sunday's 1-1/16 miles feature.
Former V.I. champ Carse ran second to Slevin last time out and he seems to be rounding more into his old self with every race. A return to his championship form and these other racers could be in a lot of trouble.
Berberis and Black Jack Bob round out the field and both would have to run the races of their lives to factor in Sunday's outcome.
The rest of the day's card:
Race 1 Class N-6 C/G –M/F 7F, $5,200
1. A Smile at the Storm
2. JPD Smile (Debut)
3. Fast Return
4. Flavaz
5. Hilary Boss
Race 2 Class N-5-M/F-C/G 7-1/2 F, $6,000
1. Midnight Indictment
1 A. Gold Finger
2. Joe boss
3. Yahboribos Weapon
4. Hanna Boss
5. Diamond Colony
6. Mama Linda
Race 3 Class I-3-4(M/F) 6F, $6,800
1. Zyanya (Debut)
1A. Cash City (Debut)
2. Paul's Gift
3. Destiny's Arrival
4. Rasta Queen
5. Lost Explorer
6. Dance Mistress
7. Apron Dance
Race 4 Class I-5 C/G 1-1/16 M,$6,500
1. BL's who's who
2. Turn to win
3. Neerly Nasty
4. I Confess
5. Joyful Minister
6. Black Machine
7. A Bit Of Madness
8. Simon Sez Run
Race 5 Class I-4&I-5 1 M, $6,800
1. Green Sand
2. Heats on Fire
3 Drink at last Call
4. What's Poppin
5. Full House project
6. Johann Slew
Race 6 Class I-2-3 C/G, 1 M, $7,200
1. Eire's Run
2. Groomsman
3. Mr. Unitas
4. Political Reporter
5. Beantown
6. Khun Dan (STT)
Race 7 Open V.I. Bred M/F/-C/G 1 M, $7,200
1. Creation Rebel
2. Express To Cali
3. Master Deposit (STT)
4. Cruzan Emerald
Race 8 Class I-1 1 M, $7,500
1. Puertorican Emblem
2. Brave Reward
3. Expect Smoke
4. Twisted Dream (STT)
5. News Carrier (STT)
Race 9 "The Pepper Pot Sprint", $7,500
1. Separate Bill
2. Stop Playing
3. Mr. Ricochet
4. Bruno's burst
5. Formal King (STT)
6. Bambi Bound
7. Aircraft Intercept
Race 10 "Big Gyal Rule Stakes" - (M/F) 1-1/16 M, $9,000
1. Dona Gongui
2. Holy Barbara
3. Turned to Gold
4. WhoShotthesheriff
5. Leggy Blonde
Race 12 Class I-4-5-M/F & I-6-C/G 7-1/2F, $5,200
1. Quilla
2. Robadorable
3. Shamrock Classic
4. Rey De los Ricos
5. Going Blue
6. Devil's Revenge
7. Myturntorock