Local sports — St. Croix
Boys Dem Stun Guidance; One Game away from NBBA Crown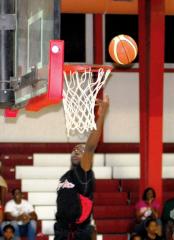 Boys Dem, trailing for three quarters, exploded for 36 fourth-quarter points to blow by Guidance and take game two of the New Breed Basketball Association finals, 98-80, Monday night at the Ronald Charles Gymnasium. It was as if Boys Dem's defense shifted into high gear with about six minutes left in the contest.
They were jumping the passing lanes and coming up with steals as they harassed Guidance ball handlers every inch of the court.
"This was all about our defense," said Coach Keith Swanston. "We played good defense for most of the game but we really picked it up at the six-minute mark." The win moves Boys Dem one game closer to the 2012 crown as they now hold a 2-0 lead in the best-of-five championship series.
As they did in game one, the teams battled hard from the opening whistle, and Guidance made an effort not o go down 2-0 in the series. They held a two-point edge after one quarter at 24-22.
Led by six points apiece from Colleen Stevens and Joelfri Polanco, Guidance was able to take the second quarter, 22-18, to extend their lead to six points heading into the locker room at the half, 46-40.
The third period was evenly played for the most parts, but Boys Dem began to cut into the lead as the quarter came to a close and they only trailed by one, 63-62, heading into the fourth and final period.
The final quarter began with the teams exchanging baskets for the first few minutes, but after a Boys Dem timeout they returned to the floor with a defensive intensity that appeared to catch Guidance off-guard. The momentum shifted almost instantaneously.
Zomari Swanston, Wilson Ferrance and Rasheed Swanston scored 11, 10 and nine points respectively for the winners in the final period, extending their lead to as much as 21 points in just under six minutes to blow wide open what was a close game.
Guidance, as game as ever, could do nothing to stem the tide that boys Dem rolled over them for a runaway, 98-80, victory.
Boys Dem's Wilson Ferrance led all scorers with a game high 27 points. He got good support from teammates Z. Swanston with 20 points, R. Swanston with 18 and Terrell Christian with 12 points.
For Guidance it was the hard working Jerome Nathaniel leading the way with 24 points, Joelfri Polanco had 18,Stephaun Adams finished with 12 points, nine rebounds and six assists, and Raydell Dennis had 10 points with 13 rebounds.
Although Boys Dem leads the series 2-0, for many local basketball enthusiasts the series is far from over, and some expect Guidance to bounce back with a victory in game three on Wednesday.
Boys Dem, of course, will be playing to have none of that.