Local sports — St. Croix
Gato Paso Proves He's the Real Deal in 'Sonic Boom Classic'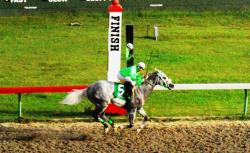 Gato Paso collared Aircraft Intercept on the turn for home and exploded down the stretch to crush the field in the featured ninth race Sunday, the six furlongs "Sonic Boom Special" by some 14 lengths.
It was the newcomer's second convincing win in as many tries after making his debut last race day. Gato Paso has now established himself as a force to be reckoned with in the upper echelon of Virgin Islands thoroughbred racing.
Aircraft Intercept and Berberis set the early pace out of the gates and raced down the backstretch almost as one. As the field approached the 3/8 pole, Berberis began to falter and quickly dropped out of contention while Aircraft Intercept continued to roll on the front end.
Jockey Jose Hernandez then appeared to push the go button on Gato Paso around the far turn and he responded by quickly closing the gap between he and the frontrunner. On the turn for home at the top of the stretch, Gato Paso blew by Aircraft Intercept on the outside and continued to draw away as he approached the wire, negotiating the six furlongs distance in a time of 1:11. Aircraft Intercept held on for second with Berberis a tired third.
In the sixth race on the card for mares and fillies, Leggy Blonde got some sweet revenge over Whoshotthesheriff when she collared that one at mid-stretch, battled for a few strides before pulling away to win by a length and a half in the seven furlong race in a time of 1:25 flat.
Whoshotthesheriff had defeated the Blonde one in their two previous encounters but Leggy Blonde's trainer, Elvis "Muds" Davis, did not think his mare got a proper ride in the last race and felt vindicated when she got the victory on Sunday.
"It should have been two in a row, it should have been two in a row," he shouted to everyone within earshot. Watch Your Back got up for third.
Former champion Carse also made a return to the winners circle after wiring the field in the 7-1/2 furlongs eighth race in a not-too-shabby time of 1:31.4. It was Carse first win in some time due to a foot ailment.
He looked like his old self when he turned back a challenge from Expect Smoke around the far turn before going on to win by two-plus lengths at the wire. Expect Smoke held on for second and Puerto Rican Emblem finished third.
The rest of the day's results:
Race1 6 F Classes N-6, Jockey
Time: 1:17.3
1. Fast Return, E. Barnes
2. Hilary Boss, J.A. Hernandez
3. Polo Matches, S. Powell
Race2 7 F Classes N-5, Jockey
Time: 1:29
1. Cruzan Emerald, C. Soto Jr.
2. Miss Kosi, M. Sanchez
3. Omayra's Pride, W. Hurst
Race3 7 F ClassI-5(M/F)&I-6, Jockey
Time: 1:27.4
1. Mr. Ricochet, W. Hurst
2. Creation Rebel, S. Ortiz
3. I Confess, C. Soto Jr.
Race4 7 F Class I-4 & 5, (C/G) Jockey
Time: 1:26.1
1. Full House Project, S. Ortiz
2. Groomsman, J.A. Hernandez
3. Johann Slew, B. Gonzalez
Race5 1-1/8 M Class I-4, (M/F), Jockey
Time: 1:53.2
1. Dona Gongui, S. Ortiz
2. Destiny's Arrival, C. Soto Jr.
3. Rasta Queen, W. Hurst
Race7 7 ½ F Class I-2 & I-3, Jockey
Time: 1:32
1. Political Reporter, S. Ortiz
2. According To Jesus, J.A. Hernandez
3. Eire's Run, M. Sanchez
Race10 1-1/8 M Class I-5, (C/G), Jockey
Time: 1:53.1
1. A bit of madness, J.A. Hernandez
2. Black Machine, J. Guadelupe
3. Neerly Nasty, S. Ortiz