Local sports — St. Croix
Kings, Boy Dem Roll in Friday's NBBA Action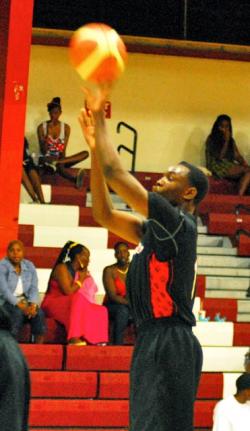 The League leading Boys Dem rallied pass Guidance 87-74 and the Kings whipped the defending champions Hoyas, 85-77, in the New Breed Basketball Association Summer Basket league Friday night action at the Ronald Charles Gymnasium on the Central High Campus.
The Kings were led by a dominating 25 points, 22 rebounds from center Craig "Big Smooth" Williams, who controlled the paint on both ends of the floor, while Boys Dem, led by a 19 second half points from Zomari Swanston, erased an 11-point halftime deficit on their way to an 87-74 victory.
King 85, Hoyas 77
The opening quarter of Friday's game one was all Hoyas, as the defending champions came out hot and outscored the young Kings 29-16 and looked ready to blow them out of the gym.
But Coach Pidy Williams rallied her young troops and they responded by outplaying the veteran-laden Hoyas the rest of the way. Craig Williams took full advantage of his size to control the boards and the Kings went on to outscore the Hoyas 72-48 after the first quarter to come away with the 85-77 victory.
Craig Williams led the Kings with game highs in points and rebounds, finishing with 25 and 22 respectively. He was ably supported by teammates Nybo Rodgers with 17 points and Jermaine Mulley with 15. For the Hoyas it was Warren Christian showing the way with 25 points and 12 rebounds, and Eddie Castillo adding 22points.
Boys Dem 87, Guidance 74
Guidance exploded for 25 points in the second quarter of game two on Friday against the league leading Boys Dem and took an 11-point ha;ftime lead into the locker, 41-30.
But beginning late in the third quarter Boys Dem turned up their defensive intensity, holding Guidance to just 12 points, while scorching the nets for 28 and a 58-53 lead after three quarters of play. The hot hand in the period belonged to Rasheed Swanston, who connected for 10 points. Older brother Z. Swanston chipped in with eight.
The lead would change hands several times in the final period, but Z. Swanston caught fire, knocking down three consecutive 3-pointers at a critical juncture of the period that appeared to knock the wind out of Guidance's sails. Z. Swanston scored 11 of his 19 second half points in the fourth to lead his squad to victory. He would finish with a game high 31 points to go with 11 rebounds. Four other players finished in double figures, with Wilson Ferrance netting 17, R. Swanston and Saleem Ross both scoring 12 and Terrel Christian finishing with 10 points and 10 rebounds. For Guidance Joelfry Polanco scored 16 and Wilson Ferrance had 10.