Local news — St. Croix
Students Learn About Drugs, Bullying and Lost Opportunities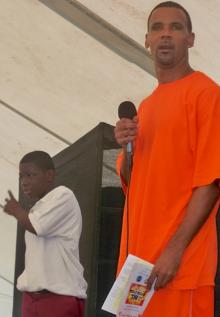 More than 500 seventh grade students from St. Croix's public and private schools gathered in a tent on the lawn of the University of the Virgin Islands Tuesday celebrate Red Ribbon Week, learning about the pitfalls and problems of drugs from a prisoner, a preacher, a police commissioner, an attorney and others.
The event, part of the national Red Ribbon Week campaign, was dubbed the first "Band Against Drugs, Violence and Bullying."
The keynote speaker wasn't wearing a suit or uniform, as speakers generally do. Roberto "Robbie" Smalls was dressed in a bright orange pair of pants and T-shirt, the garb of a prisoner. He spoke to the students about lost opportunities.
He told the students he could've been wearing a pitcher's uniform but he made the wrong choices. He chose street life and is doing life in prison for first-degree murder.
Smalls said at the age of 16 he quit school and signed with the Chicago Cubs as a second round pick.
"I felt good representing the Virgin Islands," Smalls said. "I could throw the ball 95 miles an hour. Not many young guys from here do that."
When he was 23 years-old that all changed and he started wearing a prison uniform. And now at 42 and still in prison garb, he pitches in front of correction officers and other prisoners. He said he is glad to have the opportunity to help youth.
"My mission now is to use my experiences, good or bad to save local youth."
One student from Arthur A. Richards Junior High, said she is glad to have the opportunity to learn how to be drug free.
"I've been around drugs all my life," she said. "My father uses drugs. This helps me to learn how to stay safe and drug free."
Peaches Laurent, another Arthur A. Richards' student, said she has been tempted, but with the help of her circle of friends she has not used drugs.
"This kind of program tells us how to stay away from drugs," Laurent said.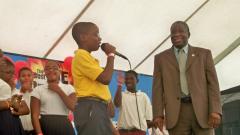 Lt. Gov. Gregory Francis gave about 20 students the chance to take center stage, asking them about their thoughts on Red Ribbon Week. Tavon Porter, Arthur A. Richards student, said he was there to learn about drugs and how to stay away from harm.
Delegate Donna M. Christensen spoke briefly to the students about the community's love for children and wanting the best for them. She said she wants them to have opportunities to be whatever they want to be, and the best way to do that is to say no to violence, bullying and drugs.
Also speaking were Harry White, commissioner of the Virgin Islands Police Department, and Timothy Williams, local agent for the Drug Enforcement
Administration, Judy Fricks, from Crime Stoppers VI, Sens. Samuel Sanes and Alicia Hansen and Ronald Sharp U.S. Attorney of the Virgin Islands.
Maren Roebuck, prevention coordinator for the V.I. Department of Health's Division of Mental Health, told the students it's about making the right choices.
"It's no joke, you make the choice to use crack or heroin and it's like a monkey on your back," Roebuck said. "You turn into a monster."
Barbara Flemming, program manager of alcohol safety for the V.I. Office of Highway Safety, was on hand giving out information on binge drinking and underage drinking. Her message was simple: "Don't drink and drive."
Red Ribbon Week began in 1985 after U.S. Drug Enforcement Agency agent Enrique Camarena died in the line of duty while investigating the drug pipeline in Mexico. Members of the elementary school he attended started wearing red ribbons in his honor.
The DEA, VIPD, Coast Guard and several other law enforcement agencies collaborated on the program. Coast Guard and National Guard helicopters were on site for demonstrations and viewing. Boats, the mobile bomb unit, technical trucks and police vehicles were shined up and lined up on the lawn for the students to check out.
Even animals got into the act as the K-9 unit did a demonstration.