Local news — St. Croix
BVI Dump Smoke Continues to Foul Coral Bay Air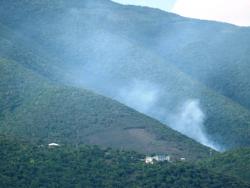 A delegation from the British Virgin Islands met Tuesday with their U.S. Virgin Islands counterparts to discuss various issues including the problems caused by the Pockwood Pond dump on Tortola. Coral Bay, St. John, residents have suffered for years from smoke blowing across the water from the dump.
The smoke problem was supposed to be solved when the BVI government installed a new incinerator, which was first tested in August 2011. The new incinerator is able to process 100 tons of waste a day, and when combined with the existing incinerator brings the total capacity to 140 tons a day.
However, the problem has intermittently continued with some bouts worse than other. Photos taken Oct. 12 show the dump burning. Coral Bay residents reported they smelled smoke last week and through the weekend.
Coral Bay Community Council President Sharon Coldren said she thinks the problem is two-fold. For starters, the scrubbers were not installed in the incinerator, she said, and secondly, the dump recently had a fire that blew smoke toward Coral Bay.
"The incinerator should not have been installed without the scrubbers," Coldren said.
Coldren, who has worked on this issue for years, said the BVI government has the scrubbers but hasn't put them on.
Additionally, she said the BVI government needs to figure out how to control dump fires.
Exactly what the BVI is doing to alleviate the smoke problem, however, remains a mystery.
Calls to Government House about the Tuesday meeting were referred to the Planning and Natural Resources Department. Spokesman Jamal Nielsen said the BVI government indicated it is working toward installing environmental controls but he couldn't be more specific.
"They assured us the project is ongoing," he said. He had no information about a possible dump fire last week.
Nielsen said the BVI government has promised to alert the USVI government when it had problems at the dump. "They assured us they'll keep in touch," he said.
Nielsen said he'll send out alerts when he gets the word about the problem.
Additionally, Nielsen said the local government has offered technical assistance.
In efforts to get more details, a call to the BVI press information office eventually was referred to Anslem Myers at the BVI's Solid Waste Department. He did not return a message left for him.
The U.S. Environmental Protection Agency continues to monitor the problem, spokesman Elias Rodriquez said from his New York office.
"We remain aware and vigilant of the problem," he said.
However, since this is an international issue, any permanent resolution will have to come at the State Department level, EPA officials have previously said.
Gov. John deJongh Jr. weighed in on the issue.
"Among our shared resources is the very air we breathe, and political borders cannot contain environmental problems," deJongh said. "We have a responsibility to honor each other's environmental integrity, and I am confident in our progress on this issue."