Local news — St. Croix
Hispanic Crucians Honored at Ceremony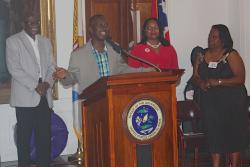 Four members of St. Croix's Hispanic community were honored Saturday at a ceremony hosted by the Virgin Islands-Puerto Rico Friendship Committee at Government House for their work in promoting the island's culture and community.
Astrid England, president of the committee, said this year the group decided to focus on individuals who have worked extensively with the island's youth.
"We have to start teaching our culture from young, so when they grow up, we won't miss our culture," she said. "Our culture can continue, year after year, from generation to generation."
This year's recipients were Mirza Adela Saldana-Lampe, Asta L.H. Williams, Camille "King Derby" Macedon, and Edwin Rivera.
Master of ceremonies Dodson James introduced Williams as "a culture bearer wearing many hats." Williams is both an actress and a musician, performing with Bully and the Musical Kaffoners Quelbe Band and the Courtyard Players. She is perhaps best known as the leader of the West-End Masqueraders, a fixture in most St. Croix parades.
Rivera was recognized for his lifetime of work in youth athletics. Since 1981, Rivera has been actively coaching children in a range of sports, either as a physical education teacher in the public schools or through recreational organizations like the Pony Baseball League.
While accepting his award, Rivera stressed the importance of engaging with young people through sports or any other means.
"We are losing our youths," he cautioned. "We need to support them and remember those are the future. If we don't work with them, our future looks really dull."
Macedon is likely the most recognizable calypso musician on St. Croix. He's played the banjo since the age of 8, and has made a name for himself through decades of performances and composing clever and often risqué campaign songs for local political candidates.
In 1978, Macedon established Calypso, Inc., a nonprofit that teaches children to sing, play, and write calypso music. In 1982, he established the Junior Calypso Competition in the Virgin Islands.
Saldana-Lampe is an educator who worked at Pearl B. Larsen from 1971 until her retirement in 2008. She is active in many philanthropic and cultural organizations, and has a special interest in the preservation of traditional dances. She is a member of the St. Croix Heritage Dancers, De Nuestras Raices, a bomba dance troup, and the Ballet Foklorico de Hispanos Unidos. In the late '70s, she started the Pearl B. Larsen School Quadrille Dancers.
"In an effort to keep the heritage and culture of the Virgin Islands alive, Ms. Saldana-Lampe exposed elementary students to the fine art of quadrille dancing," said James. "She believes that teaching children the art of folkloric dancing will instill a sense of pride and appreciation of their cultural values."
The ceremony was the second to last event in the month-long 48th annual V.I.-Puerto Rico Friendship celebration. The festival comes to a close Sunday with a "cultural exchange" at the St. Croix Agricultural Fairgrounds from 12-8 p.m. There will be music, dancing, Puerto Rican food, and crafts.