Local news — St. Croix
Family Fun Day Promotes V.I.–Puerto Rican Culture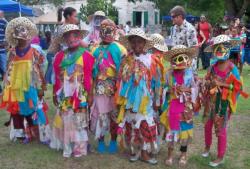 Puerto Rican culture was dished up with a dash of Virgin Islands Sunday at Whim Museum grounds, to the enjoyment of a large crowd of all ages on hand for Family Fun Day, or Fiesta En El Batey.
Astrid England, president of Virgin Islands Puerto Rican Friendship Committee, said the fun day keeps growing and this was the best turnout yet with more than 300 people at the free event.
In the past eight years they had to cancel a couple of times because of bad weather. England said she was happy to see kids enjoying the day with their families. She said the theme, "In difficult times unity is the key to success," was fitting for the unity felt at the event.
Activities included tours of V.I. Fire Services equipment, classes in tumbling and drumming and an art and craft table with lots of glitter and glue.
In the main program area there were dances by Pearl B. Larsen Quadrille Dancers and Masqueraders. Two members of the Guardian of Culture Mocko Jumbies also performed. Around 20 members of "We Deh Ya" cultural dancers dressed in beautiful madras shirts and skirts did the quadrille.
One demonstration that drew youngsters and oldsters alike, who had to be ordered back twice, so television crews could see it, was a mock cock fight. The roosters' claws were tapped and none were injured in the one match that was over quick.
De Nuestras Raices dancers did the Bomba, and a half-hour segment of Zumba was lead by Sonsirez Robles. She said she wanted people to see that everyone can get up and exercise and do Zumba. The crowd was invited to join in.
Maria Maldonado, a long time St. Croix resident from Vieques, said she was having a good time, eating, laughing, and enjoying the entertainment. She said it was nice to see people she hadn't seen in awhile.
"This was a good place for the kids to see and learn about the Hispanic culture," Maldonado said.
Veronica Gordon was selling hand-crafted jewelry and utensils made from calabash and seeds. There were paintings by Victor E. Cepeda and beaded jewelry for sale by Donna Lockhart.
Gladys Felix and helpers were selling pasteles and bacalaitos. Cultural Heritage Dancers sold baked chicken, souse, potato salad and more. Sylvia Ventura was giving samples of her specialty, arroz con dulce. It was a tasty treat made with raisins, coconut milk, cinnamon and rice.
"The special ingredient is love," Ventura said.
England said a similar cultural exchange event will be held from noon until 8 p.m. Sunday from noon until 8 p.m. at the St. Croix Agricultural Fairgrounds.