Local news — St. Croix
Sailing on a Ship of Memories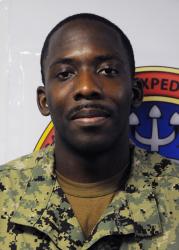 On a day when Americans remembered and paid tribute to 9/11 victims, one native Crucian did his part half way around the world.
What makes Navy Petty Officer 1st Class John C. Bradshaw's story more poignant on Tuesday, the anniversary of the terrorists' attacks, is that he was serving in the Gulf of Aden aboard a ship – the USS New York – made of seven-and-a-half tons of steel salvaged from the World Trade Center.
The ship departed March 27 on its maiden deployment while in support of maritime security operations and theater security cooperation efforts in the U.S. 5th Fleet area of responsibility. The ship's motto is "Strength forged through sacrifice. Never forget."
Early Tuesday morning, the 1,100-member crew of the New York held a remembrance ceremony to mark the 11th anniversary of the horrific events of Sept. 11, 2001. That included marking the times when the events happened, speeches by crew leaders, and a 21 gun salute as the ceremony concluded followed by a moment of silence.
Despite the somber tone of the day, the 29-year-old Bradshaw said the mood onboard the ship was pretty good.
"We have to move on," he said. "We'll never forget what happened, but take it in, learn from it and move on, and try to make the world a better place for our kids and everyone else out there."
Bradshaw wanted a change in his life, "to do something different," he said. That's what led him to join the service 11 years ago. He was in boot camp and going through firefighting training in Great Lakes, Ill., on Sept. 11, 2001, and still remembers the details of his experience.
"They stopped all training and our recruit division commanders came and got us and took us back to the barracks," he recalled. "They sat us down, turned on the TV, and then that's when we found out what was going on."
"Everybody was in awe," he said. "Unfortunately, we had a fellow shipmate who was in my division whose mother worked in the World Trade Center. So it went from awe to a very sad moment until a week later when we found out his mother was OK."
That lucky lady never went to work that day. She stayed home sick.
Nearly 3,000 other people didn't have the same luck. They died when the two planes struck the twin towers of the World Trade Center and collapsed, while the third plane crashed into the Pentagon, and the fourth into a barren field in Shanksville, Penn.
When Bradshaw discovered he was going to be deployed on New York's maiden voyage, he said his initial reaction was one of excitement.
"Think of the memories behind it," he said. "I'm sailing on a ship that has seven-and-a-half tons of steel from the World Trade Center."
"It's kind of like everyone from New York is on this ship with us, those that we lost, those that lost loved ones and friends and family, and those that are still grieving," Bradshaw said. "They're out here with us in spirit and we're in charge of this ship."
"We're in charge of them," he added, "and taking care of those souls day in and day out."
Bradshaw said with any luck, he'd be home in St. Croix for the holidays. He also had one message he wanted delivered to his "tons of family on St. Croix."
"I love you all and when I get home to take some leave, just make sure you have some food ready for me," he said.
Specifically, he asked for curried chicken, ox tail and dumplings and saltfish.