Local news — St. Croix
JFL Hospital Appropriation Needs to Double, Says CEO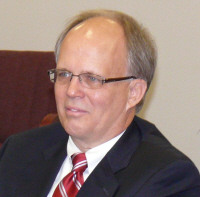 The Gov. Juan F. Luis Hospital needs about $35 million more from the territory's coffers this year, above and beyond the $19.3 million recommended appropriation, to ensure it stays certified
and open, Chief Executive Officer Jeff Nelson told the Senate during budget hearings Wednesday.
"Excellent care requires constant changes, improvements to services and continual access to more dollars to invest in the hospital's people, equipment and buildings. We have the team to deliver excellent care. We do not have the equipment and buildings to deliver consistent excellent care. We need access to more money now," Nelson told the Finance Committee.
Over the last several years, patient revenues have steadily increased, from $72.6 million in Fiscal Year 2008 to $120.8 million in the current FY12, while operating expenses increased modestly from $68.5 million to $74.8 million, according to data supplied by Nelson.
But tax appropriations to help cover uncompensated care decreased from $32 million in FY08 to the $19.3 million being recommended by Government House for the upcoming FY13. Meanwhile, the real cost of uncompensated care – care provided but not paid for – is about $29 million per year, and the hospital has many pressing financial concerns and capital needs, Nelson said.
Meeting the certification conditions of the Centers for Medicare and Medicaid Services is critical, and will take more cash, he said.
"To serve any level of care, JFL is required to meet all of Medicare's 23 conditions for participation by February and to have the cash to pay the hospital's bills now," Nelson said. "Otherwise, JFL will close. We truly mean close. By failing to exceed Medicare's conditions, JFL will not be paid for services rendered to Medicare and Medicaid patients after February 2013.Without these revenues, JFL will not be able to pay employees and suppliers. In turn there will be no surgeries, no laboratory, no ER, no cafeteria no jobs. Imagine arriving at JFL with an emergency only to be turned away. Exceeding Medicare's conditions for participation in nonnegotiable and is expensive," he said.
Doing this requires more money than the hospital currently has, he said.
Nelson requested a General Fund appropriation of $29 million for FY13 – about $10 million more than the governor's recommended appropriation. He also asked the Senate to provide "at least $10 million now" to allow Luis Hospital to pay some of its past due bills. That includes about $7.5 million owed to the V.I. Water and Power Authority, Nelson said.
He also asked the Senate to "invest at least $15 million" to improve the hospital's equipment and facilities, for a total of $35 million more than the recommended appropriation.
Sen. Carlton "Ital" Dowe, chairman of the Finance Committee, said every agency had similar woes this year, and suggested it may be difficult for the government to meet the hospital's requests.
The governor's recommended General Fund appropriation of $19.3 million for Luis Hospital is a $1.3 million reduction from the 2012 appropriation level.
The hospital also projects it will receive roughly $53.8 million in payments from patients and their insurance companies, for $73 million in local funding. That total includes $31.1 million for wages and salaries, $9.8 million for associated employee benefits and a $32 lump sum appropriation out of the hospital's own revenues to cover all its operating expenses from utilities to supplies.
No votes were taken at the information gathering budget hearing.