Local news — St. Croix
Chefs Battle for Bragging Rights at Rib Cook-off
Local chefs spent Sunday brazing, rubbing, smoking, and grilling at the 5th Annual Rib Cook-off at Above the Wall. The air was thick with the smell of hickory as the twelve contestants squared off to settle once and for all who makes the best ribs on St. Croix.
"Today we're doing jerk ribs that come with a guava, rum, pomegranate, mango, passion fruit, and red thai curry with a little bit of honey in there," said Eric De Laura from Angry Nates as he served up a plate. "It's going to be pretty sweet, but with a little bit of heat at the end."
The chefs pulled out all the stops, each adding their own special twist to make their ribs stand out from the crowd. The competition was tight and everyone had their sights on securing a year's worth of bragging rights, especially the teams representing restaurants.
"We've got a battle of the boardwalk going on right now," said Valerie Stiles, one of the event's organizers. Angry Nates, Rum Runners, Club Comanche, and newcomer John Eddie's Low Life Bar and Refuge all sponsored a team hoping to bring the title back to Christiansted.
Jeff Barstow of John Eddie's said his new restaurant wouldn't open until mid October, but he was happy to get his food in front of people early and support some local organizations.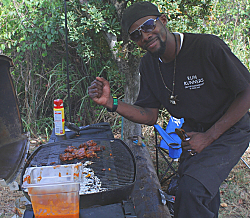 "We believe in St. Croix," he said with a smile. When asked if he also believes in his ribs, he laughed and added, "Almost as much as we believe in St. Croix."
It was Rum Runners tent, however, that was generating the most buzz amongst the crowd. This was the first year the restaurant participated in the event at the urging of chef Jamal Miranda.
Miranda said he serves some great ribs at the restaurant, but for the competition he was serving up something you couldn't find on the menu.
"This is something totally different. We jazz it up a little bit," he said.
His ribs were falling-off-the-bone tender and dressed with an Asian-style marinade with Creole seasonings served over homemade coleslaw.
"I put my heart and soul into that," he said as he passed a plate to a customer.
The cook-off was organized by St. Croix Recycles and the Krewe de Croix, with proceeds going to support the Krewe's events, including the Mardi Croix Parade and the dog parade on the boardwalk.
Karen McIntyre of St. Croix Recycles said she was happy to partner with Krewe de Croix on the event and hopes to partner with more events in the future.
Her organization was using the event to push its "Good to Go Cup" campaign. With the cost of admission, people were given green, plastic travel cups that they could take home and reuse.
"Styrofoam is a huge thing that people do on the island, and we're trying to get rid of that," she said.
The cups can be brought to restaurants around the island and refilled for a discount. A list of participating restaurants can be found on their website: www.stcroixrecycles.org.
At 5 p.m. the panel of judges turned in their scorecards and the winners were announced. The boardwalk restaurants dominated the competition with Rum Runners taking the top prize followed by Club Comanche in second and Angry Nates in third. Rum Runners also took top honors in the "best sauce" category.
The People's Choice Award went to Hillbilly Barbeque, a group of friends hailing from the southern states who entered on a whim. They were one of the few contestants not representing a restaurant.
"This is a weekend venture," joked Steve Cooper, adding that they'd only decided to enter on Friday night.
After the awards were announced, Miranda was all smiles holding his two trophies. Asked if Rum Runners would have to put his recipe on the menu now, he just laughed and said that was up to his bosses. He said he was happy just to win today.
"I got the best sauce and first place ribs," he said. "I'm pleased with that."