Local news — St. Croix
Leslie to Bring Swells Saturday Night into Sunday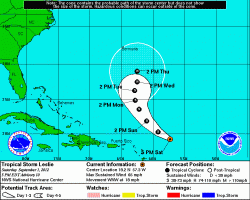 Forecasters expect big swells to roll in Saturday night as Tropical Storm Leslie's track takes it northeast of the Virgin Islands. Meteorologist Walter Snell at the National Weather Service in San Juan said Leslie's center is projected to pass 414 miles to the northeast of St. John on Sunday morning.
"They'll be 5 to 6 feet in the northeastern coastal Atlantic waters," Snell said of the swells.
By Sunday afternoon, Snell expects waves to be in the 9-foot range. How this will affect beaches isn't certain because it depends on their location, but Snell also said 4-foot swells are likely for inland waters.
As for the rest of the week, he said it should be dry. Snell said this is due to the fact that Leslie will slow down as it heads north, which means everything behind it will slow down too.
"And I don't see anything coming off of Africa," he said.
At the 5 p.m. update from the National Hurricane Center, Leslie had winds of 65 mph with higher gusts. Tropical storm force winds extend outward up to 160 miles from the center of the storm.
Leslie is moving west-northwest at 18 mph. Forecasters expect the storm to strengthen into a hurricane by about Wednesday.
The storm was centered at 19.2 degrees north latitude and 57.3 degrees west longitude, which puts it 330 miles east-northeast of the Leeward Islands and at a latitude north of the Virgin Islands.
The barometric pressure stands at 998 millibars or 29.5 inches.