Local news — St. Croix
Tropical Storm Leslie Forms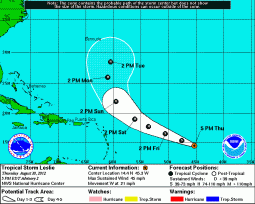 Tropical Depression 12 made news at the 11 a.m. Thursday update from the National Hurricane Center, but by the 2 p.m. update, the depression got a name: Tropical Storm Leslie.
If the current track holds, the storm is expected to pass 400 to 500 miles northeast of the Virgin Islands as a hurricane Sunday into Monday, meteorologist Felix Castro at the National Weather Service in San Juan said Thursday.
There is still some fickleness when it comes to forecasting storms this far away, however, despite improved forecasting by the National Hurricane Center, so residents are wise to keep a weather eye on Leslie until it's clear of the area.
"It is still east of the islands so you need to watch it in case the track moves more to the south," Castro said.
Leslie could bring some showers, but nothing "important," Castro said. The biggest problem will be northeast swells.
As of 5 p.m. Thursday, winds were at 45 mph with higher gusts. Tropical storm force winds extend outward up to 45 miles from the center. The storm is expected to strengthen into a hurricane in the next couple of days.
Leslie was clipping along to the west at 21 mph.
Leslie was located at 14.4 degrees north latitude and 45.3 degrees west longitude, which puts it 1,060 miles east of the Windward Islands.
The barometric pressure stands at 1004 millibars or 29.65 inches.
With the long Labor Day weekend approaching, V.I. Territorial Emergency Management Agency Director Elton Lewis advised residents to monitor the weather.
"Anyone making plans to head out to the beach this Labor Day weekend should be aware of whether small craft or high surf advisories or special marine warnings have been issued for the Virgin Islands," Lewis said. "These types of notifications are usually advising the boating community to return to harbor as quickly as possible or for beach goers to be aware of the dangerous rip currents."
What was Tropical Storm Kirk grew into a hurricane Thursday with 90 mph winds but at 28.2 degrees north latitude and 50.3 degrees west longitude poses no threat to the territory. The storm formed well northeast of the territory and is on a track to recurve to the northeast.
And of course, Isaac is still hammering Louisiana. After passing the Virgin Islands April 23 with barely tropical storm force winds and minimal rain, it strengthened into a hurricane before hitting Louisiana. Isaac has now weakened into a tropical storm again.