Local news — St. Croix
Cancer Conference Dispels Myths, Empowers Women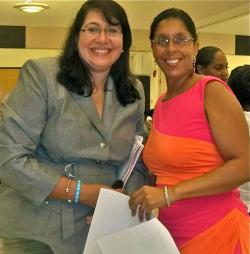 Almost 100 women were encouraged and empowered Saturday by speakers who exhorted them to "Learn More, Do More," the theme of the third annual Yvonne Ashley Galiber Foundation Breast Cancer Awareness Conference.
"A conference like this helps to expel the myths," said Michelle Gibbs, celebrating her first anniversary free of breast cancer. "When one is diagnosed with cancer they hear all kinds of things about treatment and survival. My doctor said don't listen to those myths. At this conference women got the facts."
According to YAG founder Yvonne Galiber, the organization has sponsored more than 350 women and men for breast cancer care since 2007, when it began funding screening and diagnostic mammograms, biopsies, and related medical procedures.
"Education is also a large part of what we do," said Galiber, "and our annual conferences have increased cancer awareness, and assisted in saving lives by motivating women and men to early detection."
The foundation focuses on early breast cancer detection, raising awareness and empowering women. The foundation also assists women with screening and diagnostic mammography, biopsies, medicine, travel, hotel, home care, caregivers, pathology reports, and support groups.
Those attending the conference in the Great Hall on the University of the Virgin Islands's St. Croix campus had the opportunity to gain knowledge about breast cancer and learn more about the symptoms and strategies for fighting ovarian cancer.
Dr. Preston Dalglish discussed symptoms, how to minimize risk factors, screening strategies, and treatment of breast and ovarian cancers. He said ovarian cancer is one of the most lethal types of cancer. Cancer survivor Cassandra Dunn asked if the incidences of cancer are increasing or decreasing in the territory. Dalglish answered the only way to tell would be to have a cancer registry, which is sorely needed in the U.S. Virgin Islands. Dalglish, board certified in internal medicine, hematology and oncology, has been practicing medicine more than 35 years and treating Virgin Islands patients in his private practice here since 2010.
Dr. Lillian Santos has been chief executive officer of the American Cancer Society of Puerto Rico for the last 15 years. Saturday she talked about research, education, advocacy and services of the organization.
"The American Cancer Society serves as a patient navigator assisting patients in finding programs, resources and free services available to them," Santos said. She emphasized the Patient Assistance Program designed to obtain pricey medicine from the Pfizer drug company at no cost to needy patients.
Millicent St. Claire, inspirational speaker and author, shared passages from her book, "Simply Ridiculous," in which some things are literally simply ridiculous.
St. Claire, is the originator of the self-mastery process called "LIGMO—Let it Go, Move On."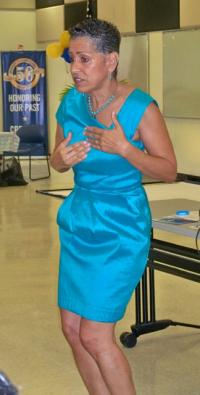 "So many simply ridiculous little things are shutting down our lives," St. Claire said. "The negative victim role is simply ridiculous and negative self-talk is simply ridiculous, let it go and move on (LIGMO). Get out of your heads and get into your hearts," St. Claire said.
Another presenter, Donna Phillip, believes ladies can think and feel beautiful while surviving cancer. In her segment entitled "Beauty and the Breast," Phillip talked about body transformation and self-esteem. She talked about private fittings and getting a bra that is pretty, not like grandma's bra. Phillip, a 13-year, cancer survivor, manages the Lynne Cohen Positive Appearance Boutique and Gift Shoppe in the Charlotte Kimelman Cancer Institute at St. Thomas' Schneider Medical Center.
Chelly Soto, gathering information for work, said the conference was very informative and uplifting.
"Spreading the word about early detection is important," Soto said. "I'm very happy I came."
YAG also began taking registration for creative bra art using embellishments for the "Be Our Support – Beauty and the Bra: An Art Competition," fundraiser. It begins Sept. 10 to benefit YAG's diagnostic mammography program.
The $5 admission fee for Saturday's conference included lunch and a gift. Those interested in the bra art competition or the services offered by YAG can call 332- 9115 for further information.
Galiber, a thyroid and breast cancer survivor, said she was fortunate enough to have what she describes as top- notch treatment in Connecticut. Women on St. Croix need to educate themselves about early detection and find out how to get the care and treatment needed, she said, which prompted her to start the foundation in 2007.
According to the American Cancer Society, breast cancer is the most common cancer among women in the United States. About 290,000 women are expected to be diagnosed with breast cancer in 2012. While breast cancer death rates have been going down, about 39,500 women with cancer will not survive this year. Approximately 2,200 cases of breast cancer in men will be detected and more than 400 men will die. Ovarian cancer ranks fifth as the cause of death among women, and women who have had breast cancer or are over 60 years old are at a higher risk for ovarian cancer.