Local news — St. Croix
Lawyers Argue About Hansen's Eligibility at Hearing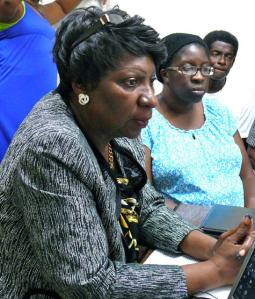 The V.I. Elections Office is considering whether or not Sen. Alicia "Chucky" Hansen's 2009 misdemeanor convictions for three counts of failure to file tax returns qualify as a "crime of moral turpitude," rendering her ineligible to run for office.
Colleen Clarke, head of V.I. Action Group, a citizens group based on St. Croix, filed a request Thursday asking the V.I. Joint Board of Elections for an investigation into Hansen's eligibility.
Joint Board Chairman Rupert Ross, who also chairs the St. Croix board, responded Friday, saying V.I. code gives the supervisor or deputy supervisor of elections authority over the question of eligibility and the St. Croix board had previously determined it had no jurisdiction over the status of a sitting senator.
The St. Croix board called a hasty meeting Friday to try to address the matter before the casting of lots for primary ballots Tuesday. Friday it appointed Public Employee Relations Board Zandra Petersen as hearing examiner to gather testimony.
Saturday, Petersen held a hearing, getting testimony from Clarke and Hansen. After she has gathered all the relevant testimony and documentation, she will present it to Supervisor of Elections John Abramson and Deputy Supervisor James Weber III, who will weigh the testimony and make a final ruling, Petersen said. Abramson, off-island on medical leave, listened by telephone and Weber attended part of the hearing.
Hansen's attorney, Amelia Joseph, and V.I. Action Group's attorney, Yohana Manning, agreed on little, repeatedly objecting to nearly every question each tried to pose to the two principles. But both agreed the question of Hansen's eligibility hinges upon whether or not Hansen's misdemeanor failure to file convictions constitute's "moral turpitude," which is not defined in V.I. law.
Despite extensive questioning, none of the testimony elicited Saturday directly addressed the question of when a misdemeanor involved turpitude. Manning attempted, unsuccessfully, to get Hansen to say whether she agreed her convictions involved adjectives like "dishonesty," and "morality," which he suggested were components of moral turpitude. He cited a 2004 Third Circuit case he said supported his position.
Joseph argued a 2012 Third Circuit opinion made clear the statute in question determined whether turpitude was a factor, and required malice or evil intent.
Neither side presented the actual legal documents to the hearing examiner Saturday. Manning and Joseph reached an agreement that they would both submit briefs fully outlining their arguments and the statutory and case law supporting their positions before noon Tuesday. Petersen accepted the joint request.
Asked whether he and Abramson would be able to rule on the matter before the casting of lots, which is scheduled to occur at noon Tuesday, Weber said the lots being cast that day were only for party primary elections in September. As Hansen is running as an independent and will not be on the primary ballot, she is not affected by the lots cast Tuesday, but only by the casting of lots for the general election ballot Sept. 10.
This is a second bite at the apple for those trying to disqualify Hansen. Senate candidate Michael Springer unsuccessfully petitioned the St. Croix Board of Elections to declare Hansen ineligible for the office last year, a year after she had been elected. But in December, the board determined Hansen to be eligible, relying in part on an opinion issued by Attorney General Vincent Frazer which concluded that nothing in V.I. law bars someone from holding office when convicted of a misdemeanor.
Earlier this year, V.I. Action Group tried unsuccessfully to recall several board members, in part because of their decision that Hansen was eligible.