Local news — St. Croix
Hiring Locally at Heart of Discussion in Innovative's Renewed Tax Benefits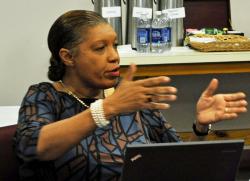 The V.I. Economic Development Authority and the V.I. Economic Development Commission heard publicly from Innovative officials for the third time Thursday in response to the company's request for an extension of its $15 million in EDC tax benefits from September 2009 through August 2014.
A decision on the matter is expected when the group meets again in early September.
In Innovative's presentation, the company formerly known as Vitelco praised its slogan – "live local, buy local, hire local, invest local" – while also touting the already realized technological successes of its 4-year modernization project, which it called a "win-win" for the V.I. government and its citizens.
The modernization goal, which saw its first year completed in May, is to build one Hybrid Fiber Coaxial network which would provide all voice, high-speed data and video products while also significantly improving telecommunications service and reliability across the islands.
Innovative officials touted the company's charitable investments of over $400,000 to various organizations across the Virgin Islands in support of its application.
One area where both the EDC and EDA seemed particularly concerned involved jobs and ongoing technical training for Virgin Islanders.
If the benefits are renewed, they guarantee Innovative increases its employment level from 350 to 375 people, among other things.
EDC Board Chairman Albert Bryan even asked Innovative Chief Executive Officer Seth Davis if he thought more jobs were possible.
"We think we'll be a catalyst for new job creation," Davis said. "Whether it's new jobs being created and Innovative hiring directly or it's small, entrepreneurial businesses starting up because they now have the connectivity in the community."
EDC Board Vice Chairman Nathan Simmonds praised the company's "buy local" approach, even offering that it was the solution for getting the Virgin Islands out of the economic situation it's in. But he expressed disappointment in reports that some of Innovative's expansion efforts were utilizing off-island contractors.
Davis countered that point. "Some of those contractors that are doing the work are headquartered off-island but they are local businesses that pay taxes locally. The money re-circulates locally and, while they bring in some employees from off-island, we promote local hires through those contractors," he said.
"Right now I think 40 percent of the crews contracted are local hires," Davis added.
Simmonds then asked how Innovative was "managing and monitoring" their contractors' adherence to hiring local.
"You're required by your certificate to have 80 percent local," Simmonds said.
Davis said Innovative "encouraged and required" all of its contractors to put forth their best effort to hire locally.
Bryan disagreed with that notion.
"You can require them to have 80 percent," Bryan added. "Hovensa, for instance, had a clause that said all their hires have to be local. If the board is going to consider this $75 million that you are going to be infusing into the economy as a result of you being given benefits, then we need to have some kind of guarantee that the money is going to be spent locally…We should have at least have 60 percent."
Davis said that a lot of the contract workforce was only here temporarily to get the new network in place. He said his permanent staff was also learning from them and receiving extensive training so that they could maintain the new network once it was up and running.
Later, EDA Chief Operating Officer Jennifer Nugent-Hill asked Davis point blank, "How do we insure entrepreneurial opportunities for Virgin Islanders are generated from companies that we are involved within our EDC program?"
Davis answered, "I think what we are doing and planning on doing is building this modern, state-of-the-art technical infrastructure which will create a lot of opportunity for local businesses to utilize those facilities to generate other services in the community."
In testimony speaking against Innovative's request for renewed benefits, Tyrone Molyneaux said it would be best if the application was considered after the government-owned V.I. Next Generation Network, which was created to implement a series of federal bonds to create a fiber optic "middle mile" network, was up and running.
"Vitelco provides many services to the government," Molyneaux said. "What happens when viNGN comes along and says, 'We don't need your service anymore; the hospital, the libraries, the schools.' There goes your dollars and cents, and that's multimillion dollars."
In other EDA business, developers and representatives associated with the Island Crossings Shopping Center, where Home Depot is located, asked for a modification in their tax increment financing (TIF) agreement to use some of those funds to pay the maintenance on a proposed solar power facility the Toshiba Corporation would build. Toshiba would then sell that energy to the Water and Power Authority as a way for it to diversify its energy portfolio and hedge against future increases in fuel prices.
The move by Island Crossings came in response to a June 2012 law change which put into place language that allows TIF bond funds be used for renewable energy projects.
The Island Crossings development is the first TIF project employed in the Virgin Islands, Bryan said.
"One of things we never contemplated was that this (project) wasn't going to work," Bryan said. "It's personally important for me that it works."
"It's working. It's a sustainable development as is if nothing else happens," Island Crossings spokesman James Watson said. "We can sit there for a long time until the world gets better and there is a reason to develop something there."
Editor's Note: The Source initially reported incorrectly the tax benefit amount Innovative was asking for as being $75 million, which is actually the total amount of capital expenditure the company is infusing into the community. According to Jennifer Matarangas-King, Innovative vice president of public relations and governmental affairs, the company is asking for $15 million in EDC tax benefits or about $3 million per year from 2009 - 2014.