Local news — St. Croix
VIANG Squadron Welcomes New Commander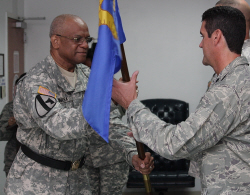 Lt. Col. Chad Warren officially took command of the Virgin Islands Air National Guard 285th Civil Engineering Squadron at a ceremony Sunday morning. Warren, an active duty Air Force officer, has an extensive background in engineering, which should aid the squadron in its new mission.
On March 1, the 285th was ordered to transition from a Combat Communications Squadron to its current civil engineering focus.
The squadron's outgoing commander, Maj. Glenda Mathurin-Lee, spoke highly of her successor.
"I can already see that the men and women of the 285th CES won the lottery with your selection as their new commander. Welcome, Lt.. Col. Warren," she said. "And we know that the 285th Civil Engineering Squadron will continue to excel and meet the mission of our territory and our nation."
Adjutant General to the Virgin Islands, Maj. Gen. Renaldo Rivera also praised Warren, telling the airmen that they would be wise to learn from his experience.
"Lt. Col. Warren, you're going to have fun," he said. "I'm giving you the best jewel in the Air Guard, the 285th. All I ask of you is that you take care of your airmen."
The ceremony consisted of a symbolic passing of the squadron's guidon flag from the outgoing commander to Maj. Gen. Rivera and then to Lt. Col. Warren.
"Sir, I assume command," Warren said as the flag was place in his hands.
Warren was short on words when it came his turn to address the airmen, saying he hates public speaking and avoids podiums at all costs.
"Airmen of the 285th, let's get ready to go on a wild ride here and have an adventure," he said. "Let's go places, do big things, and have fun along the way. I appreciate the opportunity."
The VIANG also paused to celebrate the promotion of Reynaldo Guadalupe to the rank of senior master sergeant.
Guadalupe joined the 285th in 1987 and served as a communications maintenance technician for the VIANG. When not with the Guard, Guadalupe served as a police officer with the VIPD for 22 years.
Joined by his family, Guadalupe expressed his gratitude to his squadron.
"Without you all being here, there wouldn't be a job for a first sergeant," he said.
As the ceremony drew to a close, Warren dismissed the squadron with a concise, "Let's get to work."