Local news — St. Croix
Not for Profit: Rotary Club of St. Croix-Harborside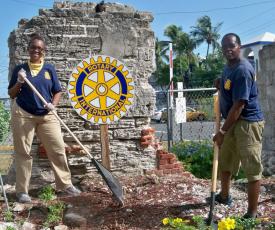 The section of property on Strand Street in front of the government lot in Christiansted is starting to look pretty spiffy, thanks to the Rotary Club of St. Croix-Harborside adopting that spot to beautify.
On the block next door the street is lined with lovely palms, ficus and ferns and flowerboxes of colorful blooming shrubs and ornamentals. But past the quaint Caribbean shops on that section of Strand is the government parking lot – just beyond its fence are the ruins of a derelict house on an area covered with weeds.
"We want to reclaim the pride we had in having a beautiful community," Devorath Elcock, Harborside secretary, said. "There are so many people feeling down, disregarded, and depressed. We felt it would be a good thing to have a bright spot to put a smile on the faces of residents and visitors. That was the impetus for our decision to adopt this spot."
In March 2011, Harborside wrote to Department of Public Works Commissioner Darryl A. Smalls expressing an interest in sprucing up the area. August that year Harborside received permission from the Historic Preservation Commission (HPC) to erect the Rotary sign and plant flowers. Elcock, said they needed HPC approval because Christiansted Town is a Historic District.
Elcock said they got to work clearing brush and garbage and then planting flowers. Waste Management Authority provided a dumpster which the Rotarians promptly filled.
Cruzan Gardens donated yellow allamandas. They got some mulch from the Department of Agriculture and Home Depot also donated mulch. Joel Gumbs donated time, expertise, and a few hibiscus plants. Gallows Bay Hardware donated garbage bags. Generoso Miego volunteered with the site prep and planting and residents donated money to help with the project.
"This has been a public and private partnership," Ben Mshila, New Vision chairman, said.
"While this has been a Harborside project, we have definitely been assisted by the community," Elcock said. She said one of her most endearing experiences of the community's help was at a recent Jump-Up. "After I gave a boy my spiel about community pride and contributing, he pulled a crumpled dollar bill from his pocket and placed it in our donation bottle. I told him each time he passes the spot he can know that his dollar helped to make it beautiful."
Phillip Peters, a car washer in government lot, said he is proud of his city as he helped Elcock sweep the street. "I like to see the place clean and looking nice," Peters said.
"It's my hope that other civic and community groups will adopt spots throughout the island to beautify our home," Elcock said. "We put our sign up because a little awareness could help. We'd love to have more people join us to help make our community a peaceful and beautiful place."
Elcock said around three months ago Tonni Christensen, a visitor from Denmark, passed by while she was working at the adopted spot and said the ruins were what was left of his great-great-grandmother's house. He said it was heartbreaking to see the house in ruins, but he was happy to see the Rotarians cleaning up the spot.
Elcock said the purpose of the Rotary club is to maintain a balance between providing service to others, receiving information supplied by speakers, maintaining camaraderie and fellowship within the club and providing enjoyment.
The Rotary Club of St. Croix-Harborside was chartered September 1996 and is the youngest of the four Rotary Clubs on the island of St. Croix. They meet every Wednesday at 5:30 p.m. on the second floor of the Fort Christian Brew Pub on the Christiansted Boardwalk.
Harborside has nine members and needs more members to be able to provide more for the community. "We are a small but very active club," Elcock said.
Lionel Downer, Harborside president, said they take pride in their "can-do, hands-on" attitude. "The adopt-a-spot project is a clear example," Downer said.
Downer invites those interested in Rotary and the Harborside club to check out the Harborside Facebook page (Rotary Harborside of STX) or contact Downer at 277-7206.