Local news — St. Croix
Faith Matters: Mormons on a Mission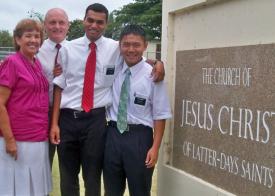 Everyone in the Virgin Islands has seen them at one time or another. They are clean-cut, young men walking around in white shirts, neck ties and dark pants. They are wearing black Church of Jesus Christ Latter-Day Saints name tags and carrying The Book of Mormon.
They aren't like people of other faiths who go from door to door. Mormon missionaries walk through residential areas and towns praying to be shown an open door where they may share their beliefs and invite people to join the Church.
Senior Elder Fred and Sister Helen Pitman, from Arizona, said sometimes they go to a house and someone says they had been waiting for them. The Pitmans, in their 60s, are on a one-year mission. They spent six months in the Dominican Republic and now are spending six months on St. Croix.
The young missionaries male and female are generally between 19 and 25 years old, but are given the title of "Elder." Mormons usually address each other as "brother" or "sister." The missionaries are always in pairs and they call each other companions.
Helen Pitman said the missionaries go out as kids and they come back as adults. "This prepares them for life and a commitment to the Church, marriage and family."
St. Thomas missionaries are Elder Chase Beckstead from Kirtland, N.M., who began his mission in March of 2011; and Elder Brian Scroggins from Las Vegas, Nev. who began his mission work October of 2010.
Elder Kegasi Turbovski, 21, from California began his mission on St. Croix in January and his companion, Team Moua, 20, came to St. Croix from Georgia in May, 2011.
Both missionaries on St. Croix said they feel joy, happiness and strength with their families and they hope to spend eternity in heaven with them, so they follow the teachings of the Church and the Book of Mormon that teaches about eternity and family relationships perpetuated beyond the grave.
"I know being together after this life is only possible through the authority of God," Moun said. He said he was raised a Mormon, but it was after he grew up that he found out for himself that the messages of the Book are true.
Turbovski said he was also raised a Mormon but didn't believe in the Book of Mormon until he left home for college at the University of California, Riverside Campus, where he began to really read and fully understand the Book and believe in its messages. They also read and follow the Bible.
"I love my family and want to spend eternity with them. I believe only by and through Jesus Christ will we live with our heavenly father and family for eternity," Turbovski said.
The young men are serving two-year missions by choice. They don't get to choose where they go but it doesn't make a lot of difference to them because they are so immersed in their mission.
The first time male or female missionaries, are on a strict daily schedule beginning at 6:30 a.m., when they rise to when they go to sleep around 11 p.m. Their day consists of studying scripture, praying, exercise, and going out to serve people in the community.
The missionaries said they don't have time for activities like going to the beach or listening to local music and dating. Moua said they do get to have some fun playing sports like basketball with local youth in community housing while sharing their messages of eternal life in heaven.
"We strive daily to serve Jesus Christ with all of our hearts and minds," Turbovski said. "And we serve with obedience to rules of the Church."
The missionaries in the U.S. Virgin Islands are under the Puerto Rico District. The funds for the missionaries' housing and living expenses come from donations or if they are able to missionaries put in $440 a month. Turbovski said he worked and saved for his mission.
The young missionaries don't use any electronic devices except a cell phone programmed for phone calls only.
The young men said they haven't paid any attention to the media. But the Pitmans did have an opinion about Romney running.
"We're very excited about Mitt Romney running," Fred Pitman said. "It's great that there's good media focus on the church. It's nice that the Romney campaign is straightening out the ideas about the church. We do support good people and get involved."
On St. Croix, the Church of Jesus Christ Latter Day Saints has been in Estate Hermon Hill since 1978 and there are around 90 members. And on St. Thomas, the church is in Estate Hoffman with around 70 members.
All the missionaries spoke very highly of the locals they have met.
"The local people are very nice," Beckstead said. "They are loving and listen to us. And they help us and are willing to let us help them."
Fred Pitman said eventually the young missionaries may have the calling to lead their own congregation, have a career, a family and spend the rest of their lives serving the Lord.
"And in the end the Savior will look at them and say, 'well done my good and faithful servant,'" Pitman said.