Local news — St. Croix
Senate Looks At Austere Budget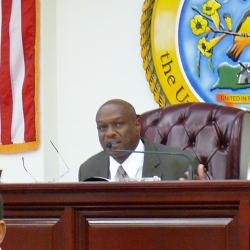 While the government struggles fiscally and faces painful cuts to schools, police and government services, congressional delay over rum excise tax extenders is costing the territory millions of dollars right now, Management and Budget Director Debra Gottlieb told the Senate Finance Committee Friday.
Gottlieb made the comments while being questioned about revenues from the Diageo and Cruzan Rum distilleries, during the first day of hearings on Gov. John deJongh's proposed budget for fiscal 2013.
The 2013 proposed executive budget from the General Fund is $695.8 million – $35.3 million less than last year. Counting federal funds, license fees, fines and fees for services, the government anticipates total revenues from all sources of roughly $1.1 billion.
The federal government currently collects $13.50 in excise taxes on each proof gallon of locally produced rum sold throughout the mainland. Of that amount, $13.25 is remitted to the V.I. government, based on the relative volumes of Puerto Rican and Virgin Islands rum exported.
Delegate Donna Christensen introduced legislation in June to extend the rum cover-over for two years from $10.50 per proof gallon to $13.25. The additional $2.75 must be approved every two years, and Congress approves it with little dispute or controversy. But budget cutting zeal in Congress has put more attention on the extension than in some past years.
The rum cover-over has yielded approximately $100 million annually to the Virgin Islands treasury. Its yield is expected to rise with increased production from the Diageo and Cruzan plants. Proceeds are traditionally used to back bonds for capital improvement projects.
Noting the government anticipated getting about $37 million for the General Fund budget from Internal Revenue Matching Funds (rum cover-over revenues) in 2012, and $47 million in fiscal 2013, Sen. Louis Hill said the territory added $44 million to its budget in 2007, before the massive new Diageo distillery opened on St. Croix.
"I am wondering if the rum companies are producing less rum," Hill said. "Why are we not seeing big increases in the Internal Revenue Matching Fund?" he asked.
Part of the answer is the territory already spent a portion of projected new rum revenues to make ends meet the last few years, Gottlieb said. Also, Diageo began selling rum from the St. Croix earlier this year, so collections thus far are only for a partial year, she said.
But right now the territory is receiving $10.50 for each proof gallon of rum – about 20 percent less than usual – because Congress has yet to pass the extender that would keep that figure at $13.25 per gallon, she said.
"We are working on the extenders now and are optimistic on how that will play out," Gottlieb said.
"And Congress is not holding it up because of us, but it is being held up as part of a larger bill that Congress has not acted upon?" Hill asked of Gottlieb.
"That is correct," she replied.
The government closed its budget gap for two years running with bond debt secured by the rum revenues, so as that debt is paid, it reduces the contribution to the current General Fund budget, Finance Commissioner Angel Dawson testified.
"The annual debt service is almost $20 million, but we already got front-loaded $500 million that helped us get through fiscal 2010 and 2011," Dawson said.
For fiscal 2012, revenues attributable to Cruzan are projected to total $116.4 million, and Diageo's first, partial year of sales are anticipated to generate $78.9 million, for a total of $195.4 million for the year, Gottlieb said. In 2013, projections are for Cruzan to generate $121.7 million and Diageo $145.7 million, for a total of $267.4 million, she said.
"However, as my colleague pointed out, we have to pay out for debt coverage," she said.
"When are we going to actually see the gross numbers coming in?" Sen. Shawn-Michael Malone asked.
"It's almost as if you were getting $1,000 per month gross pay and you buy a house," Dawson said. "You get the house and after making your $500 per month payment, you may ask what happened to the other $500. Well, you have a house, it has some value. We realized $500 million in advance funding from Diageo and Cruzan," he said.
Bringing Diageo to the territory also increased federal funding through the Caribbean Basin Initiative Fund, Gottlieb said in response to questioning from Malone. The federal government allocates tax revenues from rum imported into the U.S. from abroad to Puerto Rico and the U.S. Virgin Islands through the Caribbean Basin Initiative Fund by a complicated formula, based on each territory's proportional production of rum.
"Now our percentage has increased because with Diageo, our portion of rum sales has increased in proportion to Puerto Rico," Gottlieb said. Before Diageo, the fund generated between $7 million and $8 million, with a high of about $11 million, but is now projected to be about $16 million, she said.
Sen. Carlton "Ital" Dowe said constituents are calling daily to ask what is happening with income tax refunds, which have piled up due to lack of budgeted funding while the government struggles to make payroll and other more pressing demands.
Internal Revenue Bureau Director Claudette Watson-Anderson said there were roughly $56 million in tax returns still in the bureau's inventory. IRB pays four percent interest on past-due refunds, which has accumulated to about $1 million to date, she said.
Tax refunds will start to be paid off more rapidly once the government closes on $120 million in new bond debt authorized by the Legislature, members of the governor's financial team said. Half that money will go to cover current 2012 budget shortfalls, and the remainder will help shore up the 2013 budget, Dawson said.
"We anticipate closing at the end of August or beginning of September, somewhere around that time," Dawson told the senators.
No votes were taken at the information gathering hearing of the Finance Committee.
See "Governor Submits Austere 2013 Budget" in related links for a broad overview of the proposed 2013 budget.
Proposed General Fund budget totals for all the central government agencies and semi-autonomous bodies are:
• $162.5 million to the Department of Education;
• $57.3 million to Human Services;
• $51.7 million to the V.I. Police Department;
• $21.7 million to Health;
• $25.8 million to the Bureau of Corrections;
• $21.3 million to Schneider Regional Medical Center;
• $19.2 million to Gov. Juan F. Luis Hospital.
• $20.5 million to Public Works;
• $16.2 million for V.I. Fire Service;
• $13.1 million for the Department of Justice;
• $10 million to the Internal Revenue Bureau;
• $9 million for the Office of the Governor;
• $7.6 million to the Department of Planning and Natural Resources;
• $6.4 million for the Office of the Lieutenant Governor;
• $5.9 million to Housing, Parks and Recreation;
• $5.3 million to the Department of Finance;
• $4.5 million to the Department of Labor;
• $4.3 million to the V.I. Territorial Emergency Management Agency;
• $4.1 million to Property and Procurement;
• $3.1 million to the Department of Licensing and Consumer Affairs;
• $2.9 million to the Board of Education, with $900,000 for scholarships;• $2.7 million to Tourism;
• $2.5 million to Agriculture;
• $2.4 million to the Bureau of Information Technology;
• $2.4 million for the Division of Personnel;
• $2.1 million for the Office of Management and Budget;
• $1.5 million to the V.I. National Guard's Office of the Adjutant General;
• $1.7 million to the Bureau of Motor Vehicles;
• $1.3 million to the Office of the Inspector General;
• $300,000 to the Office of Veterans Affairs.
The budget allocates $143.2 million from the General Fund for other expenses, including the budgets for government entities that are not part of the central government, with:
• $28.1 million for the University of the Virgin Islands;
• $23.1 million for the Waste Management Authority;
• $18.8 million for Superior Court;
• $17.6 million for the Legislature;
• $5.7 million for the Supreme Court;
• $3.8 million for WTJX public television;
• $1.3 million for the supervisor and boards of election;
• $200,000 for the Judicial Council.
Other major expenses include $23.9 million for health insurance for retirees, $9 million for additional Medical Assistance Program (Medicaid) matching funds and $7 million for the cost of reinstating the eight percent cut in salaries imposed a year ago as a budget-cutting measure.