Local news — St. Croix
Volunteers Clean Up at Sandy Point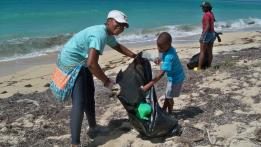 Sandy Point National Wildlife Refuge looked picture post card perfect Saturday after a dozen volunteers and employees of U.S. Fish and Wildlife Service combed the beach picking up trash.
The beach cleanup wasn't for the tourists that come to St. Croix, it was for endangered wildlife that visits Sandy Point.
The Sandy Point beach occupies almost two miles of the southwestern tip of St. Croix. The refuge provides nesting habitat for sea turtles and a feeding and resting spot for resident shorebirds and migratory birds. The refuge was established to protect nesting leatherback, green and hawksbill turtles. It is habitat for 100 species of birds, five of which are endangered.
Saturday the Caribbean was three shades of blue, under a bright bright blue sky, and the beach was clean and free of plastic bottles, Styrofoam, plastic ropes, nets and other plastic debris that could harm turtles and birds. It looked inviting to human as well as wildlife.
Cassia Smith, a senior at St. Croix Educational Complex, helped organize the beach cleanup. She is taking part in the Connecting People with Nature High School Career Experience Program. The students in the summer program work two days a week doing all sorts of tasks at the refuge.
Jennifer A. Travis, visitors' services specialist for the U.S. Fish and Wildlife Service, said the program funded by a federal grant is to engage, educate, and employ students.
Smith said the best part of the program is working with the turtles.
"This has been a once in a lifetime experience," Smith said. "The most memorable part of this summer has been night patrols and being close to the turtles when they were measured."
She added she would like to study biology in college.
Kelcie Troutman, a marine biology student at the University of the Virgin Islands, was volunteering for the UVI Student Conservation Association. She said being in the association gave her opportunities to travel and volunteer for the community doing beach cleanups and such.
Sisters Jether William and Johanna James gave up their Saturday morning to help save the turtles.
William is in the Complex Class of 2002 Educational Foundation, a program set up to give back to the community. She said she grew up volunteering and is passing that practice on to her five-year-old son, Gabriel, who also helped clean the beach. He was way ahead of the group, scooping up plastic bottles and running as fast as his little legs could carry him.
"We volunteer with cleanups and such any time we can," William said.
James said as teens she and her sister had been in Graffitti Street, a local PBS show featuring local teens, and they did turtle watching excursions at Sandy Point, which were memorable.
"I jog here and I want it to look nice so I work to keep it clean," James said.
Travis said the beach is downwind and down current of the landfill and next to shipping lanes for cargo ships, so a lot of trash washes ashore. She said this was the third cleanup this year on the beach.
"The beach is looking great," Travis said. "I feel good about how much we have done."
She added there is one section left and she is going to see about a school volunteering for the cleanup.
The refuge is closed to the public until September for turtle nesting and hatching season that runs from March to December. Travis said they had around 100 leatherback nests and the green and hawksbill are just starting to come ashore for nesting.