Local news — St. Croix
Celebrity Chefs Teach Kids
This past week adults enjoyed adult food and wine tasting activities and events during the St. Croix Food and Wine Experience. The younger crowd had their chance Saturday to experience the annual event in cooking classes given by guest Chefs Ana Sortun and Evelyn Paul.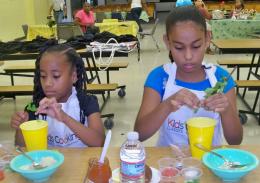 The youngsters aged 6 to 12 made quick, easy, and healthy dishes out of common food items.
"This is the best part of the whole week- getting kids involved in food," Paul said. "Kids are so much fun." She said getting them involved in the process and preparation of healthy food at a young age teaches them healthy eating habits that they will use as they get older. She says when she was a child her grandmother taught her to cook healthy nourishing food. Paul lived in Frederiksted as a child and is now a private chef in Atlanta.
The children accompanied by an adult gathered in the cafeteria at Pear B. Larsen Elementary School just outside of Christiansted. Around 40 kids took part in either one or two of the classes offered.
Paul showed the children how to make a Southwestern chicken wrap and how to decorate cupcakes.
She had prepared grilled chicken breast cut up and ready to stuff into whole wheat tortillas. The youngsters could top the chicken with their choice of cilantro, low-fat sour cream, shredded cheese, or black bean and corn salsa.
Sortun is the 2005 James Beard Foundation Northeast Best Chef and the owner of two restaurants in the Boston area. She studied culinary arts in France and Turkey.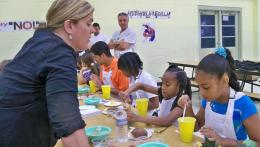 Sortun taught the children how to make a healthy Moroccan dish with ingredients most normal children like.
She hard boiled eggs and boiled potatoes ahead of time. Then the children mashed them in individual bowls and blended in a wedge of creamy Swiss cheese. They could add red peppers and green onions, or spice it up more with red pepper flakes and paprika. The potato mixture was served on huge whole wheat rolls split in half. They also had a jasmine tea with orange and mint they mulled in their glasses then sweetened with apricot jam.
"Classes like this get the children interested in healthy food and healthy lifestyles," Sortun said.
Jay Ridgeway and his mother, Jill Dedinsky, a local chef, said they had to take the class; Dedinsky cooked with Sortun last year during a Taste of St. Croix. "We also happened to look her up last summer at her restaurant, Oleana, in Boston," Dedinsky said. Ridgeway, age 10 and an avid cook, said he attended last year and he was excited to be able to do the class this year with Sortun.
Paul said that she hopes some of the children attending will be interested in working in the culinary industry.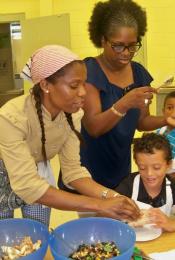 "If a student is interested in cooking it is important for them to get great training and then come back to the Virgin Islands," Paul said. "The students have a chance to shape the food industry here. They can control what happens with food from the farm to the table."
Dariah Stennette, who brought her godchild and niece to the class, said participating in the class was a fun way to have the children learn food preparation and nutrition. Enperatriz Delgadillo, a 10-year-old student at Lew Muckle Elementary School, said she really enjoyed the class because she likes to cook and try new things.
Innovative helped sponsor the event and gave each participant a back pack, notepads, and pens. Marcy Heistand, director of sales for Innovative, said Innovative is proud to be a sponsor of events that improve the quality of life for the youth in the community.