Local news — St. Croix
Leo Carty - Island Expressions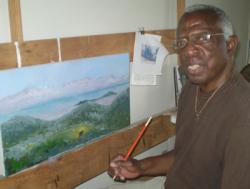 As a little boy, Leo Carty drew Popeye and Mickey Mouse with chalk on the sidewalks of New York City in the 1930s. Those cartoon drawings were the beginning of a life-long love of art for the shy boy who, at 10, earned a scholarship to the Museum of Modern Art School for Children.
Carty, a well-known St. Croix artist, said he had drawn a sports mural on oak tag, heavy-weight paper, and his elementary school teacher Mr. Vaughn, rolled it up and sent it to the Museum.
Carty, the son of Trinidadians, said it was a world of difference for a young African American boy going by subway from the heart of Harlem to Fifth Avenue in Manhattan.
"At that time a lot of people who grew up in Harlem never even got out of Harlem," Carty says. "I was the only black kid in the class."
He says African American men he knew did not become artists.
"I didn't know anything about art as a living," Carty says. "I kept it a secret from friends that I was in art."
He graduated from the High School of Music and Art, attended Cooper Union School of Art and Pratt Institute, studying commercial art and design.
He served in the U.S. Air Force during the Korean conflict saying he was thankful to land in the Department of Training in Marcus, Texas, where he illustrated training manuals and safety posters.
Before moving to St. Croix he worked as a cartoonist and was syndicated in 93 African American newspapers. He has also illustrated eight African American children's books for major publishing companies. He created and ran a successful African American greeting card company named after his son, called Anton Studios. He still sells greeting cards, only now they are of his St. Croix paintings.
Carty says a major part of his art training was learning to observe things around him. That's also what brought him here. He made numerous visits to St. Croix making observations of the island, he liked what he saw and made St. Croix his home in 1976.
Carty says he has an interest in island history and he is fond of the old buildings on St. Croix. He is inspired by and paints the historical structures of St. Croix as a focal point in a lot of his paintings. He paints realistic local figures in period dress from the early 1900s. The paintings, done in oils, acrylics and watercolors, are lifelike scenes of people fishing on the beach, women working together, or weddings at the Lutheran church in Christiansted.
Some of large Carty paintings are hanging in the halls of the Buccaneer Resort. He painted a three-paneled mural of life on St. Croix, St. John and St. Thomas in the Alric L. Christian Federal Building and Court House in Orange Grove. He doesn't do shows because he says he is a slow painter and doesn't build up enough paintings.
Since coming to St. Croix Carty has taught art at all age levels.
He taught at St. Dunstan's Episcopal School for 10 years and managed the St. Croix Senior Art Program. He did after-school classes at the libraries and at the prison.
Based on observations he made of things happening around St. Croix, he created an editorial cartoon for the Avis newspaper. The cartoons done thirty years ago still ring true today.
He has served on several boards, including the V.I. Council on the Arts, the St. George Village Botanical Garden and the St. Croix Jazz Society.
Lately Carty has been dealing with arthritis, so he is adjusting his style from long sweeping brush strokes to smaller strokes. He says now he basically just does commissioned works.
Bob Gleeson, Carty's agent at Many Hands in the Pan Am Pavilion in Christiansted, said Carty is only selling originals and has stopped making prints. Carty is a well established Caribbean artist, Gleeson said, and one of the top artists he has in the store.
"People love his old fashioned expressions and ask for his works," Gleeson says. "His limited editions are going up in value."