Local news — St. Croix
Juan F. Luis Hospital Seeing Energy Savings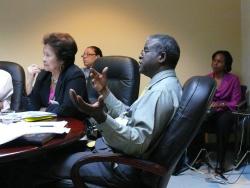 Thanks to an energy-management contractor paid entirely from money saved, the Gov. Juan F. Luis Hospital is lowering public utility use now, and over time should begin seeing big savings on its multi-million-dollar annual power bills, the hospital's board was told Wednesday.
Reporting at the board's regular monthly meeting, Peter Abrahams, director of facility operations, said two large generators put in place by the Stonehouse Group generate power for the hospital at 23.5 cents a kWh - 7.5 cents less than the 31 cents charged by the V.I. Water and Power Authority. That price includes maintenance, operating the generators, fuel - and the generators themselves, which will become property of the hospital after five years, Abrahams said. The units are currently powering all the building's air conditioning, which is about half the hospital's total electricity consumption. As an added benefit, the generators add flexibility and expand the hospital's backups, should a major storm cut off public power.
And changes in wiring, lighting, propane use, water use and other aspects of hospital operations are beginning to realize savings in the hundreds of thousands of dollars, he said.
While good news, none of this translates to cash savings for the hospital - yet. The contract with Stonehouse Group is revenue neutral up until savings pass set benchmarks, Abrahams said. That means the hospital does not pay a dime out of pocket for any of the new measures.
But Stonehouse is paid out of the savings and until they rise to a certain level, the hospital pays exactly what they would have paid otherwise. After that threshold, the hospital keeps 80 percent of all savings and Stonehouse gets 20 percent, giving it lots of incentive to find more ways to save. Though that level has not yet been reached, lots of factors point to huge savings in the long run, he said.
First, the generators have only been operating since October - and while running smoothly, they have not been running continuously. Now that they are beginning to run all day, every day, the savings will start to add up rapidly. Plus, the hospital has just negotiated an agreement with Hovensa for lower fuel costs.
"We feel once it is implemented, we will be able to reduce the cost by another three to five cents per kilowatt hour," he said. "Getting the Hovensa rack rate gives us nearly a 25 percent advantage."
Board member Imelda Dizon asked why generating power onsite is cheaper than WAPA.
"One thing is we have a brand new, very efficient generating system," he said. "The second factor is WAPA has a certain amount of line loss in their system while we are just traveling 300 feet and have essentially no line loss at all."
On a separate front, the hospital will be installing solar panels, paid for through a grant from the V.I. Energy Office, he said. They have already gone to bid and the hospital is now negotiating final contract terms.
"We are hoping very shortly we will be able to make that award," he said.
Once installed, the solar panels will produce 30 kW when the sun is shining - much more than a house would use, but relatively minuscule compared to the hospital's total usage.
With high power rates and bills running to many millions of dollars per year, the hospital has regularly run behind in paying WAPA, at times owing more than $10 million and paying it with the help of government appropriations. Any savings it realizes will help the fiscal bottom lines of the hospital, the government and WAPA.
In other business, Dr. Robert Centeno, the hospital's medical director, said several new doctors have been added to the staff, including a widely skilled general surgeon, an orthopedic surgeon, another obstetrician/gynecologist and a second nurse anesthetist.
"The second nurse anesthetist as backup to the anesthesiologist will allow 24/7 labor epidural service, which is something the community has been clamoring for," Centeno said.
Over the last two months, the hospital has managed to eliminate 12 traveling contract nurses, persuading most of them to take permanent positions with the hospital, Nursing Administrator Wendy O'Brien-O'Reilly said. With a worldwide shortage of nurses and other factors making it hard to hire enough nurses locally, the hospital has had to rely upon much more expensive contract traveling nurses. But, O'Reilly said, many of those contract nurses had been on-island over a year and were amenable to switching to regular contracts. By cutting out the middle-man, the nurses make more money and the hospital saves money, she said.
The next meeting of the Juan Luis governing board is scheduled for March 17 at 5 p.m.