Home-Garden — St. Croix
June's Views – From the Farm
DON'T BUG ME!
Pests are the bane of farmers and gardeners and often we don't know that we're being bugged until it is too late to save our plants from total destruction.
Case in point…just this week I had to pull up an entire bed of heirloom tomatoes and it hurt my heart to do so. However, sacrificing a very prolific producer to save many more beds of tomatoes in various stages of development was absolutely necessary, or run the risk of losing even more plants.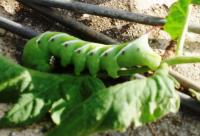 The bug in question was the dreaded spider mite. This is a tiny little bug that can sneak up on your plants if you're not vigilant. The little bugger lives on the underside of leaves and sucks the life out of the plants that way. The result is the yellowing of leaves or in some cases the leaves could develop brown spots then eventually dry up and fall off or have to be pulled off. The spotting on leaves is one sign but if you look more closely or if the infestation is really advanced, you can observe webs of silk looking very much like dense spider webs that could cover the leaves, stems and fruit of plants.
Spider mites like the weather hot and dry. So an easy way to combat this bug is to keep the humidity up by spraying plants several times a day, particularly when there is no rain and the temperatures are high. You could choose to use harsh chemical sprays like Sevin to control the problem of mites, however, for those of us who choose to follow organic practices, there are alternative methods of mite control, such as insecticidal soaps which combine soap and oil. The soap helps to wash off the mites while the oil helps the solution adhere to the surface of the plants to aid in controlling further damage.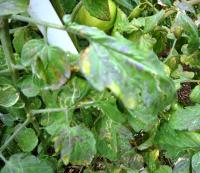 Sprays should be used until the plant is dripping from being drenched. The undersides of leaves should receive special attention, as this is where the mites reside. Spray when the wind is low to non-existent. For safety, use a face mask when spraying whether using chemical or organic pesticides, and when you harvest fruit or vegetables, wash them carefully to remove any residue before eating.
Another pest that has been bugging our tomatoes is the hornworm. This nasty creature can devastate a crop in very short order. The tomato hornworm is a caterpillar that is the same color of the stems and leaves….it is a really pretty green. As such it can be a challenge to detect. Usually this marauder is found because it leaves its little black droppings on lower leaves. Unfortunately, the best way to find them is to search for the destruction that the hornworm causes.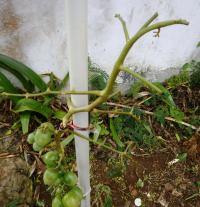 If there are leaves that have been munched so that all that is left is a bare stalk or a center rib devoid of leaves…..you have a hornworm hiding in the foliage. Find it quickly and dispatch it to the nether world. I use scissors to cut them. Not a pleasant task, but one that is absolutely necessary. Sometimes these caterpillars, which are also called chinees, will even eat into very young tomatoes. The destruction that these bugs cause can be horrific if they go undetected. If the hornworm is caught early enough some of the eaten stems will bounce back and begin to grow leaves. Too often though, the destroyed stems remain stunted. In this case, just cut them back and allow the plant to recover.
June Archibald owns and operates Precious Produce Farms in St. Thomas.