The Office of Child Care and Regulatory Services will be conducting a mass consultation for summer camps throughout the territory.
All "In and Out of School" youths between the ages 14 to 25 are invited to register for the approximately 650 available slots for summer youth employment.
In his capacity as Commissioner of Insurance, Lt. Gov. Osbert E. Potter advises the public to learn fully about a Health Care Sharing Ministry (HCSM) before joining it.
The members of the 32nd Legislature are inviting the community to witness an historic commemoration of the territory's first 100 years under the American flag.
The Virgin Islands Department of Health (DOH) will be holding an all staff meeting for its employees on the following days:
The Virgin Islands Police Department advises the public that the Firearms Bureau's hours of operations have changed, effective immediately.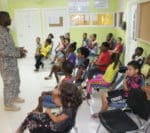 On Saturday, March 11, the Virgin Islands Police Department (VIPD) hosted a fun day for families and children at Harbor View Housing Community.
The Department of Labor is accepting applications for the Labor Investing for Tomorrow (LIFT) summer internship program. The deadline of March 24, 2017, is approaching and slots are limited for this internship experience.