The Community Foundation of the Virgin Islands (CFVI) has announced that its annual academic scholarships for graduate and undergraduate students are now available.
This program, currently in its eighth year, was developed by The Home Depot Store Support Inc. to recognize and encourage innovative projects that enhance the campuses of America's treasured HBCUs.
Anyone who has ever wanted to start and operate a summer camp, is invited to join the Department of Human Services when it presents workshops titled "Mass Consultation for Summer Camps."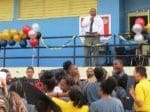 Elena L. Christian Jr. H. S. rolled out its School Year 2016-17 Positive Behavioral Interventions and Supports (PBIS) initiative with a school-wide rally after an Honor Roll Assembly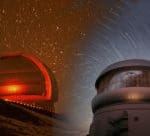 The National Optical Astronomy Observatory granted astronomers at the University of the Virgin Islands access to two of the world's largest telescopes in Chile and Hawaii.
The poetry recitation event encourages high school students to learn about great poetry through memorization, performance and competition. Poetry Out Loud is a national competition, and the Territorial Finals are scheduled for March 11.
John H. Woodson Junior High School eighth-grader Makayla Todman, 13-years-old, won the St. Croix District 44th Annual Spelling Bee Championship on Friday, Feb. 24.
The University of the Virgin Islands Board of Trustees will meet at 10 a.m. on Saturday, March 4, in the Great Hall on the Albert A. Sheen Campus on St. Croix.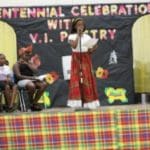 Students and others recited original works of poetry at Markoe Elementary School's "Centennial Poetry Celebration Featuring Virgin Islands History & Culture with a Taste of Virgin Islands Cuisine."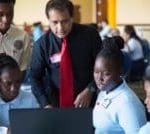 Scotiabank International has invested $2,000,000 in Junior Achievement's (JA) project Road to Success, which is one of the largest organizations in the world devoted to preparing youth to be successful in today's global economy.