The Division of Special Education is seeking children and adults with intellectual disabilities to participate in the USVI Special Olympics Area Games set for March 25 on St. Croix and May 6 on St. Thomas.
The VIBE Governing Board will convene a regular board meeting at 5:30 p.m., Friday, March 17, on St. Thomas. The board meeting will continue at 9 a.m., Saturday, March 18, on St. John.
The University of the Virgin Islands will celebrate its 55th anniversary, the Emerald Jubilee, during March with multiple events and activities.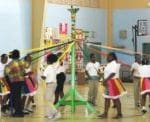 Schools in the St. Croix District are highlighting quelbe and cariso music, among other aspects of local culture during their celebrations of Virgin History Month.
The Caribbean Hotel and Tourism Association Education Foundation (CHTAEF) has announced that its application deadline for its scholarship program is Thursday, March 30.
UVI alumni and friends are asked to once again lend support to its annual telephone fundraising drive to support academic scholarships for students in need.
The Community Foundation of the Virgin Islands (CFVI) has announced that its annual academic scholarships for graduate and undergraduate students are now available.
This program, currently in its eighth year, was developed by The Home Depot Store Support Inc. to recognize and encourage innovative projects that enhance the campuses of America's treasured HBCUs.
Anyone who has ever wanted to start and operate a summer camp, is invited to join the Department of Human Services when it presents workshops titled "Mass Consultation for Summer Camps."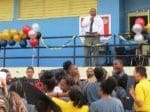 Elena L. Christian Jr. H. S. rolled out its School Year 2016-17 Positive Behavioral Interventions and Supports (PBIS) initiative with a school-wide rally after an Honor Roll Assembly