Project Promise has announced that a Caterpillar Project (TCP) student was selected as one of the winners of the Virgin Islands Olympic Committee's poster contest. Ten-year-old Kinaya Davis was selected as the elementary division winner.
The Virgin Islands Department of Education's (VIDOE) Safe Schools Program on St. Croix sponsored a training session for over 100 response team members in the school district on Oct. 27-28 at the V.I. Territorial Emergency Management Agency (VITEMA) Headquarters in Christiansted.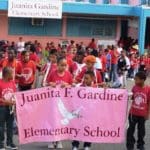 Over 400 supporters, to include students, parents, faculty and staff, and volunteers at the Juanita Gardine Elementary School took to the streets shouting "YOLO – Be Drug-Free!" as they participated in the school's Annual Red Ribbon Week March on Thursday, Oct. 27.
A partnership between the UVICELL Center, Diageo USVI and balter St. Croix culminated Friday, Oct. 21, with a graduation ceremony. Fourteen students completed the Learning Skills for Life ™ program, which has prepared them to work in the hospitality industry.
The Virgin Islands Department of Education - Office of the Insular Superintendent in the St. Croix District has announced five finalists under consideration for the prestigious 2016 District Teacher of the Year award. The winner will be announced at a reception at Government House in Christiansted on Sunday, Oct. 30.
The Virgin Islands Department of Education (VIBE) - St. Croix Office of the Insular Superintendent is informing students, parents and the public that the St. Croix Educational Complex (SCEC) High School track will be closed beginning Sunday, Oct. 30.
The University of the Virgin Islands welcomes Wilberto Ramos into its family as the new athletic director. Ramos served as athletic director for seven years at Talladega College in Alabama, where he also served as head baseball coach. He is enthusiastic about the new direction that his life and career have taken.
Student athletic activities will resume on Monday, Oct. 17. All student athletes are required to provide proof of insurance to participate.
A group of junior and high school students dressed in white and carrying torches handcrafted from vibrant paper resolutely marched down King Street in Frederiksted on Sept. 30 shouting, "We want more money! We want a better contract!"
Students, faculty and staff along with members of the St. Croix School District Leadership Team delighted in fresh, local fruits and vegetables served as part of Claude O. Markoe Elementary School's lunch menu on Wednesday, Oct. 5.