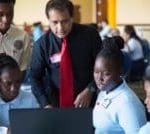 Scotiabank International has invested $2,000,000 in Junior Achievement's (JA) project Road to Success, which is one of the largest organizations in the world devoted to preparing youth to be successful in today's global economy.
Nine students have completed the second Business Design Grants Program (BDGP) at UVI, which is the first step on the road to victory in the annual 13D Entrepreneurship competition. They will now compete for $60,000 in cash to launch their viable business proposals.
The University of the Virgin Islands (UVI) is celebrating its Emerald Anniversary with a revolutionary philanthropic initiative: "55 for 55: The Great Alumni Challenge!"
Claude O. Markoe Elementary School will present a Centennial Poetry Celebration at Café Marlin in the school auditorium.
Members of the local graduate chapter of the Mu Gamma Omega Sorority donated 20 backpacks to Alfredo Andrews Elementary School.
Renee Charleswell, Ph.D., director of the State Office of Special Education, informs parents and guardians of children with disabilities, between the ages of three through 21, of the Annual Parental Survey to be conducted territory–wide beginning Feb. 21.
The Virgin Islands Board of Education Governing Board will convene in a regular board meeting from 3:30-7 p.m. Feb. 17, in the VIBE office...
The Caribbean Writer has announced its call for submissions for Volume 32. It is seeking works that explore the many variations of the theme:...
Innovative has announced that applications for the 2017 Innovative-UVI Scholarships are available at UVI's campuses in each district.
The State Office of Special Education (SOSE) informs the public that copies of the 2017 IDEA Part B Federal Grant Application are available for public review in both school districts over the next 60 days.