"AKA Day at the Capitol" is an initiative that allows the sorority members and lawmakers to participate in a dialogue about important platform issues.
The V.I. Department of Labor invites employers, not for-profit organizations and training service providers to participate in this year's Summer Youth Work Experience, Training Program.
Frederiksted Health Care Inc. (FHC) has embarked on an initiative to ensure that the homeless have access to meals throughout the day, especially on the weekends and weeknights.
The Division of Libraries, Archives and Museums will celebrate National Library Week, April 9-15. First sponsored in 1958, This national observance is sponsored by the American Library Association and libraries across the country.
Grants will be awarded based on the potential of the proposed project to promote an integrated approach to addressing shared environmental concerns across island boundaries as well as to projects that contribute to trans-boundary solutions for environmental problems.
Applications for the USVI Hotel and Tourism Association's (USVIHTA) Lorette Resch Scholarship will open April 3 with a submission deadline of May 5.
The following is a list of the Centennial Events Scheduled for March 24 Through April 2:
The Office of Child Care and Regulatory Services will be conducting a mass consultation for summer camps throughout the territory.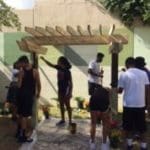 On Monday, Project Promise's Caterpillar Project students and staff, along with volunteers from the community and Howard University students, completed a long-anticipated memorial garden for JFL.
Members of the Virgin Islands Transfer Centennial Commission will appear on WTJX's "Face to Face," which is hosted by Addie Ottley and airs on Channel 12.