V.I. Next Generation Network Inc. (viNGN) encourages everyone to #LearnSomethingNew every day and has published a free e-book and guide to getting a business online.
Caribbean Cinemas of St. Croix and the family of the late David Browne have announced the grand opening of a newly built cinema complex, centrally located at the Sunny Isle Shopping Center Annex, Estate Diamond, Christiansted.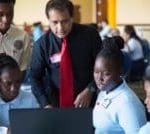 Scotiabank International has invested $2,000,000 in Junior Achievement's (JA) project Road to Success, which is one of the largest organizations in the world devoted to preparing youth to be successful in today's global economy.
Sea Star Holdings Inc., the parent company of Seaborne Airlines located in Puerto Rico, has announced the appointment of Ben Munson as its acting CEO and other appointments.
On Jan. 4, Limetree Bay Terminals celebrated its one year anniversary. Employees, contractors and their families celebrated the one year milestone with a family-style picnic on Jan. 15.
FirstBank extends congratulations to Bernardo Ortiz, the winner of its summer "Pay off Your Loan" contest. As the lucky winner, Ortiz will have...
The U.S. Small Business Administration (SBA) and the St. Croix Chamber of Commerce have entered a strategic alliance to foster the creation of small businesses and economic development in the local area.
HH Tire and Battery on St. Croix, which burned to the ground Monday, reopened at a new, temporary location Friday at the east end of Hess Road.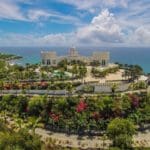 The eye-catching residence on St. Croix's east end called "The Castle" is up for sale.
Under the coordination of the Community Outreach Committee, the St. Croix Board of Realtors presented Neil Canton, director of the Boys and Girls Club of the Virgin Islands, with a check for $10,200 on Oct. 10.