The U.S. Small Business Administration (SBA) approved $95.5 million in loans to small businesses in Puerto Rico and the U.S. Virgin Islands during fiscal year 2016, a 19 percent increase over the previous fiscal year.
The Virgin Islands Department of Education (VIDOE) received a $200,000 donation from telecommunications giant Innovative to benefit vocational education and Science-Technology-Engineering-Mathematics (STEM) programs at schools across the territory.
Effective Nov. 1, customers whose Lifeline certification will expire on Nov. 30 should visit the Innovative Business Offices for recertification.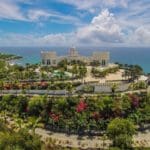 The eye-catching residence on St. Croix's east end called "The Castle" is up for sale.
Young people growing up in the U.S. Virgin Islands often hear that opportunity is out there and that success is found abroad. But is that the truth?
McDonald's Virgin Islands launched its annual McHappy Day fundraising campaign on Tuesday, Oct. 18, which will culminate on McHappy Day, Friday, Nov. 18.
Under the coordination of the Community Outreach Committee, the St. Croix Board of Realtors presented Neil Canton, director of the Boys and Girls Club of the Virgin Islands, with a check for $10,200 on Oct. 10.
Innovative Cable TV, the premier entertainment provider in the territory, recently received notice that PIVOT, which is a part of its expanded level of service, is being discontinued by the programmer, effective Oct. 31.
Innovative, the leading telecommunications provider and one of the largest donors to charitable organizations, schools and non-profit organizations in the territory, recently presented a $15,000 check to the United Way of the U.S. Virgin Islands.
After nearly 40 years, Don de Wilde is leaving as tennis director and resident professional at the Buccaneer Hotel on St. Croix.