The St. Thomas-St. John Interscholastic Athletic Association (IAA) held its first cross-country meet of the 2023-2024 season on the campus of the University of the Virgin Islands on Thursday.  Over 100 student-athletes from public, private and parochial schools from St. Thomas and St. John assembled on the golf course at UVI to showcase their running abilities. Elementary runners all the way up to high school seniors ran, jogged, and walked their 1 or 2-mile course.
The elementary girls were off to the races first.  Gabriela Paul of Julius E. Sprauve School (JESS) finished the 1-mile course in a time of 7:34. Her teammate, Selena Baptiste took second place crossing the finish line just 6 seconds later. Siani Austrie of Moravian School wasn't too far behind finishing the course in 7:45.
Not to be outdone by his schoolmates, Julius E. Sprauve School Tyran Richards took home the gold in the boys elementary race in a time of 6:44. Antilles School boys took second and third place when Ian Forde Jr. and Roman Overmyer finished their races in a time of 6:50 and 7:05, respectively.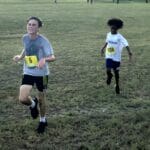 The race of the day was the Middle School boys 2-mile encounter. Gifft Hill School's Kallen Payne and Antilles School's Kolin Sammy literally sprinted the final quarter mile of this race. Payne was able to hold off Sammy and win in a time of 13:55. Sammy's time was 13:56.  Wesleyan Academy's Enrique Fabres made it on the podium with a time of 16:38.
Arielle Shackell of The Virgin Islands Montessori School and Peter Gruber International Academy (VIMSPGIA) took top honors in the Middle School girls as she completed the 2-mile course in 18:51 just one second ahead of Gifft Hill School's Jayla Williams. Shayla Diallo earned the bronze in a time of 19:04.
Ivanna Eudora Kean High School dominated the Junior Varsity and Varsity divisions taking gold in the JV girls, JV boys, and Varsity boys categories. Zania Dyer (18:37), Chaya George (18:37.3), and Iquik Williams (18:49) all representing the Rays were the top three finishers in the JV girls division. Jayvan Benjamin (12:52) and Rebuen Boniface (14:49) also from Rays Country earn the top honors in the JV Boys division. VIMSPGIA's Khafri Francios got third place with a time of 14:50.
The varsity division was scheduled to run a 3-mile course, but due to the high heat index, their course was modified to 2-miles. Keo Riley of IEKHS won the Varsity boys in a time of 14:37. Seventh Day Adventist's Quemane Bell finished just three seconds behind Riley.  Antilles School's Jack Oram was only five seconds behind Bell. Ella Popple was the only female Varsity runner.  She recorded a time of 23:04.
The next meet will be Thursday, Oct. 5 at the University of the Virgin Islands golf course.