Many Virgin Islanders know more than most Americans about Alexander Hamilton, who lived on St. Croix as a boy, but after a couple of hours with Jimmy Napoli and Eva Dorrepaal, the audience at Tapdeck learned much more about one of America's Founding Fathers and his mother.
On Sunday afternoon, the new owners of the Tap Deck, Kellie and David Knopp, hosted a brunch, an original one-woman play, Raising a Revolutionary, and a lecture about the duel between Hamilton and Aaron Burr.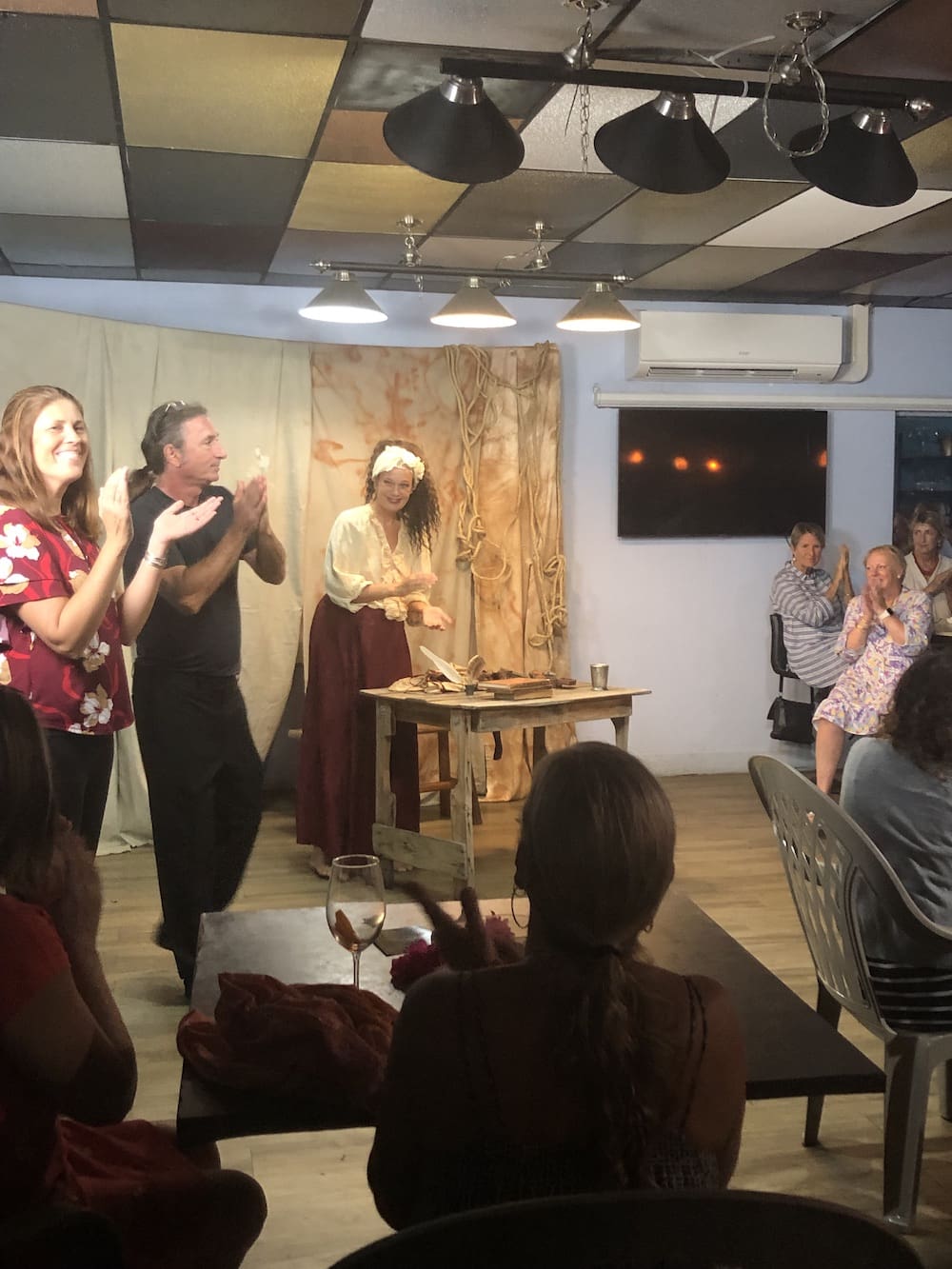 Napoli and Dorrepaal recently sailed to St. Croix and currently live on their boat.
Dorrepaal was born in the Netherlands and lived in New York for the last 23 years. She has acted in more than 45 films, including Poundcake, recently released at a film festival.
Raising a Revolutionary is the third play Dorrepaal has written and performed. The other plays focus on Mata Hari. She also teaches online acting classes with students in the Netherlands, New York and Japan.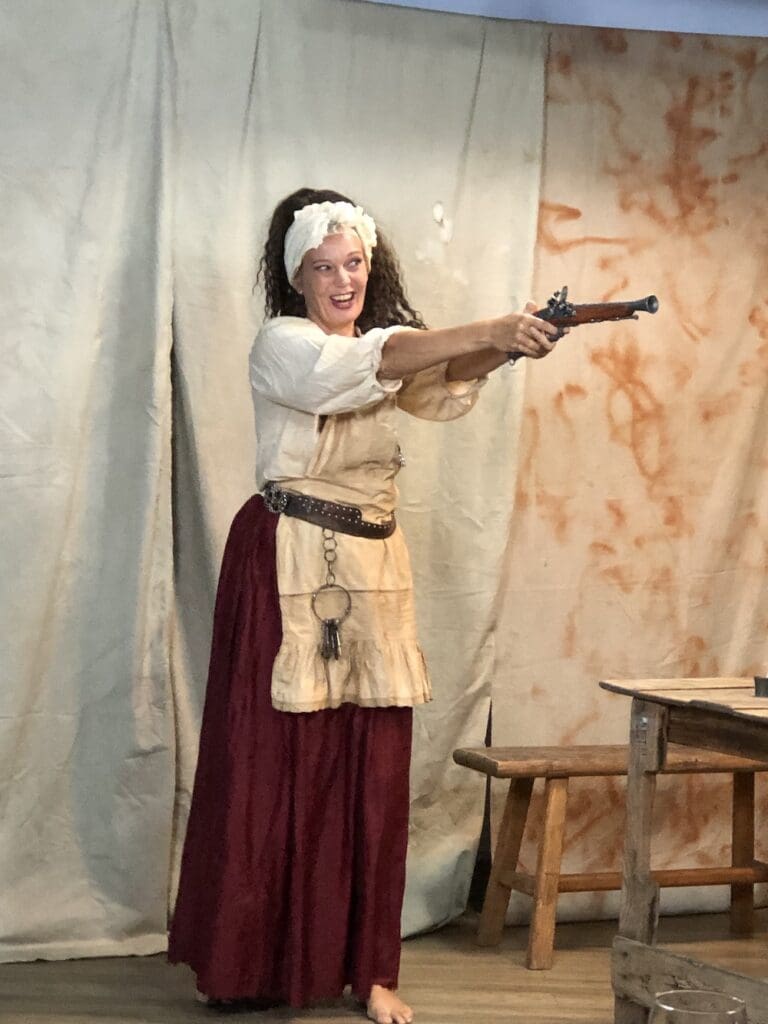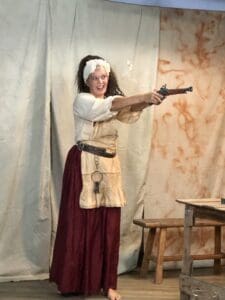 When Dorrepaal stepped on the stage Sunday, she was dressed for the period with a pistol strapped across her chest.
Since it is a one-woman play, she carries on conversations with several people by herself.
The scene was her shop in Christiansted, where she is complaining about the king and taxes to Alexander, age 11, and James, his older brother.
"All the power should not be in one man alone," she proclaims angrily.
Alexander has been reading Plutarch and wants to get a job at Beekman and Cruger. She finally agrees when the business owner comes to her shop and convinces her. During the play, Rachel converses with Esther and Ajax, enslaved workers at the store, customers and her former husband, who had her jailed for over 200 days.
The performance is not only informative but lively and entertaining.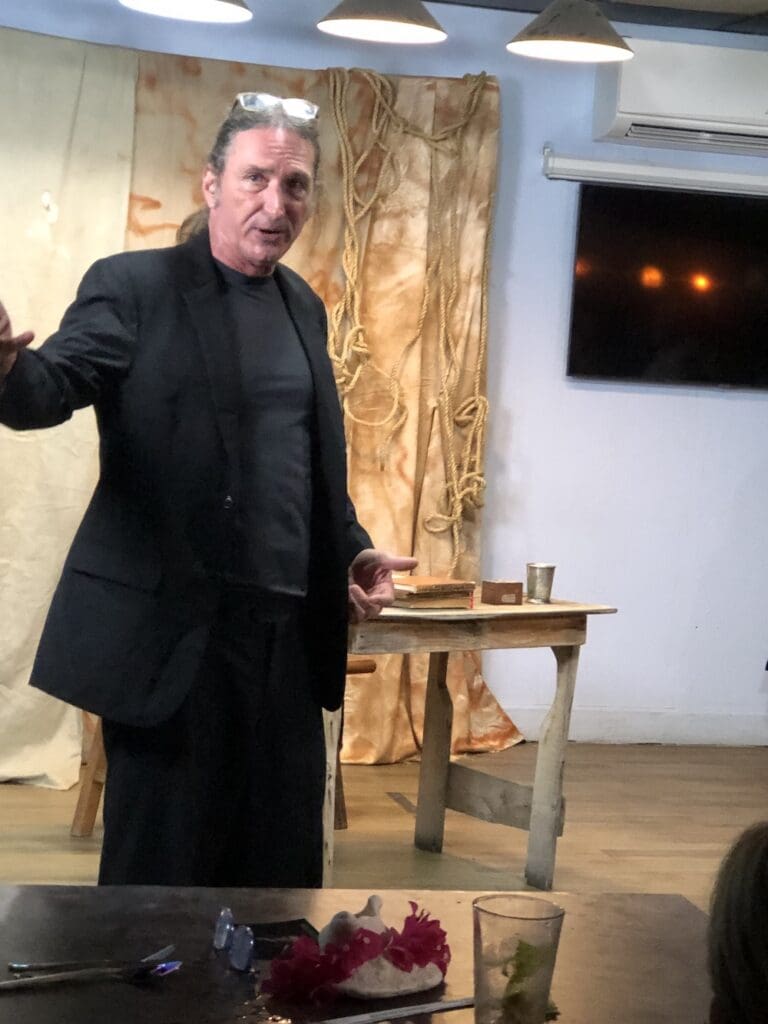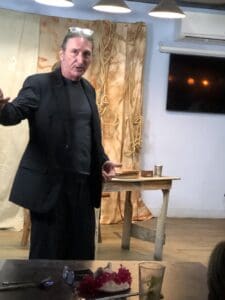 Napoli, a native of New York City, has spent the last 28 years hosting walking tours and lectures on Hamilton and Wall Street, Hamilton in Harlem and Hamilton and the battle of Brooklyn.
"All roads lead to Alexander Hamilton. He embodies all the characteristics (of New York) – the pace and allure," he said.
Napoli also offers tours on American Revolution, George Washington, the forming of the U.S. federal government, abolition and women's suffrage.
He is an enthusiastic lecturer, moving around the stage and using his arms and body to emphasize his portrayals. On Sunday, Napoli talked about the similarities and differences between Hamilton and Aaron Burr that led to their fatal duel. He began by saying Burr was not the villain.
"Picture two ships out at sea. They look parallel but are actually on a collision course."
Both men were orphans, but Hamilton was very poor and Burr was the "18th-century version of a Kennedy." Both fought in the Battle of Monmouth under George Washington, who Hamilton looked at as a father figure. Both men went to law school and, after that, became fierce competitors in business and politics.
According to Napoli, on his last day – July 12, 1804, Hamilton purposely fired his shot into the air, but Burr landed three shots. More than 30,000 people attended the Founding Father's funeral – roughly the population of New York City at that time. It was the largest funeral until Abraham Lincoln's more than 60 years later.
Many people believe Hamilton's mother, Rachel, is buried in an unmarked grave in Estate Grange. However, Napoli told the Source he and others don't think she is there. Her relatives who owned the property had already passed and no longer owned the property.