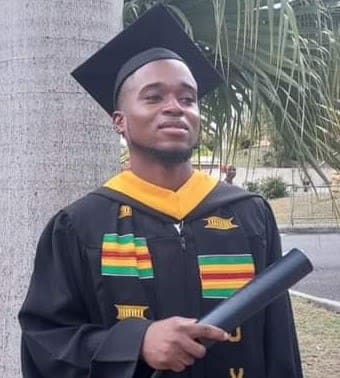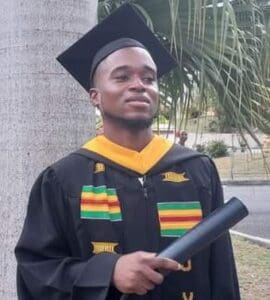 It is with great sadness that the Alexander family announces the passing of Kwami Abubakar Alexander on July 11 at the age of 24.  Kwami A. Alexander departed this life and ascended to heaven on July 11. Kwami or "Abu," as he was affectionately called by family and friends, was born on the beautiful island of St. Thomas to parents Thompson and Esran Alexander. Kwami's formative years began at Emmanuel Benjamin Oliver Elementary, and he completed his high school years in 2016 at Ivanna Eudora Kean High School.
Kwami's passion and love for nature motivated him to pursue his collegiate education at the University of the Virgin Islands where he earned his Bachelor of Science in Biology in 2022. His desire was to ultimately become a marine biologist. Kwami was very athletic and enjoyed basketball, volleyball, and track and field. He also loved a good game of chess.
Kwami worked with CMES since before his graduation, most recently as a workforce fellow. He was in the process of being hired through Dr. Kristin Grimes' "Navigating Home" grant to work with DPNR Fish and Wildlife and relocate to St. Croix just before his tragedy. His passing is a huge loss to his family, CMES, UVI and the territory. Kwami was determined to impact the world and his community positively.
Our thoughts and prayers are focused on his family and friends, who are affected most severely by this unexpected tragedy.
He was preceded in death by his grandfather, Augustus Alexander Sr.
He is survived by his father, Thompson Alexander; mother, Esran Roseanne Alexander; grandfather, Edmund Angol; grandmothers: Catherine Alexander and Rosabella George; granduncle and grandaunts: Domnique, Paulette and Jacintha Alexander, Martha, Elaine and Marcellina. He is also survived by his brothers: Jabari, Hakim and Malik Alexander; and uncles: Eden, Jensen and Augustus Alexander Jr., and Goldine, Edville, Edvin and Edmanny Angol.
He is also survived by aunties: Juelina Alexander, Elry, Ellen, Elline and Allison Angol; cousins: Jennifer Alexander, Rakim Yarbrough, Ellyejah, Ellyessa, Ellyesejah, Ellyesiah and Ellyesian Angol, Rhean, Sarah, Gavanique, Chase and Elainna-Rose Cornelious, and Aden, Nicholas, Xavier and Christopher Alexander; as well as many more too numerous to mention.
Special thanks to Jacqueline and Jaquan Freeman along with the Weed & Seed group, Leah Riviere, Dorian Mathew, Juelina Alexander, Mariana Vanterpool, Pastor Fletcher Marshall, Alex Cognette, Vera Hurlston and family, Hyacinth Joseph, Darren John-Baptiste, Domnique and Paulette Alexander for their love, support and contributions.
Special thanks also go out to Jevon Stout, Paul Jobsis and the rest of his coworkers and friends at the Marine Science Outreach at UVI, along with his coworkers and friends at Dominoes Pizza, Nisky Center.
The funeral services will be held at 10 am., Friday, Aug. 4, at the St. Thomas Assemblies of God. Interment will be at Eastern Cemetery. The repast will be held from noon until at the Living Word Family Ministries Banquet Hall located right across the street from the former Lindqvist Beach.
The Alexander family would like to thank everyone for their love and support during this difficult time.