The U.S. Virgin Islands will host the 47th Caribbean Studies Association Conference on St.Croix this week, Monday to Friday from 8:30 a.m. to 5 p.m. at the University of the Virgin Islands Albert Sheen Campus Research & Technology Park and UVI Medical Simulation Conference Center.
CSA2023 events include authors' celebrations; book exhibitions; creative arts and films; a Cane Roots Art Gallery reception; a Cultural Night at the Caribbean Museum Center for the Arts; and more.
CSA2023 delegates from the wider Caribbean, the United States, and other global locations will join in the celebration of intellectual richness; transcultural value; cultural heritage education; socioeconomic diversity; intergenerational equity; and more within the Virgin Islands, and the wider Caribbean Americas.
CSA is celebrating its 49th anniversary. The conference theme is Transforming Our Caribbean: Sustainable Educational Research, Cultural Creatives, Sacred Traditions, Economic Development, and Environmental Solutions.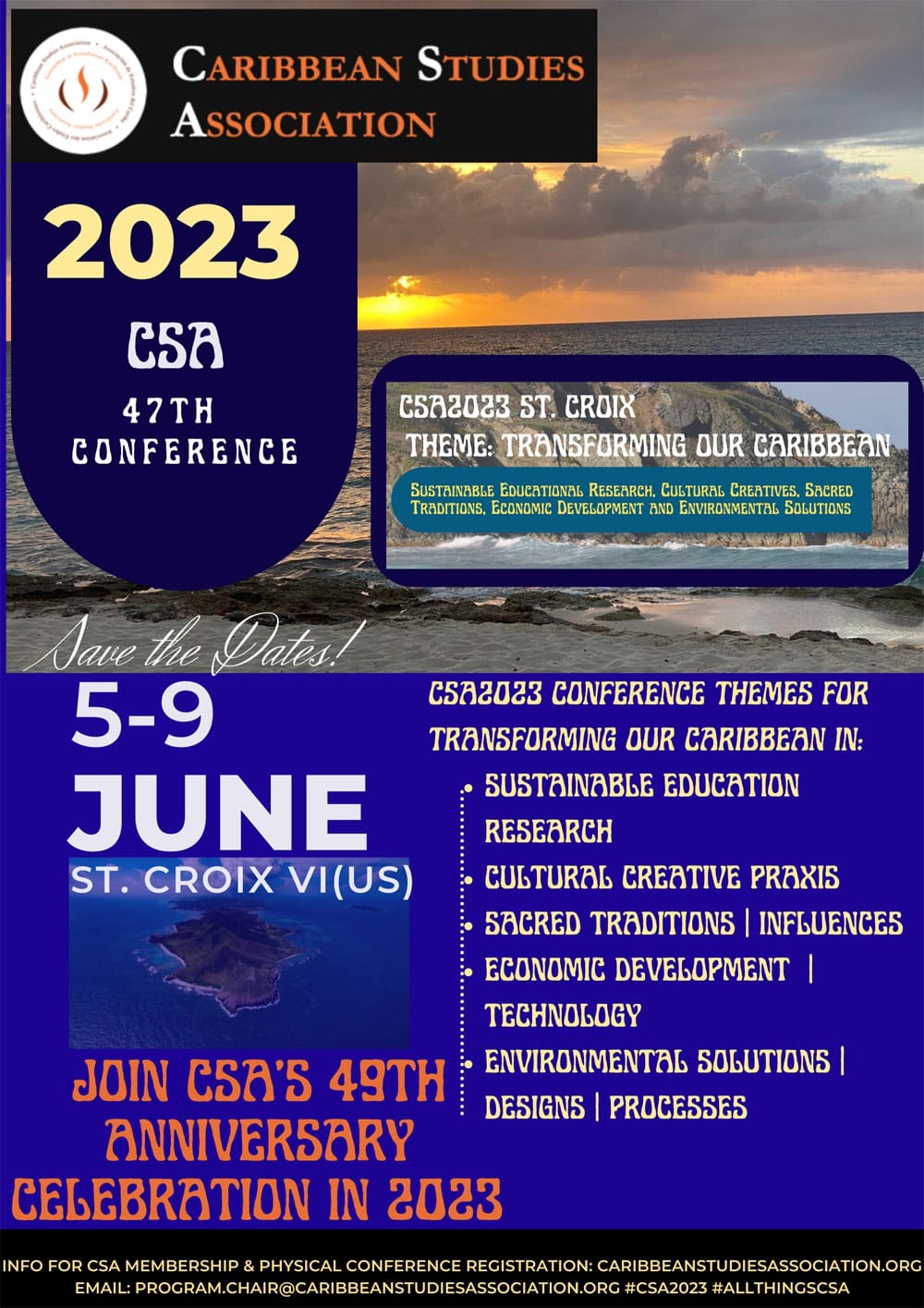 CSA President Dr. Chenzira Davis Kahina announced, "We're proud and excited to welcome CSA members from the global south to this very special event, which is being hosted on St. Croix for the first time and that will also feature the Virgin Islands' rich cultural heritage and harmony within this region."
The Caribbean Studies Association "is an independent professional organization devoted to the promotion of Caribbean studies from a multidisciplinary, multicultural point of view," according to a press release announcing the conference.

Founded in 1974 by Dr. Roland Perusse and Dr. Simon Jones-Hendrickson, the CSA membership and associates has grown to more than 1,000, including members from the Caribbean region, North, South and Central America, Africa, Europe, and beyond, the release stated.
CSA is a primary association for scholars and practitioners investigating, teaching, and publishing research in the Caribbean region, inclusive of Central and South America.
CSA2023 is the first in-person conference since June 2019. Program Committee Chair Megan Sylvester stated, "In many respects, the Caribbean has survived and continues to progressively thrive beyond the tremendous losses experienced during and within the ongoing aftermath of the COVID-19 pandemic. We know that CSA, through this conference, will continue the important work of reuniting the Caribbean through long-awaited, in-person conversations about our human conditions and our collective futures." Sylvester is an author, music sociologist, and senior university lecturer from Trinidad and Tobago. 
The five-day conference will boast #TransformingOurCaribbean themed plenaries; workshops; panels; film screenings; roundtables; networking sessions; creative arts and "edutainment"; interdisciplinary breakout sessions; poster presentations; school and community center visits; cultural heritage education tours; and young scholars sessions. 
More than 210 CSA delegates have registered for the conference, with some bringing their families from around the world to visit and experience St. Croix, recently designated as a U.S. National Heritage Area. 
Registration is open globally and special rates for CSA Day Passes and night activities are available for VI community natives and residents.
For registration, the agenda, and more information visit:
Website: https://www.caribbeanstudiesassociation.org
Email: president@caribbeanstudiesassociation.org
FB: https://www.facebook.com/CaribbeanStudiesAssociation
CSA Promo Video March 2023: https://fb.watch/k7gJZnRick/
Resident-tickets: https://www.caribbeanstudiesassociation.org/csa-conference-local-

Editor's Note: This article has been updated to reflect that the Caribbean Studies Association was founded in 1974 by Dr. Roland Perusse and Dr. Simon Jones-Hendrickson. Perusse served as president from 1975-76 and Jones-Hendrickson from 1983-84, according to the CSA website.