For the V.I Territorial Emergency Management Agency, hurricane prep started in January and recently culminated in a week-long set of exercises that pulled in about 400 representatives from federal and local agencies to assess the strengths and weaknesses in their levels of response.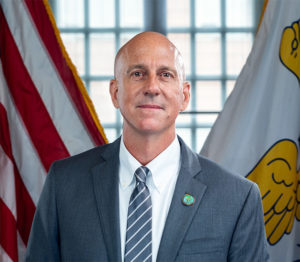 Speaking Wednesday, ahead of the official June 1 start of the Atlantic hurricane season, VITEMA Director Daryl Jaschen was optimistic about where the agency is at, along with its partners, though he said there is continuous and ongoing tightening of operations, services and coordination between the entities.
The recent drills included about 15 different kinds of response scenarios and emergency situations and at the end, eight agencies sent in briefs, including Human Services, Public Works, Fire/EMS, the V.I. Port Authority and the Red Cross, which Jaschen said will serve as a roadmap for further planning and improvement.
It's also been important, he added, to see how the local response wraps — whether seamlessly or not — into the Federal Emergency Management Agency's ability to respond, and right now, one of the bigger challenges is making sure there's enough manpower in place to offer support, particularly in terms of trained volunteers that can jump in to help agencies like the Red Cross distribute and deliver necessities like food and water, among other things.
What's New
Interestingly, VITEMA is trying something new and offering shelters that also accommodate pets, one in each district, though residents are encouraged to bring as much of the necessities — leashes, crates, litter boxes and food, among other things — as they can. Five shelters will open between the islands, which will be announced Thursday, along with two medical and special needs centers — one at the Career and Technical Education Center on St. Croix and the other on the third floor of Schneider Regional Medical Center — that also offer more focused care.
The point, Jaschen said, is to make any resident feel comfortable being in a shelter if they don't have a safe place to be during a storm.
"We don't want you to hesitate," he said. "If you're sick, for example, or you think you might be experiencing flu or COVID symptoms, we will have testing in place, quarantine stations. You shouldn't feel like you have to stay away."
To help with response, Jaschen said VITEMA is also looking into where it is practical to establish emergency management assistance compacts (EMAC) or mutual aid agreements that enable states to share resources during times of disaster. The first go-to is a state department of defense, which can mobilize military resources — Navy or Army, for example — that could aid the V.I. National Guard or other agencies on the ground within the territory. It would take about two weeks for them to touch down and begin working, but the additional manpower would add an extra response layer, Jaschen explained.
What You Can Do
Though the peak of hurricane season is Aug. 15 through Oct. 15, a disaster can happen at any time, and the most important thing anyone can do is not get complacent, Jaschen said.
"That's why we continue to do so much outreach. It's a reminder that we all need to stay prepared. Whether it's a Category 1 that stalls over the territory or a Category 5, it only takes one storm to cause irreparable damage," he added. A basic list of emergency essentials can be found here. Meanwhile, Lt. Gov. Tregenza Roach also sent reminders Wednesday for property owners that can be found here.
Jaschen said signing up for the V.I. Alert system to get texts and updates in real-time is also important, especially when hurricane warnings or watches are issued with a set time for potential impact. Prediction models from the National Oceanic Atmospheric Administration and National Weather Service have been accurate, he added, making information sent through the alerts or VITEMA briefings trustworthy.
"We've gotten a 20-percent more accurate forecast since hurricane hunter teams have been actively and more frequently interacting with the storms," Jaschen said. "We're able to trust those models, get more advanced warnings and data and get that information out to the public as quickly as possible. We've put maps at easy-to-reach places like gas stations and grocery stores, so it is a good idea to have that on hand as well throughout the season."
Maintaining good mental health is also important, Jaschen said.
"We see a lot of anxiety when heavy rains, wind and flooding occur — that's understandable," Jaschen said. "There's a lot of post-traumatic stress surrounding storms, so it's important to not ignore those signs and work or check in with family, friends, neighbors, faith-based organizations regularly."
How to Volunteer
For those able to volunteer at shelters, help with food and water distribution or response efforts once emergency operations centers are set up, it is easy to get trained through VITEMA or the Red Cross, Jaschen said, adding that extra manpower is always critical during disasters.
Residents interested can call VITEMA at 340-774-2244 on St. Thomas, 340-773-2244 on St. Croix, or 340-776-2244 on St. John.
Red Cross offices can be reached Monday through Friday from 8 a.m.- 5 p.m. and can be reached at 340-774-0375 for St. Thomas, St. John or Water Island, and at 340-778-5014 on St. Croix.
Related Link:
The 2023 Atlantic Hurricane Season Officially Begins Thursday; NOAA Issues Season Forecast