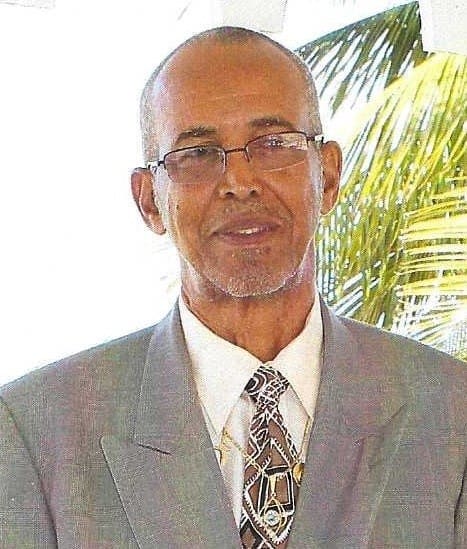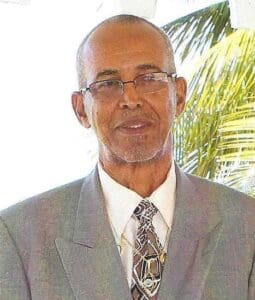 George Albert Bridgewater, also known as "Norris," of Estate Barren Spot died on Sunday, May 7. He was 86 years old.
He was preceded in death by his mother, Francis Ann Bridgewater; father, Wentworth Cotton; sister, Doris Cotton; and brother, Ernest Bridgewater.
He is survived by his wife, Rosanna Bridgewater; daughters: Patricia Bridgewater-Compton and Evetta Bridgewater-Patrick; sons: Leroy Bridgewater and George V. Bridgewater, also known as Vally; stepdaughters: Denise Woods, Veronica Johnson and Alison Thomas; stepsons: Bernel Grant Woods and Bernard Deterville; grandchildren: Ashley and Bakari Compton, Sheneal and Trevor Patrick Jr., Daijah Clarke, Jamal, Jah-heem, Omya, Deneshia and Zion Bridgewater to include six step-grandchildren and four step-great-grandchildren; great-grandchildren: Makai Dennery and Kameron Clarke; and nieces: Idetha Tweed and Violet Cotton (N.Y.), Cynthia Williams (St. Kitts), Clarice Cotton (St. Kitts), Ermine Cotton (St. Kitts), Yvonne Cotton (St. Kitts) and Thursa Bridgewater (USA).
He is also survived by nephews: Raymond Cotton (St. Kitts) and Aaron Cotton (St. Kitts); daughter-in-law, Donna Jack; sons-in-law: Claudius Compton and Richie Dee; brothers-in-law: Euston, Bertie, David and Wesley Dore; sisters-in-law: Claudette Woods-Green (N.Y.), Olga Dore Woodley (STT), Jennifer Dore (N.Y.), Lorna Dore-Huggins (N.Y.) and Gloria Weekes; godchildren: Carmen Simmonds and Nigel Moses; and special friends: Kneeland and Margaly Samuel, better known as "Soultrain," Al and Bernice Lee (Fla.), Mr. and Mrs. Emerson Morton, Moses family, Pimentel family, Sybil Compton (N.Y.), Rita Roberts-Slack (N.Y.), Sarah Harvey and family, and Carmen Wheatley (STT).
Other special friends include Diara Bates, DOH EMS State Office and MIH Staff, VIFEMS-Melinda Jeffers and Staff, Mr. and Mrs. Arthur Dennery, Theodasia Christopher, Trevor Patrick, Atiba Dennery, Quamie family, Theophilus, better known as "Slow," Rudolph McKenzie, Celine Bradshaw, Elvina Burnette and La Grande Princesse family, Rev. Alric Francis, Steadroy Cornelius, Ursil Williams, Englishman Hughes and family, Althea Thomas and Dr. Yvette McMahon-Arnold; cousins and other relatives: Cecil and Olinda Levine and family, John Bridgewater and family, Delores Gumbs and family, Altina Hanley, Judith James and family, Mardenborough family and Alphonso Farrell; as well as great nieces, great nephews, other relatives and friends too numerous to mention.
The funeral service will be held on Thursday, June 1, at St. Peter's Episcopal Church. Viewing will begin at 9 a.m. with service at 10 a.m. Interment will follow at Kingshill Cemetery.