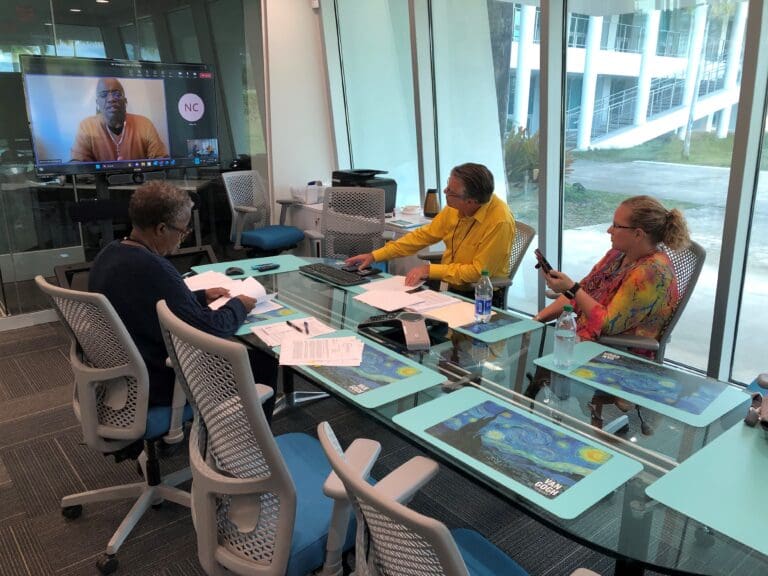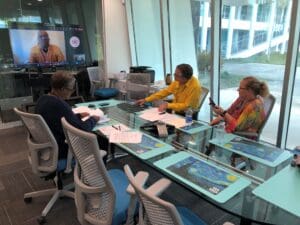 On Monday, May 15, UVI RTPark oversaw the closing of a $100,000 loan to M1 Enterprises USVI, a veteran-owned member company committed to sustainable remote workforce development here in the U.S. Virgin Islands.  These funds will empower M1 to enroll more of the many Virgin Islanders interested in the company's healthcare support services training programs and career pathways, and thus further expand the territory's workforce.
M1 provides 30 years of healthcare knowledge as well as nationally recognized medical coding and billing certification, education and workforce training as a sustainable remote workforce development solution for communities in recovery.  M1 is working to create, promote and nurture their "learn, live and work remotely" model to Virgin Islanders interested in entering the healthcare industry through hybrid in-person classroom training and instructor-led online courses.
This is the second investment in a local business made by the Catalyst Fund, which was created with the support of Gov. Albert Bryan Jr. and the Legislature of the Virgin Islands to provide a much-needed source of patient, flexible financing for business ventures and real estate (re)development projects that enhance the entrepreneurial ecosystem or otherwise help make the USVI a more attractive destination for high-impact economic development projects. A keen focus is placed on financing businesses — both existing local enterprises and new-to-market firms — with the potential to create jobs for Virgin Islanders.
"M1 has seen an outstanding response from Virgin Islanders interested in working remotely in the healthcare and technology fields," said Douglas Rideout, M1 Enterprises USVI CEO.  "We had originally planned for the company to fund 20 participants each month in our career training, but without significant marketing, we received 190 applicants in the first quarter of 2023 alone."
"Our success in attracting territory residents interested in training for these in-demand careers was outrunning the operating capital required to purchase computers, training materials and fund day-to-day operating expenses.  We are committed to job creation and were reluctant to have to slow our growth due to capital constraints.  This support from the Catalyst Fund allows us to continue to develop a remote workforce of committed and highly trained Virgin Islanders," said Rideout.
Ronnie N. Johnson, the chief credit officer of the RTPark Community Impact Fund Inc., which is the nonprofit that manages the Catalyst Fund for the RTPark, said, "The Catalyst Fund was developed with the express purpose of supporting diverse, high-impact businesses that will employ hundreds of Virgin Islanders and to create a robust workforce that keeps their hard-earned dollars circulating many times over within the community, so investing in the success of M1, a company dedicated to workforce development, is key to our mission."
Peter Chapman, the RTPark CEO, said, "The RTPark works from all angles to attract high-impact companies to the USVI, and flexible financing is an effective lever. Creating a climate of entrepreneurial innovation for businesses such as M1 means opportunities for more investment in our infrastructure, our workforce, our civic projects and our local treasury."
"Continuing to offer these types of loans will eventually qualify the RTPark Community Impact Fund to become a CDFI (Community Development Financial Institution), which will bring additional sources of loan capital to serve our territory's low-wealth communities with the creation of new small businesses and new jobs along with the retention of existing jobs," Chapman said.
Contact:
M1 Enterprises USVI
Douglas Rideout
Phone: 479-754-1503
RTPark
Sydney Paul
sydney.paul@uvirtpark.net
Phone: 340-474-0922