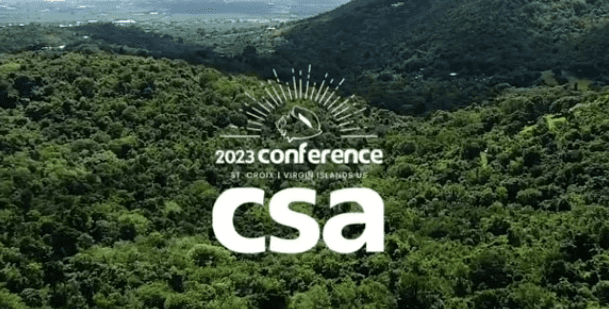 The Caribbean Studies Association (CSA) is asking Virgin Islands media, influencers and supporters to feature the upcoming 47th Caribbean Studies Association (CSA2023) Conference on their platforms. The conference, which will be hosted by the U.S. Virgin Islands and held on St. Croix from June 5-9, promises to be an intellectually rich and culturally diverse event, celebrating the transformative power of education, cultural creativity, economic development and environmental solutions in the Caribbean region.
With the theme "Transforming Our Caribbean: Sustainable Educational Research, Cultural Creatives, Sacred Traditions, Economic Development, and Environmental Solutions," CSA2023 marks the 49th anniversary of the Caribbean Studies Association. Driven by a multidisciplinary and multicultural perspective, CSA has become the primary association for scholars and practitioners exploring the Caribbean and its surrounding regions.
The conference will feature various captivating events and activities, including authors' celebrations, book exhibitions, creative arts and film showcases, a Cane Roots Art Gallery Reception, a Cultural Night at the Caribbean Museum Center for the Arts, and more. By participating in CSA2023, people will have the opportunity to engage with over 1,000 CSA members and associates, including delegates from the wider Caribbean, the United States and various global locations.
The public is invited to join CSA in promoting the conference by featuring its highlights, discussions, and captivating moments on your show. Your platform will provide an excellent opportunity to showcase the Virgin Islands' rich cultural heritage, foster intercultural dialogue, and inspire your audience with the shared vision of a sustainable and prosperous Caribbean.
Please let the Caribbean Studies Association know if you are interested in scheduling an interview with CSA President Chenzira Davis Kahina, Ph.D., along with other Caribbean and international conference participants. CSA can provide additional information, media assets and assistance to ensure seamless collaboration.
Thank you for considering our invitation. We look forward to featuring CSA2023 on your show and contributing to the success of this landmark event.
Visit the CSA website https://www.caribbeanstudiesassociation.org
View https://fb.watch/k7gJZnR1ck/  CSA2023 St. Croix Promo Video
Share special CSA2023 Day Pass rates for Virgin Islanders https://www.caribbeanstudiesassociation.org/csa-conference-local-resident-tickets/
Feel free to contact Chalana Brown at 244-1768 and/or reply to this email with any questions or to discuss further details.
Remain inspired
Dr. ChenziRa Davis Kahina aka Dr. Chen
CSA President
president@caribbeanstudiesassociation.org
https://www.caribbeanstudiesassociation.org/
#CSA2023 #TransformingOurCaribbean #StCroixAVibeLikeNoOther
#AllThingsCSA