The inaugural Virgin Islands Boating Exhibition (VIBE) will take place Jan. 12-15, 2024, at IGY's Yacht Haven Grande Marina St. Thomas. This highly anticipated event will showcase cutting-edge sail and power yachts, conveniently located within a demo-drive distance of the world's best cruising grounds. The boating exhibition is organized by the Virgin Islands Professional Charter Association (VIPCA), which works year-round to support the territory's annual $90 million charter industry and is renowned for its successful USVI Charter Yacht Show.
VIBE's 2.0 style show is curated based on feedback from industry stakeholders, including dealers, manufacturers, charter companies and vendors, to ensure a bespoke experience that addresses their needs. With a focus on luxury, intimacy and a boutique-style show, set against the backdrop of St. Thomas, named the Hottest Yachting Destination in the Caribbean in 2021, the exhibition promises to be a must-attend event for yachting enthusiasts.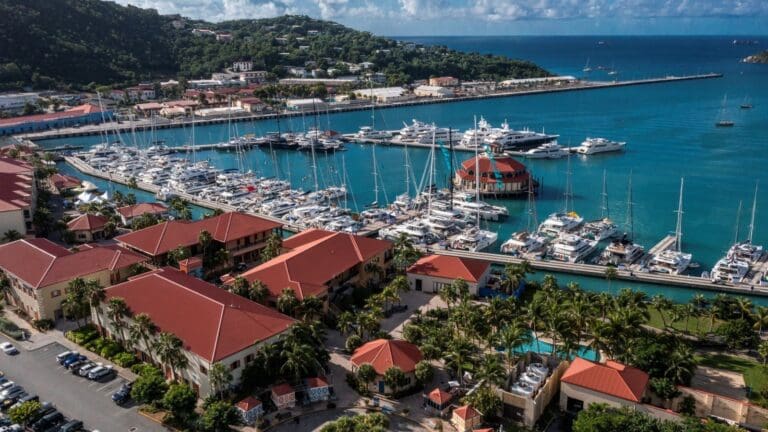 U.S. Virgin Islands Gov. Albert Bryan Jr. said, "The U.S. Virgin Islands enjoys a vibrant marine tourism sector and is eager to build on this with the first Virgin Islands Boating Exhibition. To that end, VIPCA has hired Boat Show consultant Kevin Murphy, former Strictly Sail Shows manager for the National Marine Manufacturers Association. Murphy has a proven track record of bringing together exhibitors, sponsors and attendees at boat shows throughout the U.S.
"Our territory offers benefits such as EDC (Economic Development Commission) incentives, a strong financial infrastructure, and reliable airlift and marine repair services to support the boating industry. We take pride in providing an environment that fosters business growth and development, and we welcome all those interested in investing in our thriving maritime economy."
Murphy said, "I'm excited to collaborate with VIPCA to launch a show at one of the world's top super yacht marinas in the beautiful U.S. Virgin Islands, an unparalleled cruising destination. When given the opportunity to showcase the best in boating, it's impossible to refuse, and I'm confident that this show will be a resounding success."
Boutique Destination Yacht Show
St. Thomas offers the perfect setting for yacht sales, providing exhibitors and attendees with everything they need while avoiding the crowds of a national boat show. As a U.S. territory, U.S. citizens can enter without a passport, and there are direct flights from major U.S. gateway cities, such as Boston, New York, Miami, Atlanta, Dulles, and Chicago, on carriers like American, Delta, JetBlue, Spirit and United. Just a 15-minute drive from the airport, IGY's Yacht Haven Grande Marina St. Thomas is the perfect venue. Recognized as Superyacht Marina of the Year four times since 2016 by the prestigious UK-headquartered The Yacht Harbour Association, this venue offers first-class dockage facilities, as well as chic waterfront restaurants and shops in a park-like setting.
 Photo: Yachts on show at VIPCA's 2022 USVI Charter Yacht Show. (Credit: Mango Media)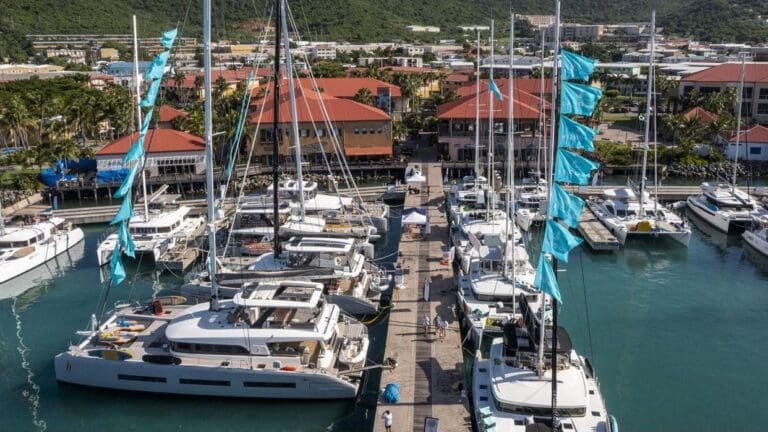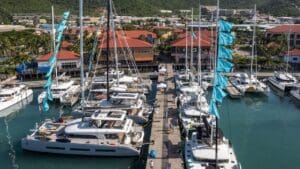 The boat exhibition's venue provides a genuine Caribbean charter destination experience, where attendees can demo exhibiting yachts while meeting charter business industry professionals in their base of operation in America's Paradise. The Charlotte Amalie Harbor, where the marina is located, is also a hub for regularly scheduled yacht transport ships delivering vessels from North America and Europe, making it possible for exhibition attendees to see new hulls straight from the factory.
In addition to the prime location, the VIP visitor experience in the U.S. Virgin Islands is exceptional, with first-class dining, accommodations, shopping, land and water sports, and entertainment. The territory has seen a remarkable 22 percent increase in airline ticket booking data in March 2023, compared to the same time in 2019, making it the top destination in the Caribbean, according to a report from the Caribbean Hotel and Tourism Association, headquartered in Fort Lauderdale, Fla.
USVI Commissioner of Tourism Joseph Boschulte, said "Welcome to all yacht dealers, manufacturers, exhibitors, local and global vendors, and attendees to our award-winning destination in the U.S. Virgin Islands. Here, you can not only buy your new yacht but also enjoy the full tourism experience on land and sea. Our destination has been recognized with recent awards, underscoring our commitment to providing a world-class experience for all visitors. We are thrilled to have you here and look forward to showcasing the best of what our destination has to offer."
Business- and Boating-Friendly USVI
The U.S. Virgin Islands offers a business-friendly environment for buying and selling yachts, thanks to its use of the U.S. dollar, U.S. banking institutions, and exclusive tax incentives. With no sales tax and duty-free allowances for vendors, the territory provides favorable conditions for conducting yacht transactions. Additionally, the well-established and highly successful charter industry in the USVI presents opportunities to speak directly with local company representatives about purchasing a vessel for income-producing crewed charters.
To register for the Virgin Islands Boating Exposition (VIBE), visit www.vibe.vi
For information about the Virgin Islands Professional Charter Association (VIPCA), visit www.vipca.org