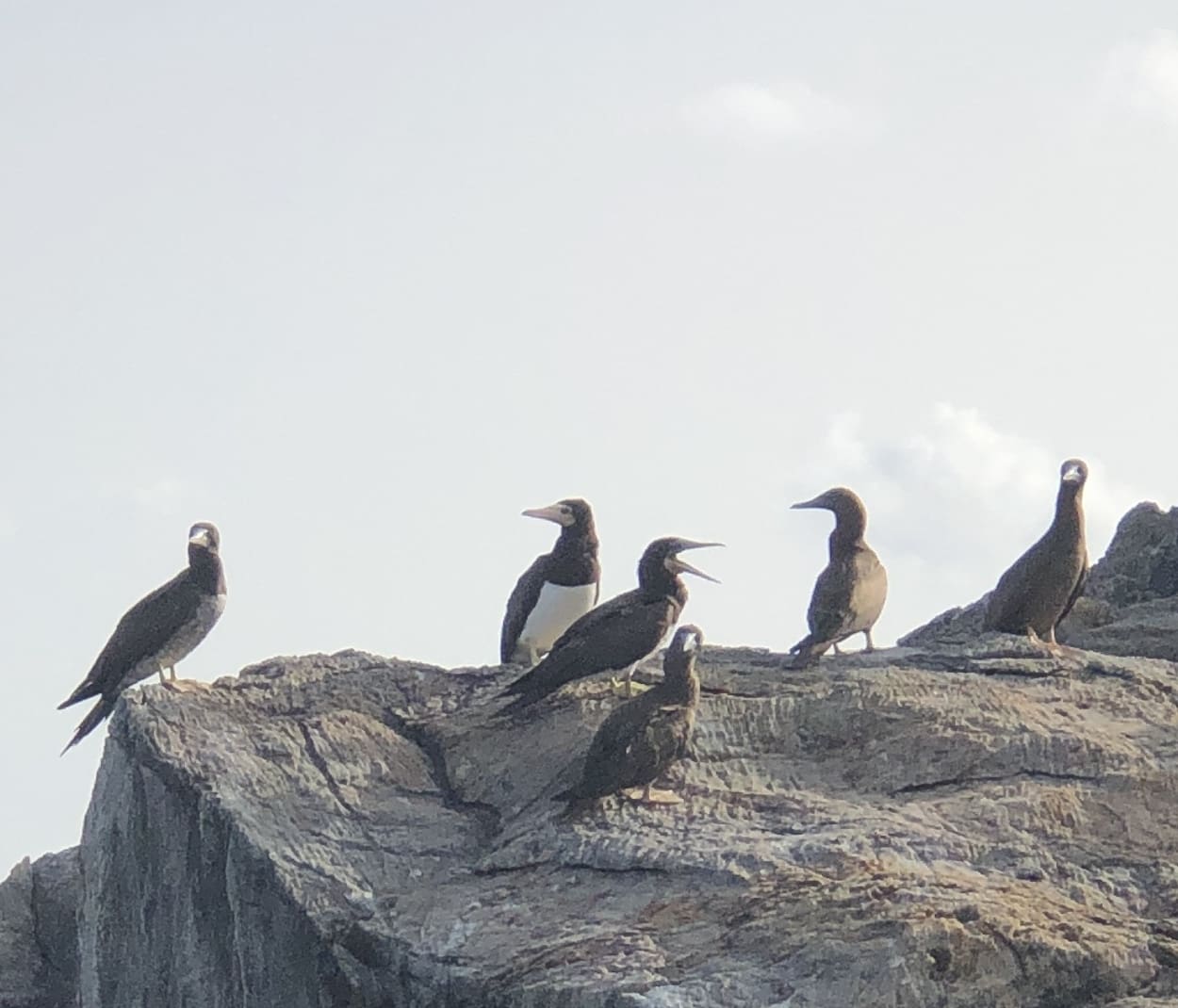 Nesting birds and other threatened animals need your help. Don't worry, it's free and easy: Don't go stomping around the cays until mid-November, wildlife officials said.
Twenty-nine U.S. Virgin Islands cays are off limits from April 1 to Nov. 15 as they are some of the few uninhabited places left where birds can find sanctuary, officials from the Department of Planning and Natural Resources said.
Bovoni, Capella, Carval, Cas, Cockroach, Congo, Cricket, Dog, Dutch Cap, Flanagan, Flat, Little Flat, French Cap, Grass, Hassel, Kalkun, Leduck, Outer Brass, Perkins, Ruth, Saba, Sail, Salt, Savana, Shark, Turtledove, West, and Whistling Cay are important breeding and roosting areas for many seabirds.
Keeping off the beaches and inland areas of these cays will help locally or federally protected species such as roseate terns (Sterna dougallii), said Fish and Wildlife Director Nicole Angeli. Other bird species benefit greatly from offshore cay habitats, including brown pelicans (Pelecanus occidentalis), brown boobies (Sula leucogaster), white-cheeked pintails (Anas bahamensis), and laughing gulls (Larus atricilla), among others.
Offshore cays are especially fragile habitats and they represent important areas of conservation, Angeli said. These offshore cays are small in size and generally have low elevation, which makes them vulnerable to climate change scenarios, including impacts from severe tropical storms.
Staying off these cays between April and mid-November isn't just the responsible thing to do. It's the law, DPNR Commissioner Jean-Pierre L. Oriol reminded in a press release Monday.
"The offshore cays are some of the last refuges of indigenous species of the Virgin Islands, including skinks, ground lizards, and cactus. The cays provide this safe haven for species that are in the Virgin Islands as a part of our historical and material culture and protected under law," Oriol stated.
Since 1968, and amended along the way, protection of the cays has been part of the V.I. Code. This has included ejecting goats and other invasive species, like humans.
The ecosystems on these islands are also heavily impacted by invasive species such as rats and goats that can cause severe damage to many species of both plants and animals, Angeli said.
It's also illegal to fly drones or helicopters lower than 1,000 feet over these cays. Violating the rules could land a person in jail for 60 days and a fine of between $200 and $1,000. But it is possible to get permission.
Free permit applications are available for ecotourism ventures, scientists, agencies, and visitors accompanied by a DPNR representative at the DPNR website.