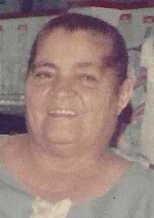 Andrea Rosario Velez de Ledesma, also known as "Andreita," of Estate Glynn died on April 17.
She is survived by her daughters: Precila Mohansingh, Graciela Cotto and Noemi Diaz; sons: Hector Luis Ledesma, Felipe Ledesma, Moises Ledesma and Daniel Ledesma; and grandchildren: Solmari Mohansingh, Cila K. Mohansingh, Jose A. Cotto, Maribel Ayala, Miguel A. Cotto, Sandra E. Cotto, Elizabeth Gonzalez, Brenda L. Morales, Jorge Diaz, Emanuel Diaz, Moises Diaz, Jason Ledesma, Keisha Ledesma, Tachi Ledesma, Jose Ledesma, Omayra Ledesma, Jose Ledesma, Hector L. Ledesma, Luce Ledesma, Graciela Ledesma, Deyaneira Ledesma Sigobin, Moises Ledesma Jr. and Nicola Ledesma.
She is also survived by great-grandchildren: Cila Mohansingh, Maribel Ayala, Joel Gonzalez, Jeremiae Gonzalez and Elian Gonzalez; nieces: Victoria Rosario, Anita Rosario, Yeya Rosario, Lola Rosario and Iris Becerril; nephews: Raul Rosario, Enriquez Rosario and Samuel Rosario; great-great-grandchildren: Jalia Mohansingh, Jaliesha Colon, Sofia Lopez, Shanaia Gumbs, Leila Cotto, Lorimar Ledesma, Kenija Grant, Joel Jasai and Jose L. Rodriguez; great-great-great-grandchild: Kayliana Lozada; daughter-in-law, Carmen Parrilla; sons-in-law: Kadar Mohansingh, Jorge Diaz and Antonio Cotto; cousins and other relatives: Kenya and Akeeba; as well as other relatives and friends too numerous to mention.
The viewing will begin a 10 a.m. followed by a funeral service at 11 a.m., Thursday, April 27, at Iglesia de Dios Pentecostal M.I. (Rio de Aqua Viva). Interment will be at Kingshill Cemetery.