Nineteen swimmers from the US Virgin Islands will be traveling to Curacao next Tuesday, April 4, to compete in the 2023 CARIFTA Swimming Championships. The competition will take place from Thursday, April 6, through Monday, April 10.
The pool events will take place during the first four days (15 swimmers will compete) and the 5th day will be the 5K open water event (4 swimmers will compete). Each swimmer competing in pool events will compete in between 3 and 8 individual events.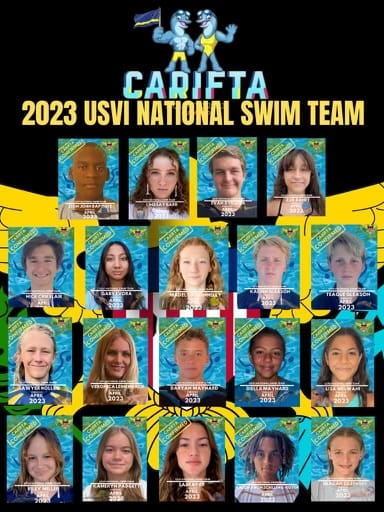 The USVI will have three relay teams (11-12 girls, 13-14 girls, 13-14 boys) competing in 4 relays each (4 x 50 freestyle relay, 4 x 100 freestyle relay, 4 x 200 freestyle relay, 4 x 100 medley relay). The 11-12 age group relay team will compete in a mixed 4 x 100 freestyle relay (2 girls & 2 boys) instead of a 4 x 200 freestyle relay.
The swimmers from the USVI who will compete are:
11-12 girls age group
Diella Maynard (STX)
Lisa Melwani (STT)
Zoe Danet (STT)
Reagan Uszenski (STT)
11-12 boys age group
Teague Gleason (STX)
Zion John Baptiste (STT)
13-14 girls age group
Riley Miller (STX)
Sasha Poe (STT)
Madelyn Donnelly (STX)
Kameryn Padgett (STX)
13-14 boys age group
Daryan Maynard (STX)
Kalonji Von Schilling-Royer (STX)
Nick Crikelair (STX)
Sawyer Holley (STX)
15-17 girls age group
Lindsay Barr (STT)
Gaby Evora (STX)
Veronica Leinenbach (STT)
15-17 boys age group
Kaeden Gleason (STX)
Evan Dykstra (STX)
For more information, send an email to stcroixdolphins@gmail.com or call
856-776-6794.