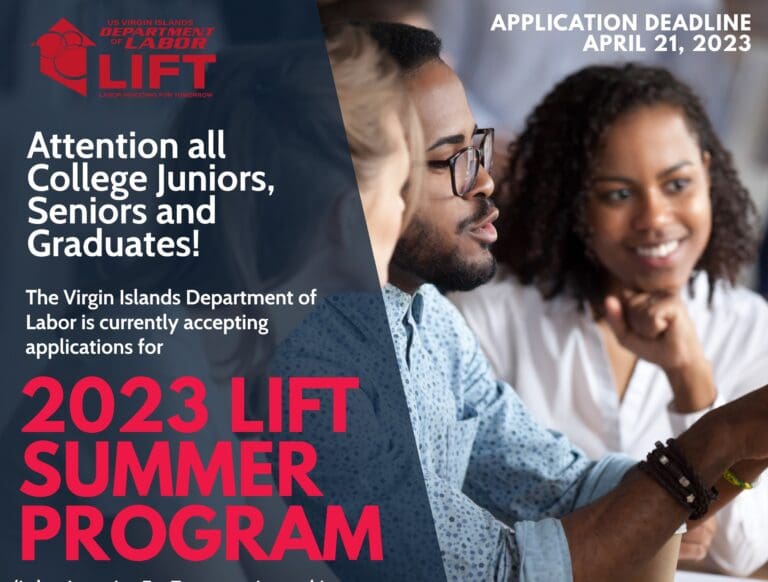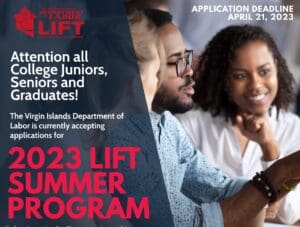 The Virgin Islands Department of Labor (Labor) is now accepting applications for the 2023 Labor Investing for Tomorrow (LIFT) Summer Internship Program. The summer internship program was established in 1989. Serving as one of the most prominent work experience/internship programs in the territory, Labor Investing for Tomorrow (LIFT) is a component of the Summer Youth Work Experience Program (SYWEP) that provides college juniors, seniors, recent graduates and graduate students with eight weeks of work experience.
Now in its 34th year, LIFT continues to deliver on the promise of exposing interns to the workforce in the Virgin Islands, motivating them to stay or return home.
A 2022 LIFT Intern, Briana Cromwell, said, "Being a first-generation scholar and the first woman in my family to go into the medical field, I am… grateful for the opportunity bestowed upon me. The LIFT program opened a door for me I never thought I would open. For the past three years of my undergrad, I have been seeking opportunities for career readiness to ensure that I am prepared for what lies ahead. Fortunately, I was allotted a chance to work alongside a medical professional within my field of interest."
LIFT Interns will be paid by the hour and are expected to work no more than 30 hours per week for approximately eight weeks. All interns will be required to participate in a special project, a mentorship initiative and community service activities. Additionally, all participants will be provided with Life Skills Management and Career Orientation Workshops, Workplace Preparation Skills, and Occupational Safety and Health Administration (OSHA) regulation training.
"When I am asked to speak about the LIFT to this day, I still get goosebumps. The secret is out, and I am very happy to declare that the LIFT program is no longer the best kept secret. The VIDOL staff and employers work together to ensure that this program will continue to give our young people in college and recent college graduates the opportunity to really dive in and get the actual hands-on experience that combines their interests, passions and studies together like no other. The pride of being a LIFT intern stays with our young people for the rest of their lives," said Commissioner Molloy.
Eligibility criteria are as follows: Interns must presently be a college junior, senior or graduate
student; must have a minimum GPA of 2.80 on a 4.00 scale; and must be between the ages of 18 – 25, inclusive.
Interested juniors, seniors or graduate students must complete the LIFT application available online at www.vidol.gov/youth. The application deadline is April 21.
If there are any questions, contact the DPNR offices on St. Croix at 773-1994 ext. 2140 (amelia.christian@dol.vi.gov ) or St. Thomas at 776-3700 ext. 2080 (shenika.sebastien@dol.vi.gov).