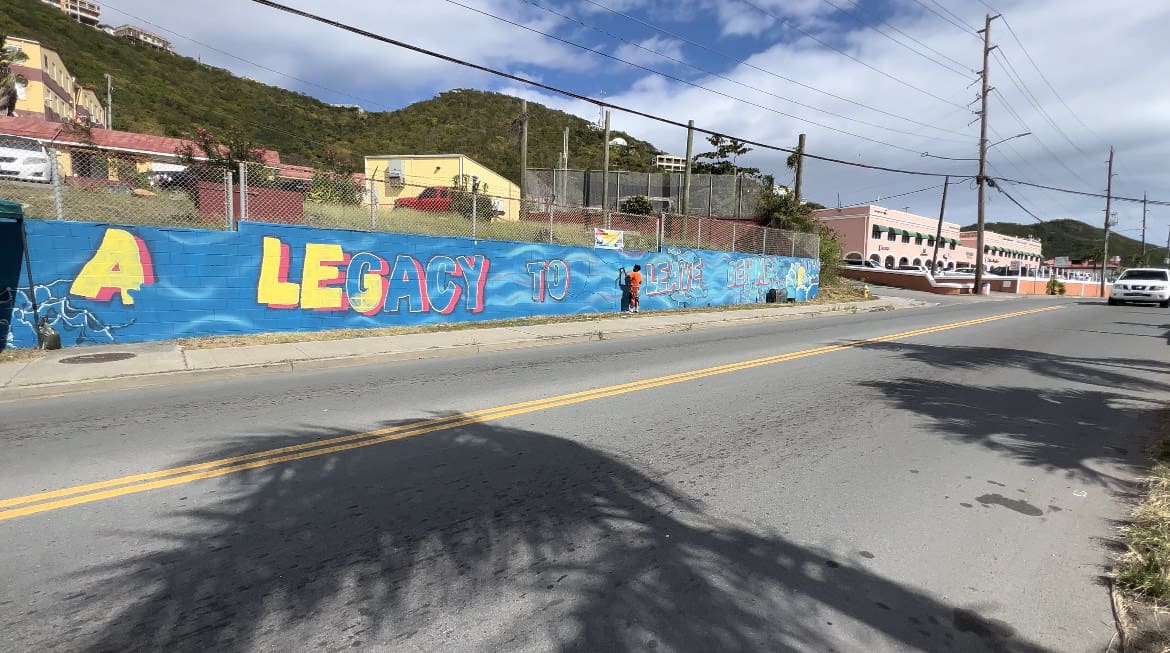 Chunikwa George paints hues of bright blue, yellow and pink carefully along a cement wall just outside the entrance to Ivanna Eudora Kean High School on St. Thomas. The colors are just as bright as George's smile. She's ecstatic to be painting this mural and be a part of a major public art project happening island-wide. Each mural comes with an environmental message.
"The idea behind the mural is called 'A legacy to leave behind.' And the idea is that it's a story from what we have now, which is a world filled with too much plastic and micro plastics and trash on a whole, to what we could be and our future legacy, which is a beautiful thriving ecosystem and coral reef system," said local artists Chunikwa George, who owns an art, education and entertainment company called 'Auntiii Art.'
George is one of several artists taking part in PangeaSeed's Foundation Global Sea Walls: Artists For Ocean program. The PangeaSeed Foundation is a non-profit organization that focuses on ocean conservation through art activism. Their Sea Walls: Artists For Ocean program is creating eight murals across St. Thomas, including artists from Australia, California, the U.K., Japan, and local artists from St. Thomas. George is spending eight hours a day painting her mural just outside of Ivanna Eudora Kean High School, along the road.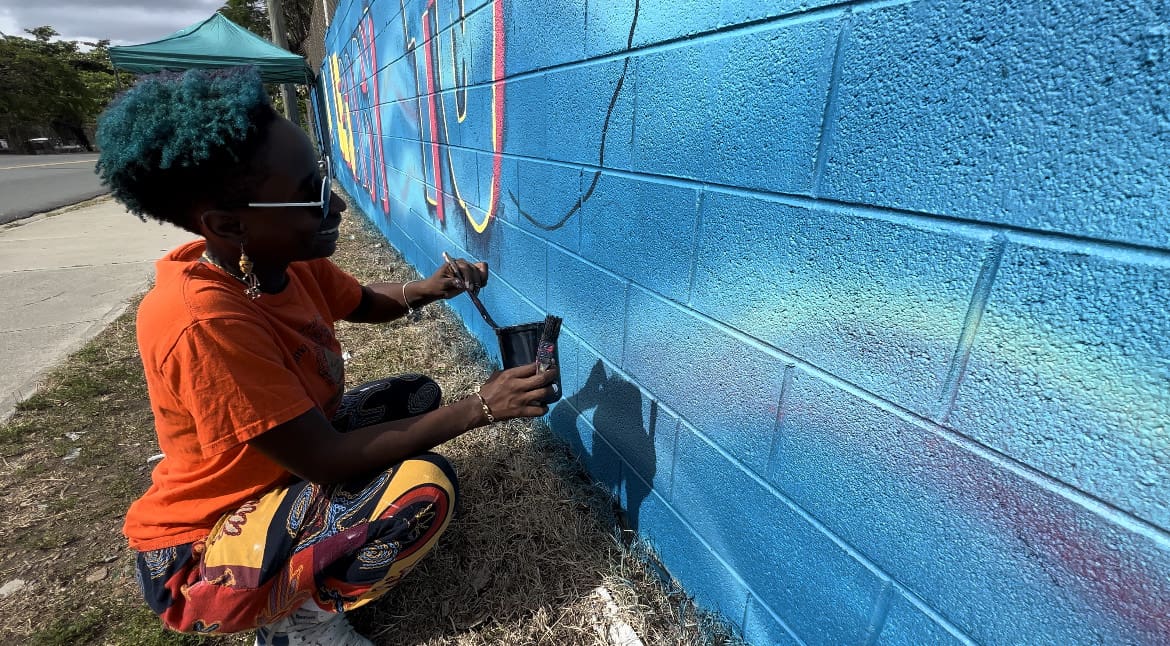 "This mural was very much inspiring to me because I got to do it next to the school. I wanted to paint something that was not only a legacy to me, but a legacy to my community and of course a legacy to the students themselves," said George, who's been including students to help paint the mural.
Over at the Tutu Park Mall, an enormous colorful mural featuring conch shells is now on display on the side of K-Mart. Artist George Rose from Australia has been painting the mural that's over 20 feet high, reaching the highest points with heavy machinery. She traveled for two days from Australia to get to the U.S. Virgin Islands.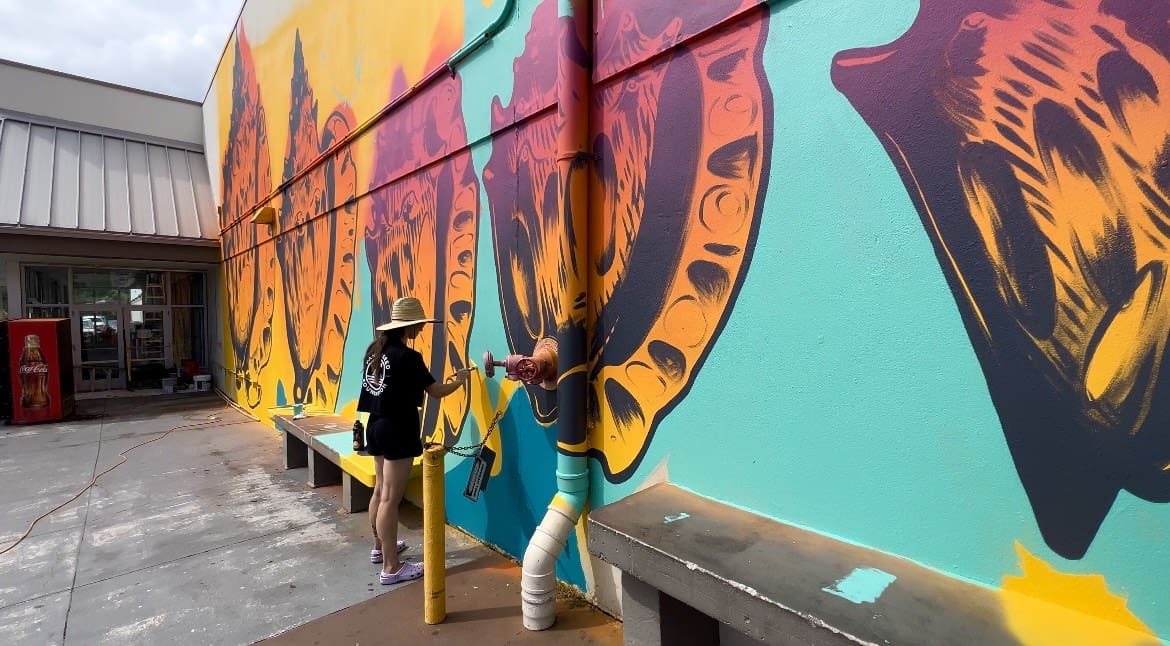 "My mural is about the conch shell. So there's overfishing in this area and the number of conches are getting smaller and smaller. What's happening is that there's changes in the evolutionary behavior of the conch that they're finding. My mural is about this slowly decreasing size in the conch, and also the disappearance of them from these waters. And so I'm hoping to generate a little bit of interest and conversation around that," George Rose said. She's traveled the world creating dozens of murals with the PangeaSeed Foundation. She says she's enjoying working on her mural in St. Thomas.
"It's a really fun location on the side of the mall, actually. It seems to be a local spot. It's been really busy in this particular location. You always want to be painting somewhere that people are going to want to see the work, enjoy the work, and interact as well. So I'm chatting to the taxi guys here, and people who come past every day, the same people, the same time," Rose said.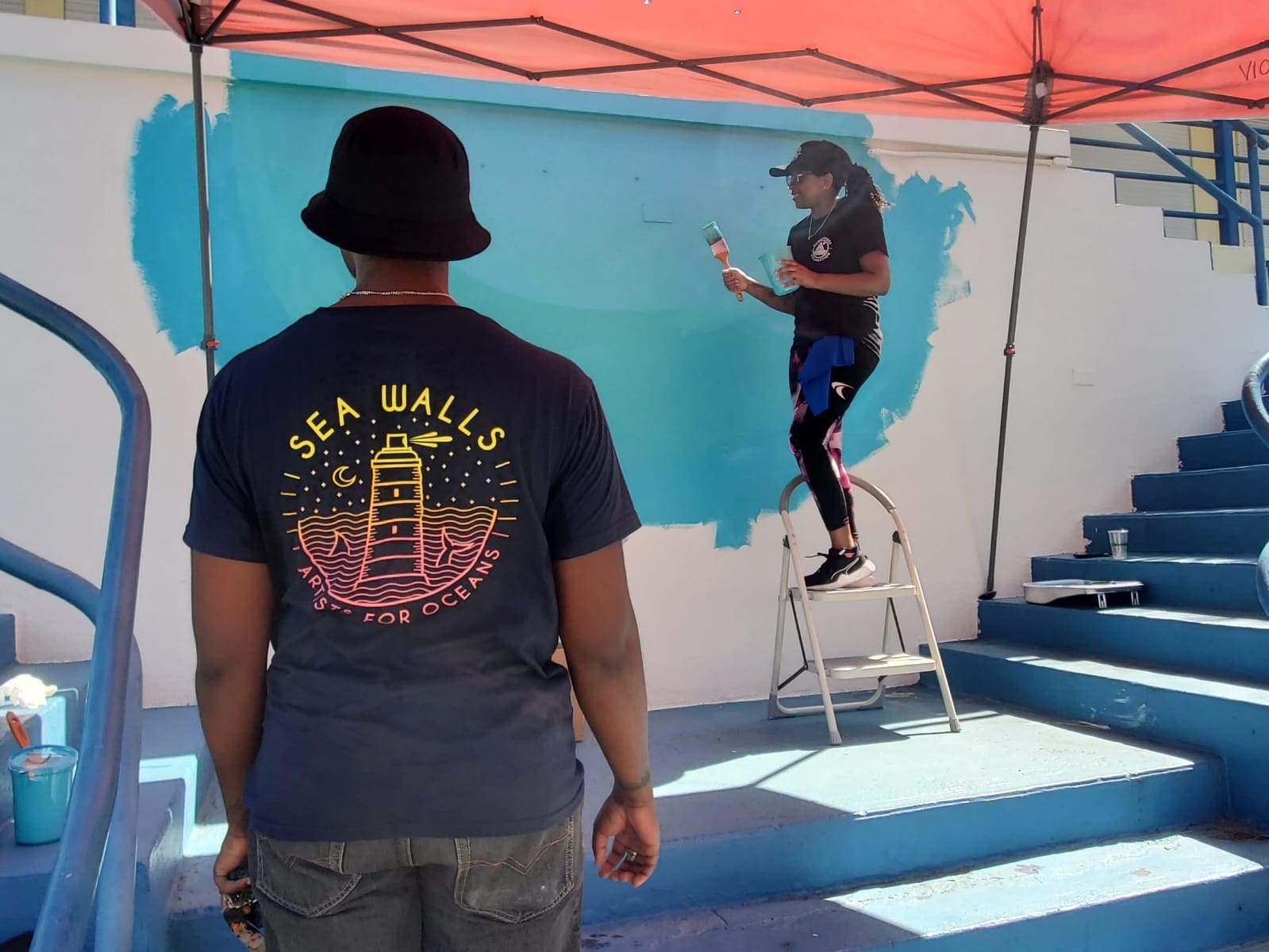 "It's just a really nice opportunity to immerse yourself in a different location and give something to the people who are here. It's been a really good time," she said.
The eight St. Thomas murals being painted are an expansion of the Sea Walls St. Croix project in 2019. Back then, 14 to 15 large-scale murals in both Frederiksted and Christiansted were created to address ocean environmental issues and also to beautify areas that had been damaged heavily by Hurricanes Irma and Maria.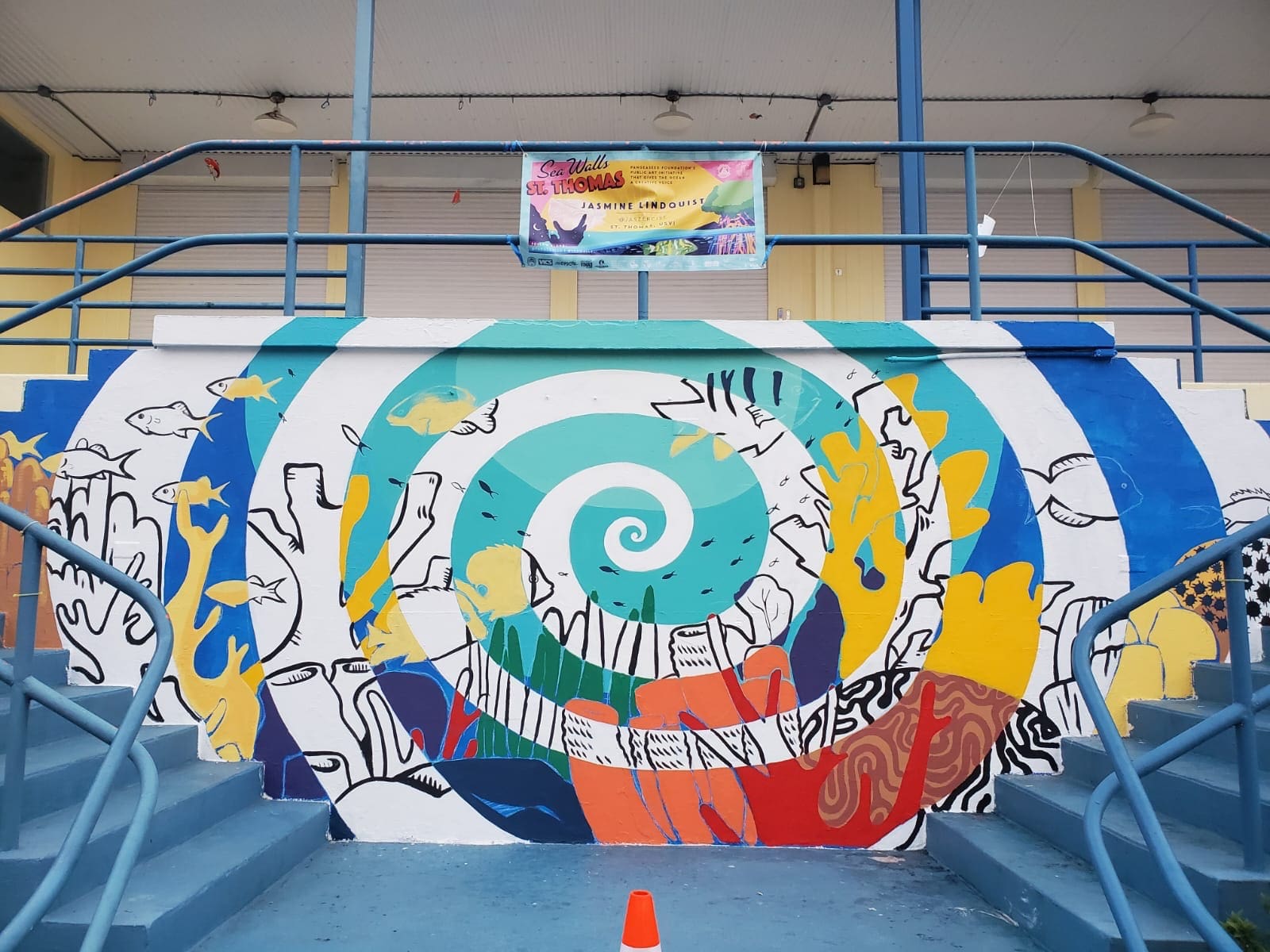 "Public Art is an incredible communication tool to get people engaged around issues that they might not necessarily have the opportunity to talk about. So what we do in our public art is harness the power of science, communication, and art, and bridge those two together and create beautiful art," said Tre Packard, the Founder and Executive Director of the PangeaSeed Foundation.
"Right now the writing's on the wall so to speak that these ecosystems that we depend on are in a lot of peril, a lot of challenge, a lot of trouble. And it's going to take us all working together, collaborating especially on projects like this to change the course in a sustainable and healthy direction for ourselves and future generations. So the power is in our hands," said Packard.
Artist Hannah Eddy who lives in Reno, Nevada, is painting a large mural on the side of The Market St. Thomas grocery store at the far end of Tutu Park Mall. The message she's painting reads 'A healthy island is a happy island."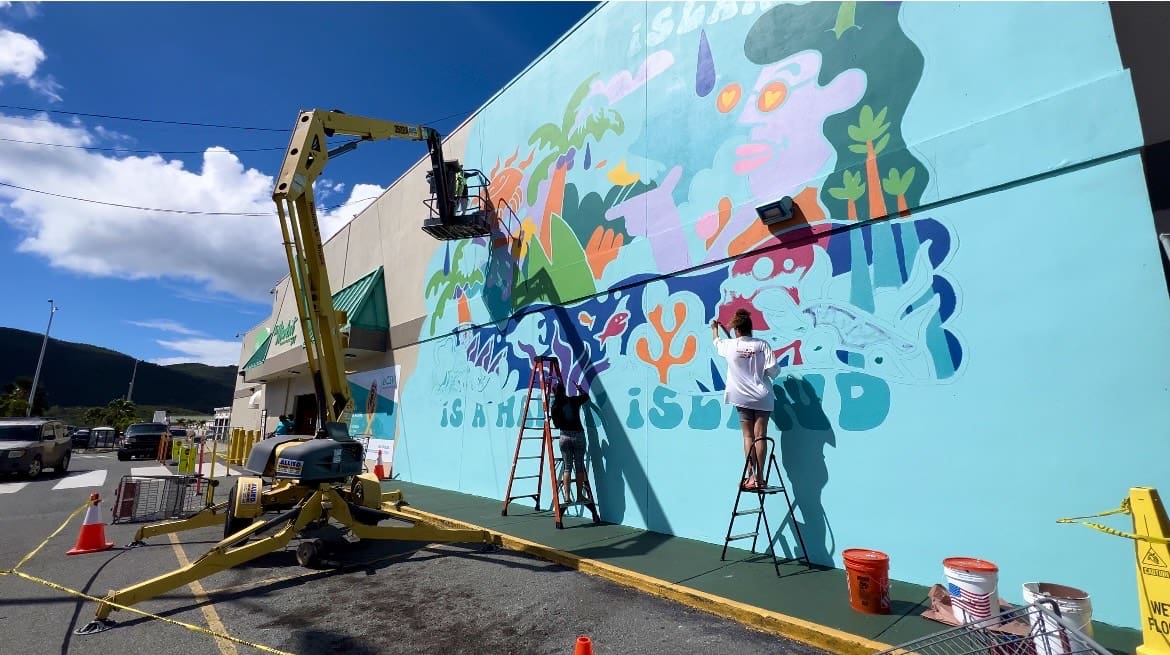 "I love doing public art. My favorite part is that there's no barrier to entry. It's for everyone. You don't have to pay to go into a gallery to see cool art. It might hit somebody on a special day, You never know who's going to walk by and maybe smile or just get a little appreciation from it," said Hannah Eddy.
The PangeaSeed Foundation started its Sea Walls: Artists For Ocean program back in 2014. Since its inception, they've created over 500 ocean-themed murals in 19 countries with over 450 artists, according to the organization. Back at Ivanna Eudora Kean High School, George says she's honored to be a part of the program and paint for her community.
"It's beautiful to work from the roadside, especially being from here and it's such a small community. Like your friends drive by, people you haven't seen in years come by and tell you hi. It's really beautiful. And it's wonderful, I'm really having a good time. The community has put their arms around me and hugged me so tight and I just want to hug them back with my art," said George.