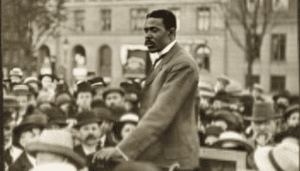 The Virgin Islands Department of Education's Division of Virgin Islands Cultural Education (DVICE) in partnership with the Department of Planning and Natural Resources Division of Libraries, Archives and Museums (DLAM) has announced the launch of the second annual "I am David Hamilton Jackson: Art for Activism" project. The project invites students in grades 7-12 to use a variety of creative forms, including poems, monologues, original songs, Tik Toks, reels and works of art, to depict how students see themselves embodying the life of David Hamilton Jackson today.
The nearly month-long activity was launched on Nov. 1 and will culminate with a virtual exhibit of students' work at www.vide.vi on Nov. 23, which is recognized as Virgin Islands Freedom Fighters Day. Submissions will also be exhibited at DPNR's annual Christmas Extravaganza at Fort Fredrik in December.
Monica Marin, DPNR territorial curator along with DVICE Director Stephanie Chalana Brown will lead the informational meeting as well as visit art classrooms to engage teachers and students in the process of making collages.
As part of "Art for Activism," students will also learn that during the time of the Danish empire and the American Naval Administration's control of the territory, Jackson was a leading supporter of the freedom of the press. He, along with his contemporaries in the labor rights movement of the time, worked to provide workers with fair wages, a higher quality of life and improved working conditions.
In addition, students will learn the ways Jackson advocated for the civil liberties of Virgin Islanders of color and how he used his newspaper, The Herald, to organize, inform and mobilize the community.
To view the 2021 virtual exhibit of "I Am David Hamilton Jackson," visit www.vide.vi. For more information, contact Monica Marin at monica.marin@dpnr.vi.gov or Stephanie Brown at stephanie.cbrown@vide.vi