The sun was still rising over Cruz Bay, St. John, when the doors opened at Bryan-Roach campaign headquarters near the Lutheran Church. Up the street, near the traffic circle, supporters of the rival team in the gubernatorial race — Kurt Vialet and Janelle Sarauw — hung banners and set up a tent.
Election Day came to the U.S. Virgin Islands. Speculation was brewing about what would happen, whether voters would show up at voting centers across the territory. Reporters from the Source set out to see for themselves. Along the way, they met candidates, poll workers, campaign workers and voters who shared their opinions about the day and the work they came to do.
At the Elridge Blake Sports and Fitness Center on the University of the Virgin Islands, St. Thomas campus, voters streamed steadily through the glass doors. By mid-morning, a small queue formed inside the gymnasium, waiting to check in. Poll watchers took their seats and settled in to observe.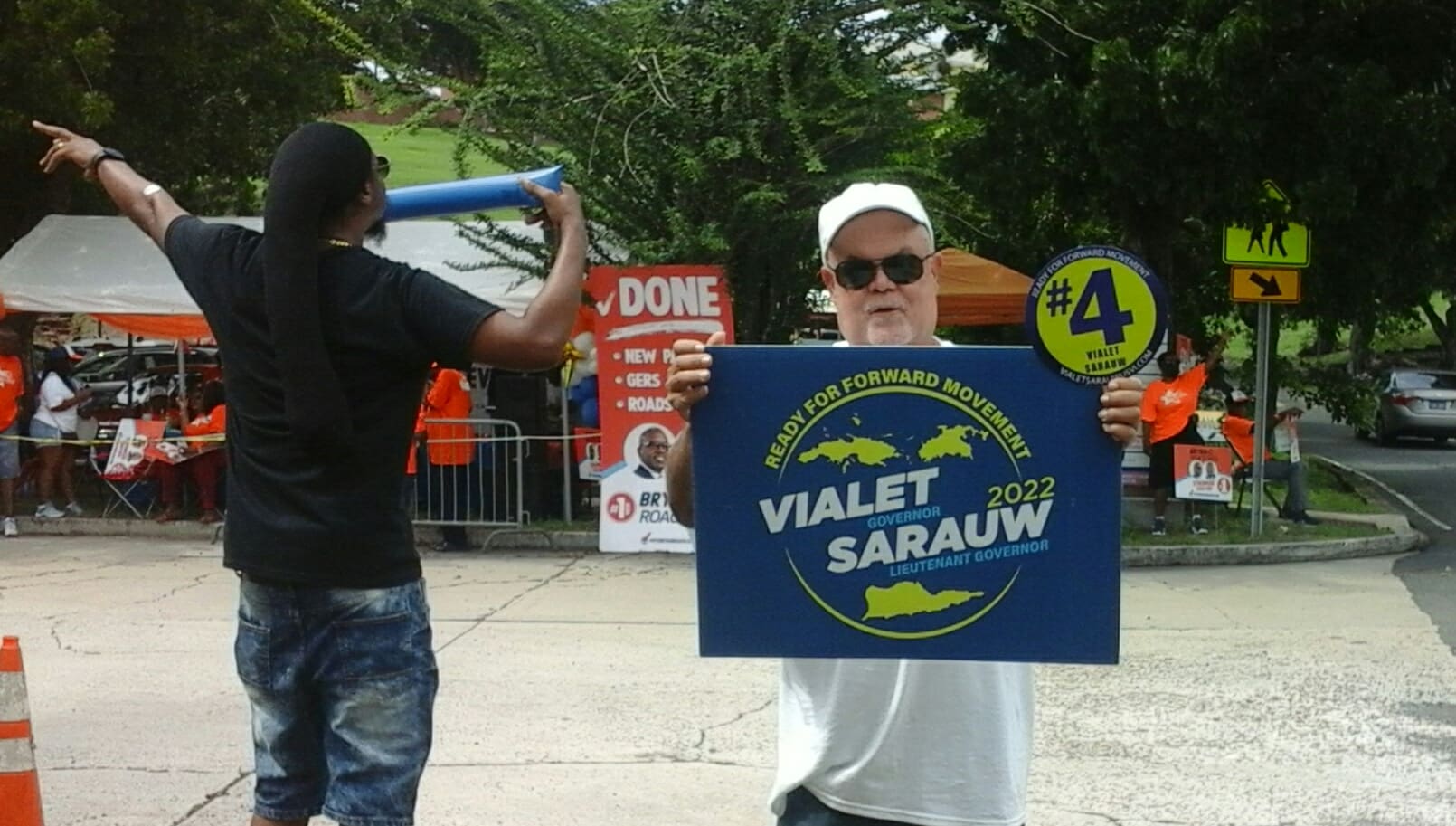 They cast votes by marking preprinted paper forms or slid slim plastic sheets into a tablet computer and created their own. Those ballots were fed into tabulators, which counted the votes. As they left the gym, some paused to share why they thought voting mattered.
"In order to implement change I had to vote. I'm young — I'm 21 — but I want change in this community I've moved into, so I had to vote," said UVI student Eunisha Lawrence.
Outside on the campus, candidates and supporters whipped up a Carnival atmosphere.  Gubernatorial candidate Kent Bernier lost his Democratic bid in the August primary but returned as a write-in candidate for the General Election.
"The people called me," he said. "It was a desire of the people; local residents that felt assisting our young, our elderly, and our forgotten are supporting that," Bernier said.
Senate race incumbent Milton Potter greeted passersby while holding a campaign sign. By the time he reached UVI, he said, he'd visited three St. Thomas centers. "I've been making the rounds. There's a lot of activity at the mall. I think we're seeing more and more people up and around, doing their thing," Potter said.
At Tutu Park Mall, electioneers waved at motorists and flashed signs for their respective candidates. Outside the polling center, a line of voters stretched from center court to the old Scotia Bank, next to the sportswear store.
Inside, poll Judge Elise Frazer was running a tight ship. She walked voters over to the balloting system of choice and gave a few quick verbal instructions. She said it had been that way since 7 a.m. "It's been busy since we opened. Everything's going fine, except that most of the voters are asking for the e-cards. That's what's slowing things down," Frazer said.
Outside the voting center at Charlotte Amalie High School, senatorial candidate Margaret Price showed herself to be her own most enthusiastic campaign supporter. Seated in a beach chair, she held a sign for passing drivers to see.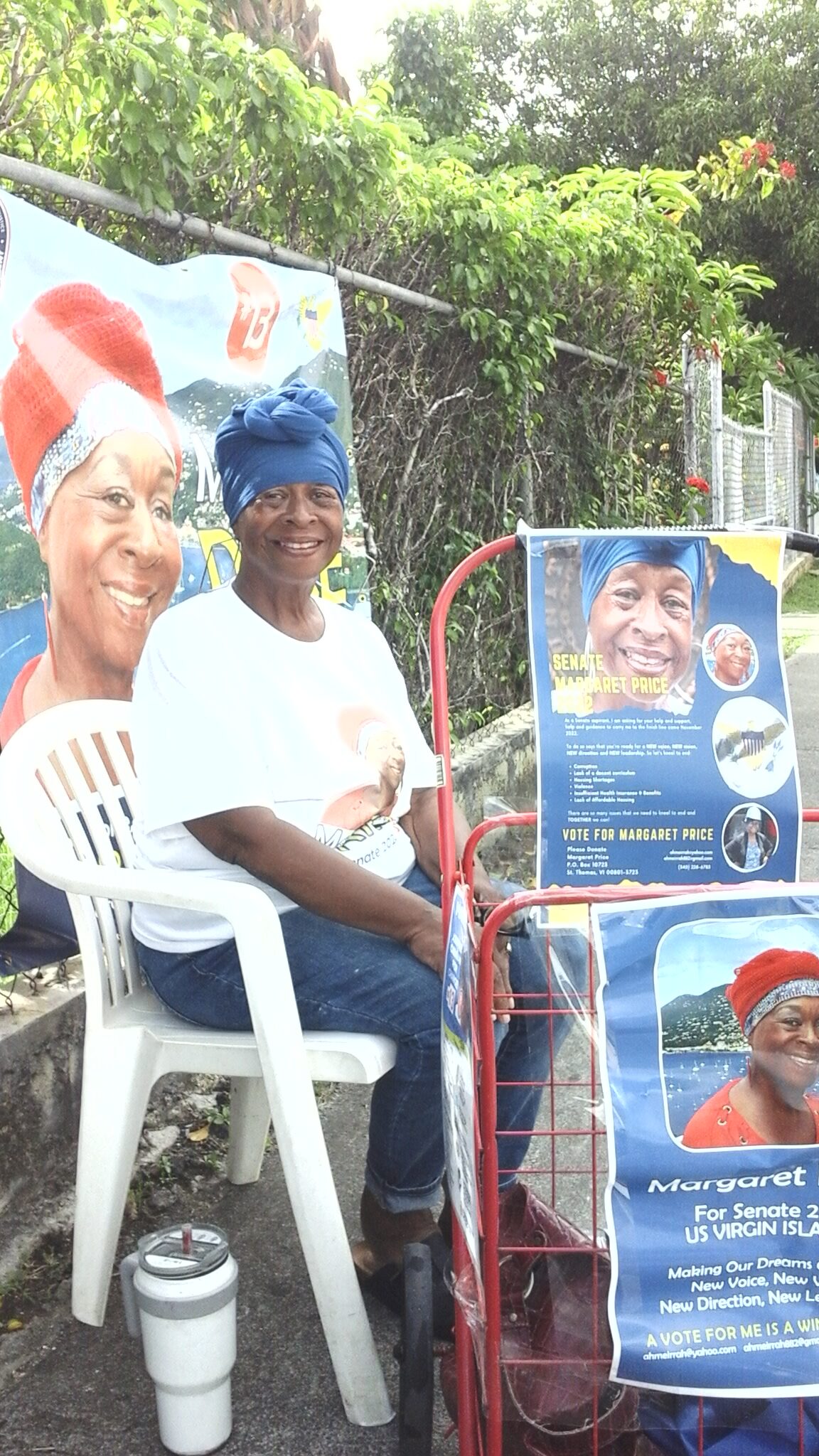 And Price said she liked what she saw as voters made their way in to vote. "So far, I think things are going fantastic," she said. "I love the camaraderie, and based on the number of voters I see turning out, I think people want to keep things the way they are or they want a change," she said.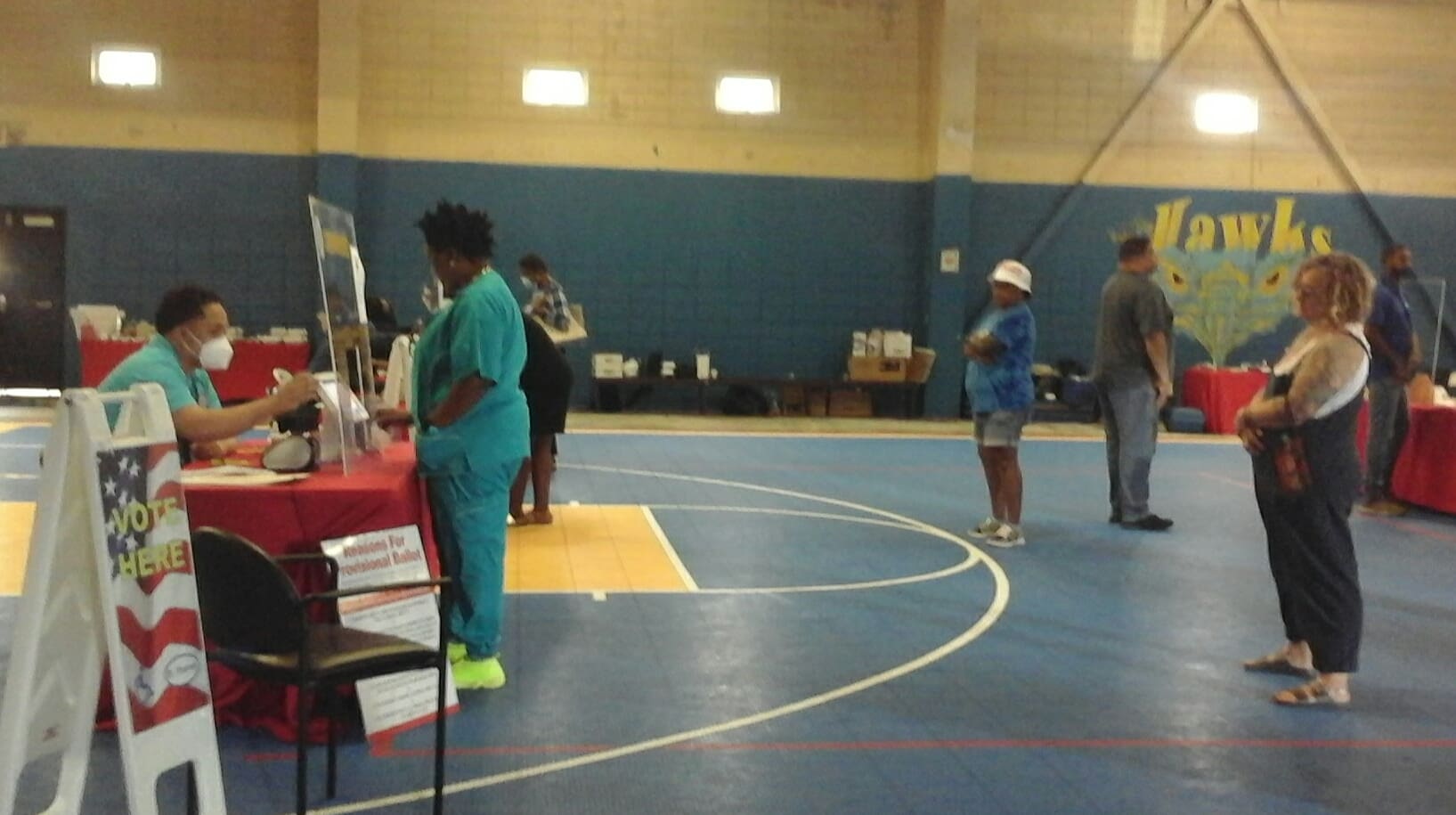 Board of Elections members Alecia Wells and Lydia Hendricks joined Deputy Elections Supervisor Kevermay Douglas by stopping in to observe activity at each poll. They could perform their duties as elected officials in 2022 because they were not up for reelection in this cycle.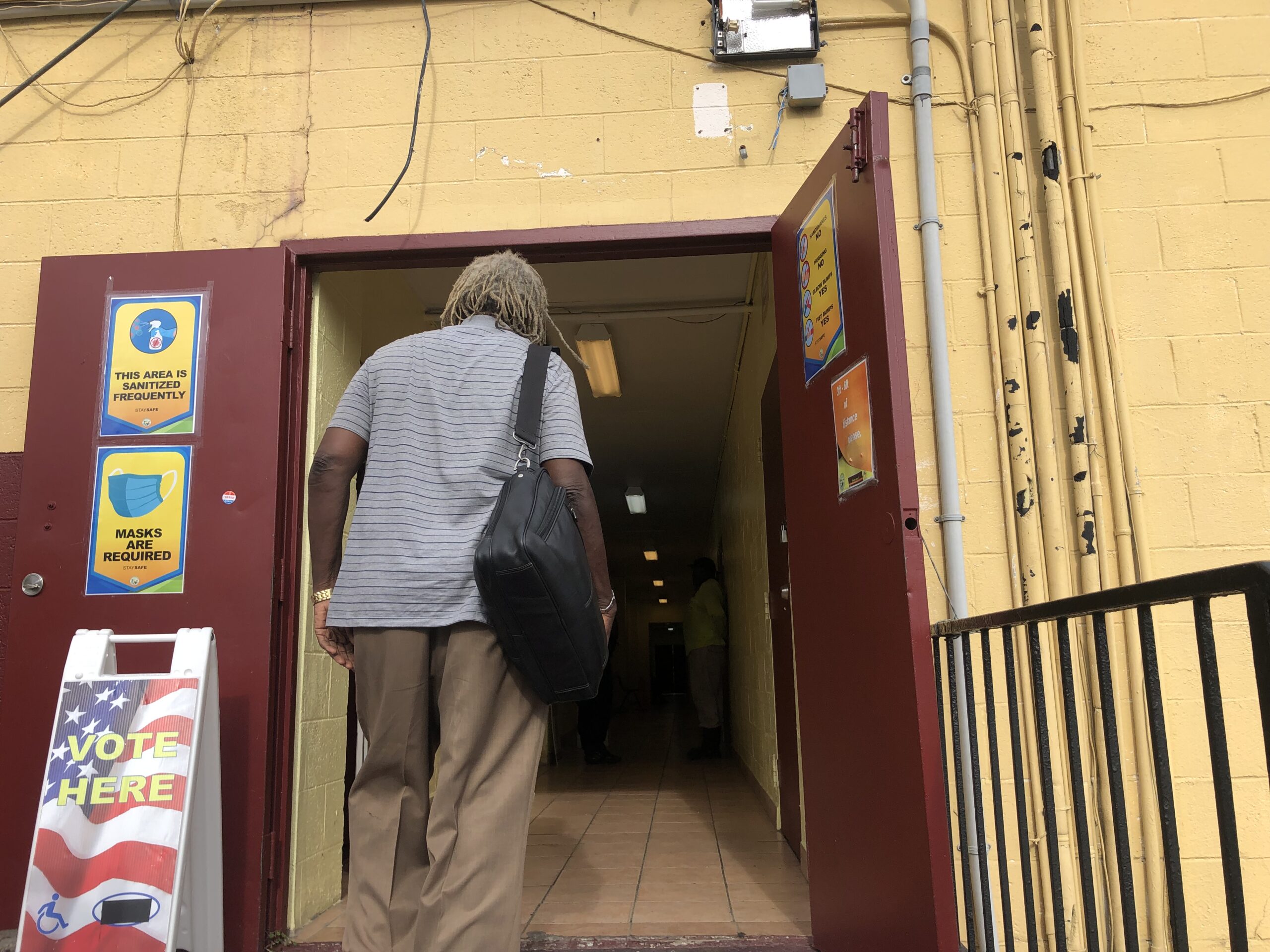 Wells said the center at Eudora Kean was busy when she checked in a little past midday. By late afternoon, voter activity there appeared to slow down, but poll Judge Alicia Gumbs said they saw their share of turnout. "We've had a steady flow. In the morning, it was a little slower but we've had a steady flow," Gumbs said.
And as she made her way into the east St. Thomas high school center, voter Earline Edwards expressed her reason for casting a ballot. "Because my vote is my voice," Edwards said.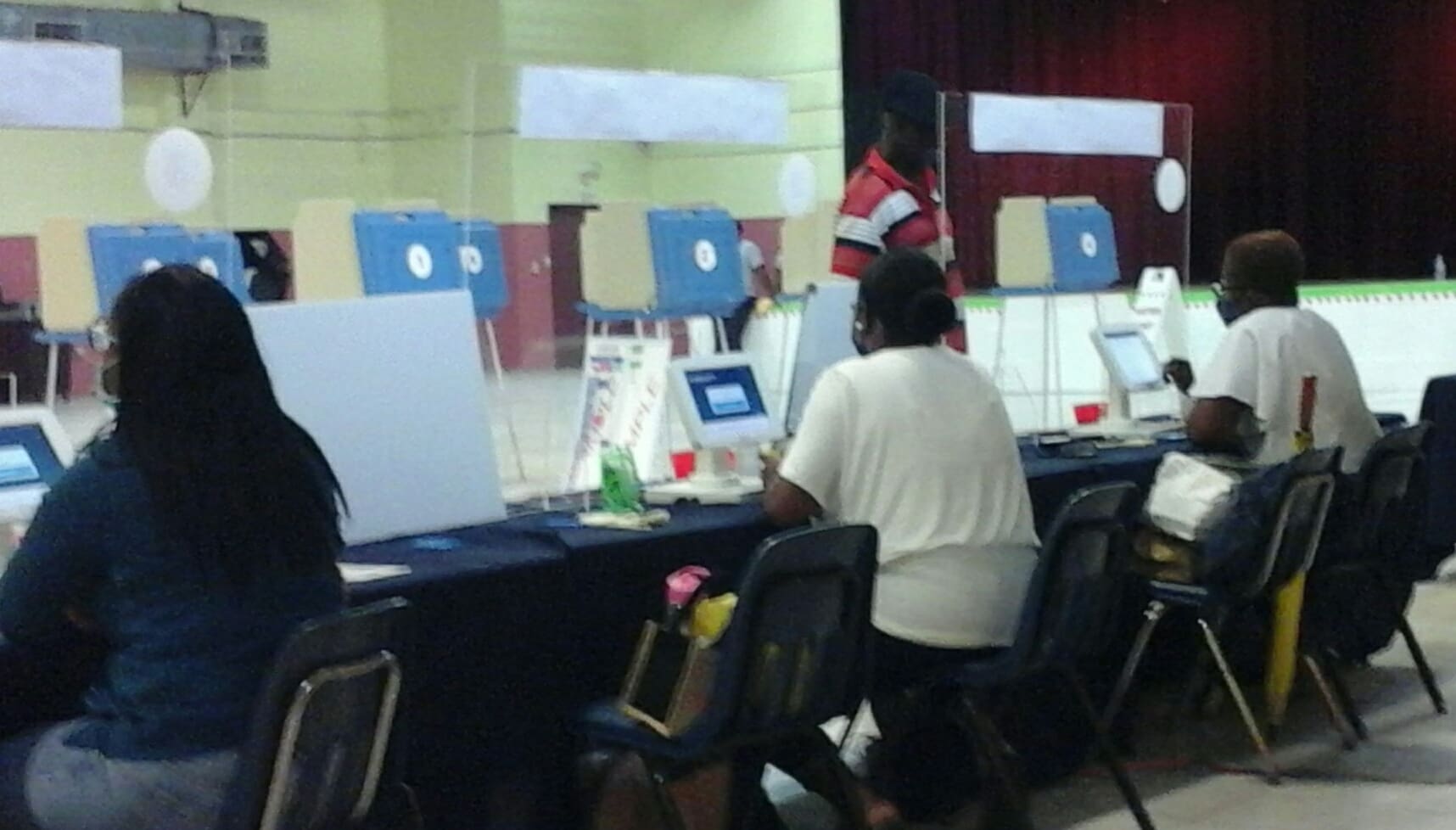 Speaking with the Source late Tuesday afternoon, Elections Supervisor Caroline Fawkes said despite the lines, voter turnout was not what officials expected for the General Election, with the count as of 3 p.m. still under 6,000 territory-wide.
Fawkes said she did expect the numbers to go up slightly between 5-7 p.m. when more residents finished work. Still, the count by the end of election night was not anticipated to be the 30 percent voter turnout seen during early voting, she added.
Fawkes added that while the day went smoothly, Elections workers had to deal with a power outage on St. Thomas-St John earlier in the day and the moisture issue that affected how some of the ballots were fed into the machines, which caused polls to open a bit later on St. Thomas.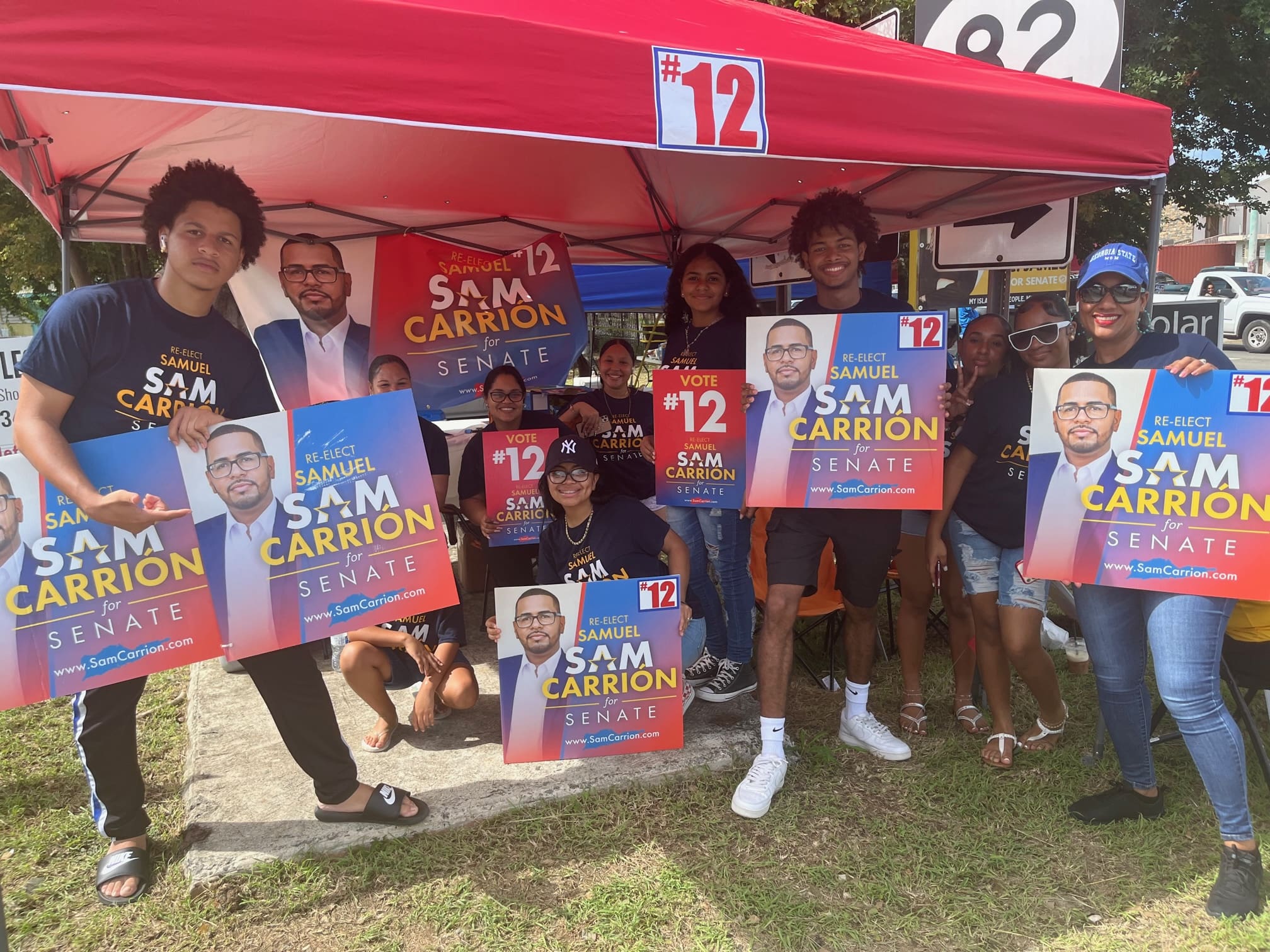 Polls on St. Croix were similar, with long lines that moved swiftly, though residents on the ground also said sites were organized, with poll workers escorting voters from station to station, answering questions and making sure they were sanitized and their temperatures taken. Outside, meanwhile, candidates were making the rounds.
"Two things you need in politics, is love, devotion and experience. She has the love and devotion, and she has the experience," said Steve Alexander about Diane Capehart.
"It's been a long campaign. I ran a clean campaign, so I feel good. The vibes has good and the feedback has been positive," said Capehart. "In the V.I. I have seen people promote personality more than policy so you will never know what tonight will bring, but I hope the people give me their vote of confidence to be reelected for the 35th Legislature because I am leadership you can trust."
"The team is feeling confident, we know that our Gov. and lieutenant put in the work. We have a great administration; we went through a pandemic and all the rest, and we still came out stronger than ever. We are here today to tell the team thank you because we know that they put in the hard work," said Elizabeth Hansen Watley, the assistant commissioner of tourism.
Supporters were also out in full force, sharing their thoughts as voters flowed in.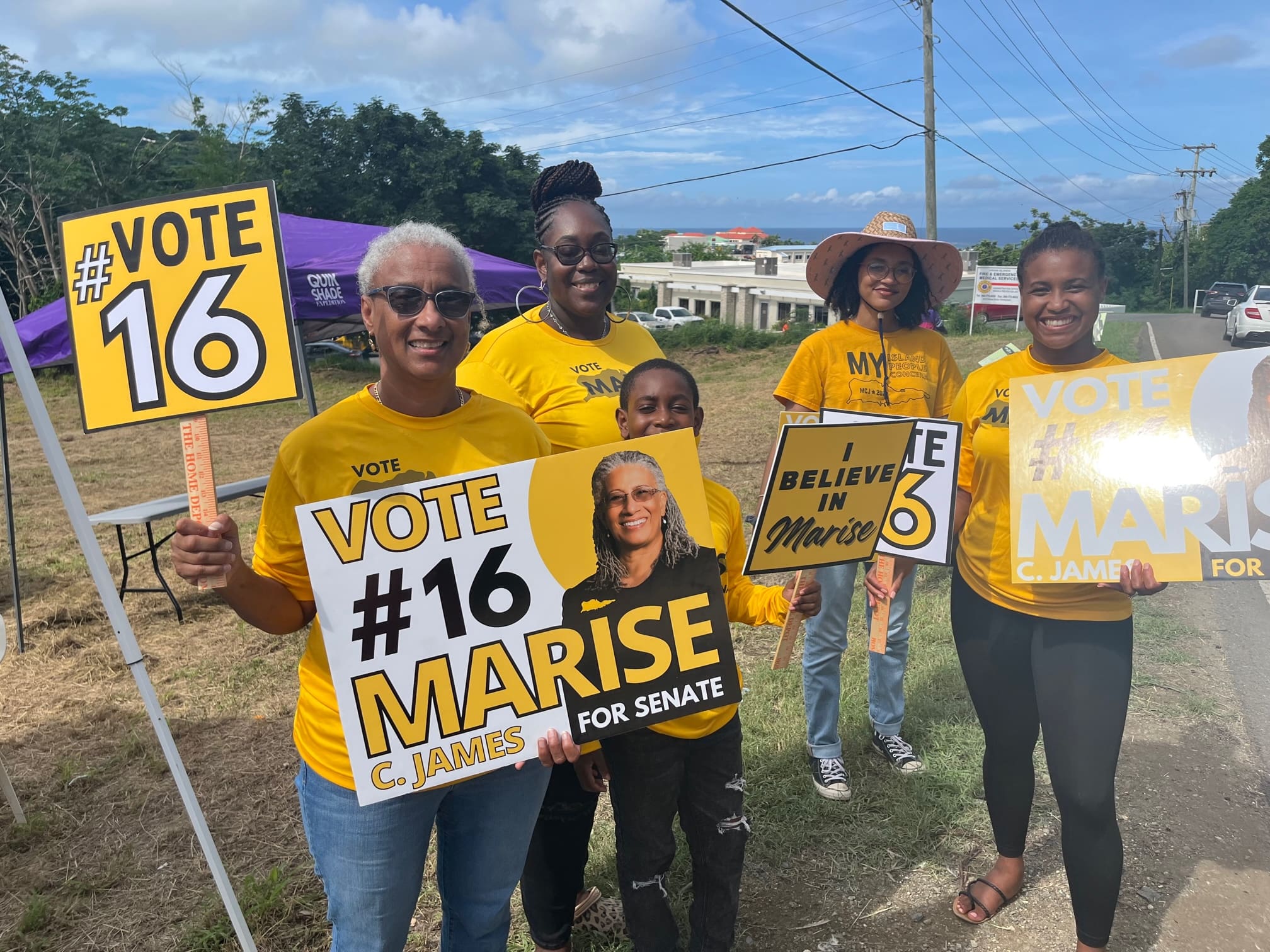 "Marise James is the best candidate because she cares about the people. She is going to work very hard to make sure they have a better life. I can guarantee that she is a perfectionist, an advocate for education and whatever she touches, she is going to work really hard," said supporter Danielle Ruth.