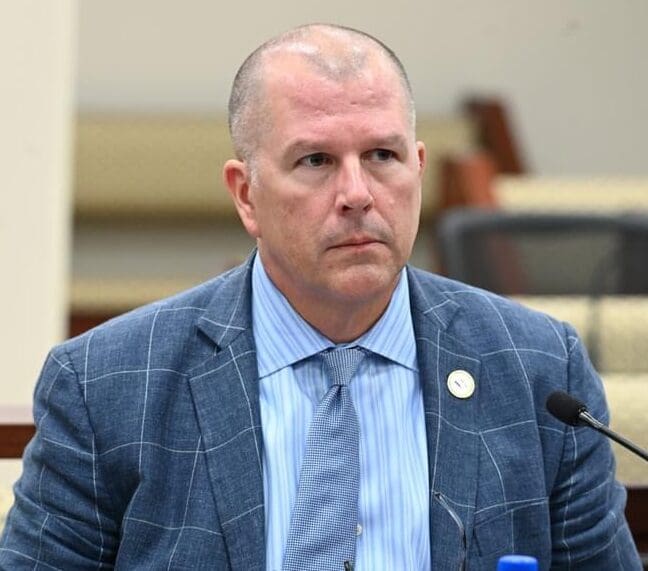 In the wake of a more than five-hour power outage that affected customers across St. Thomas-St. John Tuesday night, V.I. Water and Power Authority officials came under fire during a Wednesday Senate hearing, with Government Operations and Consumer Protection Committee members peppering them about everything from the agency's reliability to hiring practices.
During the hearing, WAPA's Chief Executive Officer Andrew Smith initially said that all the power had been restored, but later had to announce that a generator had tripped off again and some customers were without power for a short time. A couple of members of his staff could not attend the meeting, which started in the morning and ran after 7 p.m., because they were dealing with power outages.
Meanwhile, Sen. Franklin Johnson said Wednesday that WAPA employees were doing great jobs and instead of getting promotions, outsiders from the states were being hired. He told Smith, "This is very sad. It cannot continue."
Johnson was specifically upset by the filling of a safety director position by an applicant from Wisconsin, which pays $140,000. Johnson said that everyone in the WAPA administration was new, but Smith countered that most of the administrators present at the hearing were experienced WAPA employees.
Johnson's comments were echoed by Senator Carla Joseph, who chaired the committee, and Sen. Novelle Francis. Francis said the territory could not "continue as a culture of importation."
Still, the critique of the Authority's hiring practices was not Smith's only problem.
Senators also raised concerns about street lights not being fixed. Francis called the lack of lighting at the end of Melvin Evans Highway near Frederiksted "a public safety issue." Smith responded that not all the streetlights in the territory were WAPA's responsibility; some were the responsibility of the Department of Public Works. Sen. Kenneth Gittens said that finding out who was responsible for what lights and getting them fixed should be a priority.
Sen. Alma Francis Heyliger became emotional in her criticism of WAPA. She said the math did not work in her bill. She wondered how monthly bills could be identical when one month the power was out for a period of time. She also questioned why no one was held accountable for such things as taking employees' money from their paychecks for their retirement and then not giving the money to the Government Employees' Retirement System.
"I would be happy to prosecute everybody, but I don't have prosecutorial powers," Francis Heyliger said.
Smith admitted, "Our performance is not good." But he added, "I cannot turn things around overnight." Smith has been on the job for a little over nine months.
He said the problems were the result of decades of underfunding and high fuel costs. A slide in his presentation said the current charge for a kilowatt hour to WAPA customers was 41 cents, but it cost 57 cents to produce that kilowatt hour and if the debt to Vitol was included it would cost 62 cents. The slide then showed cost-cutting strategies that would bring the costs down to 40 cents.
About a third of WAPA's slides referred to plans WAPA is proposing where it can enter into a power purchase agreement with a solar farm for 60 megawatts. The plan did not go through a normal government request for bids process. Smith said WAPA was not required to go through such a process, and it would take too long. "We have been talking about a lot of bad deals tonight. The RFP process does not guarantee that you will get the best price," he said.
"The Authority spends over 90 percent of its revenue on three things: fuel, debt service, and payroll. Fuel alone consumes approximately 70 percent of the Authority's revenue. Despite the rise in fuel costs, the Authority continues to shield its customers from higher rates, most recently with assistance from the government of the Virgin Islands," Smith testified.
He also testified that the Authority is bringing current the employee withholdings that were previously not remitted to GERS. He also said, "There is a persistent rumor in the community that retired employees are unable to receive their benefits because the Authority has not made the final payments due to GERS when an employee retires. That is not correct. When the Authority receives an invoice from GERS for the one-time payment for an employee that has retired and is seeking benefits, those payments have been paid, and are continuing to be paid."
Attending the meeting were Sens. Marvin Blyden, Novelle Francis, Kenneth Gittens, Javan James, Milton Potter, Franklin Johnson, Alma Francis Heyliger, Samuel Carrión, Carla Joseph, and Genevieve Whitaker.